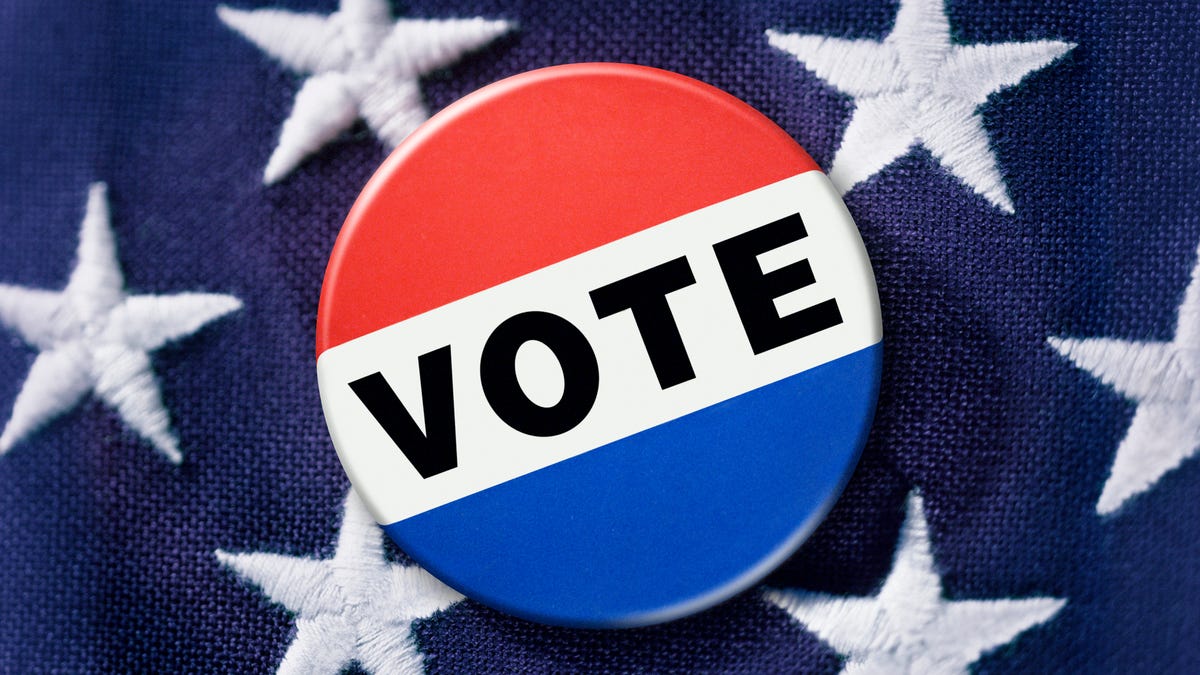 Some of today's top races and ballot proposals.
Getty
What's happening
Voters across the country headed to the polls Tuesday. While democracy advocates had worried about voter intimidation and suppression, disruptions turned out to be few and minor.
Why it matters
Many Republican candidates continue to push the baseless, debunked claim that the 2020 presidential election was stolen through some kind of voter fraud. If the Republicans pick up congressional seats, the balance of power will shift toward election deniers.
What's next
Some races remain too close to call, meaning it's yet to be determined which of the two parties will control the House and the Senate.
Despite worries about voter intimidation and suppression, Election Day 2022 passed without much in the way of major disruptions or technical problems.
In addition, while a number of notable statewide and congressional races remain too close to call, voters in at least some key swing states said no to Republican backers of the "Big Lie," the baseless claim that the 2020 presidential election was stolen through some kind of voter fraud — a claim that's been debunked by state election officials, judges, and even members of former President Donald Trump's own administration.
Ahead of Tuesday's voting, election deniers made claims, without any evidence to back them up, that this year's contests would be poisoned, too.
On Wednesday, federal officials said that just wasn't the case and urged voters to be patient as the remaining votes are counted and the results are certified.
"We have seen no evidence that any voting system deleted or lost votes, changed votes, or was any way compromised in any race in the country," Jen Easterly, director of the US Cybersecurity and Infrastructure Security Agency, said in a statement.
Voting-rights advocates had worried that fears of possible violence, along with the disinformation being spread about the security of elections, would keep people from the polls at a time when who gets elected could have a tremendous impact on the country's long-term direction, including the 2024 presidential contest.
Much of the day's drama took place in Arizona, one of the three states where election deniers ran on the Republican tickets for governor, secretary of state and attorney general. Early in the day, officials in Maricopa County, which includes the city of Phoenix, reported issues with "glitching" vote-tabulator machines that weren't accepting ballots on the first try. 
Staff at Verified Voting, a nonpartisan group that tracks voting technology and elections, said the issue affected about 20% of the county's polling places, but didn't prevent anyone from voting or stop votes from being counted. Under Arizona law, voters have the options of waiting for the machine to be fixed, leaving their ballot in a sealed drop box or voting at another location.
That didn't stop Kari Lake, the Republican candidate and long-time election denier, from using the issue to fuel conspiracy theories. Speaking to her supporters Tuesday, she called election officials "incompetent" and cast baseless doubt on what would happen to ballots put into the sealed boxes. As of Thursday with about a quarter of the state's ballots still left to be counted, the race between Lake and Democrat Katie Hobbs was too close to call, as were the state's races for secretary of state and attorney general.
On the federal level, it remains to be seen whether Republicans will pick up enough seats in the House of Representatives or Senate to shift the balance of power in Congress. Georgia's Senate election is headed for a December runoff, while it could be days before winners are declared in Arizona and Nevada because mail-in ballots still need to be counted.
Meanwhile, abortion was the top issue among the 132 ballot proposals considered across the country. Voters in California, Michigan and Vermont approved measures protecting reproductive rights, while voters in Kentucky and Montana rejected measures that would have put restrictions on them.
Here's a quick look at key election results from around the country and how they could affect the residents of their states, as well as the country as a whole.
Key statewide races
You might think that who gets elected as Arizona's next governor would have little consequence for the rest of the country, even less so who gets to be that state's next secretary of state or attorney general. That's not the case this year.
The Republican candidates for those offices have said that they would not have signed off on their state's 2020 results if they had been in office at the time. Those statements put into question what the trio, if elected, might do in 2024 if they don't like the results. As of Thursday afternoon, all three of those races were still too close to call, with mail-in ballots yet to be counted. 
Arizona isn't the only state where election deniers were aiming for state office. In Michigan, a perpetual swing state, the state's Democratic governor, secretary of state and attorney general all fended off challenges from election-denier Republicans in what had been expected to be competitive races.
Meanwhile, voters in heavily red Alabama, the only other state with a trio of election deniers running, elected all three of the Republicans.
Overall, there were election deniers running for at least one of these three offices in 30 states, according to the nonpartisan group States United. As of Wednesday afternoon, 13 election deniers had been declared winners in nine states, the group said.
Election-denier Republicans took five of the 13 governorships they were running for, winning in Florida, Tennessee, Texas and Iowa, in addition to Alabama, States United said. Winners had yet to be determined in Alaska and Arizona, which also had election-denier Republicans running for governor.
Election deniers also won elections for secretary of state in three states, with races in two states still undecided, along with elections for attorney general in five states, with the results in another three states pending, the group said. 
Read more:

Why Our Election System Is Under Assault
Abortion Referendums: Voters Reject Restrictions in Kentucky and Montana
Marijuana Legalized in Maryland, Missouri in Midterm Elections
House and Senate up for grabs
As midterm elections do, this one will determine the balance of power in Congress for the next two years.
The Republican Party was widely expected to pick up seats in the House where the Democrats currently have a 220-212 majority with three vacancies, but the "red wave" some had predicted hasn't emerged and many races remain too close to call.
In the Senate, which is essentially split 50-50 because the independent Sens. Bernie Sanders and Angus King caucus with the Democrats, experts are keeping an eye on a handful of the seats up for grabs.
In Pennsylvania, often a swing state, Democrat John Fetterman defeated Republican TV personality Mehmet Oz in an open-seat race, while in Wisconsin Sen. Ron Johnson, a Republican, fended off a challenge from Lt. Gov. Mandela Barnes.
In Georgia, the race between incumbent Democratic Sen. Raphael Warnock and Herschel Walker, a former All-Pro running back for the Dallas Cowboys, neither candidate received 50% of the vote, so it's headed for a Dec. 6 runoff.
As in its gubernatorial election, Arizona's Senate winner won't be declared until mail-in votes are counted. Races in Nevada and Alaska remain too close to call.
People need to remember that counting votes takes time, especially when it comes to tight races like these, said Damon Hewitt, president and executive director of the Lawyers' Committee for Civil Rights Under Law, which is part of Election Protection. 
"You may not know the results of a particular race tonight, or the balance of power in the state legislature, or in Congress even tonight," Hewitt said Tuesday. "Every vote must be counted."
Key ballot proposals
Abortion and marijuana were on the ballot in several states.
In the wake of the Supreme Court ruling striking down Roe v. Wade in June, five states had initiatives on the ballot related to abortion rights, the most in a single election cycle. All of them swung in favor of protecting reproductive rights.
Voters in Kentucky and Montana rejected proposals that would have further restricted abortion access, while voters in California, Vermont and Michigan approved amendments that codify abortion rights in the state constitution.
Meanwhile, voters in Maryland and Missouri approved proposals legalizing recreational cannabis use, while voters in Arkansas, North Dakota and South Dakota rejected similar measures. 
In Colorado, which legalized adult-use marijuana in 2012, a new proposal that would decriminalize the possession, growing and use of "magic mushrooms" and other plant-based psychedelics was too close to call.