close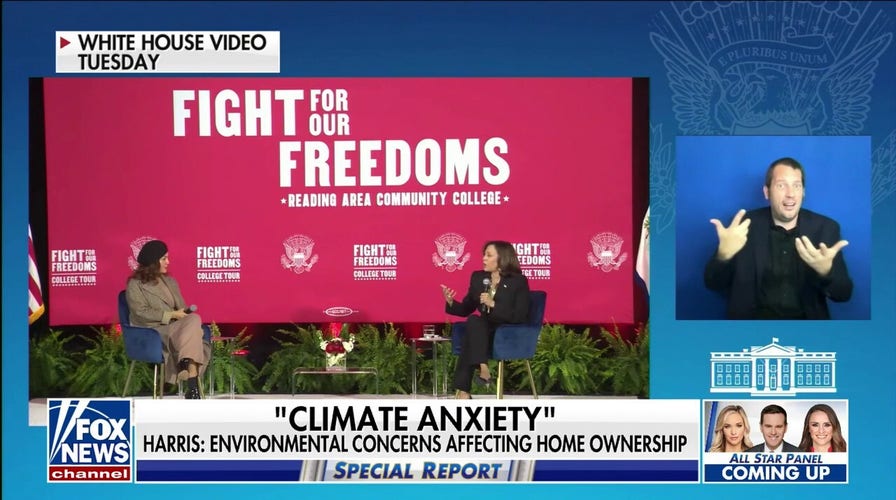 Video
Kamala Harris cites climate anxiety as factor in home buying
FOX News White House correspondent Jacqui Heinrich has details on the Biden administrations American Climate Corps on Special Report.
A resurfaced report from a climate activism group chaired by London Mayor Sadiq Khan concluded that residents of London and several other European cities should be limited to one return flight every three years in order to decrease carbon emissions to combat climate change.
C40, "a global network of mayors of the world's leading cities that are united in action to confront the climate crisis," released a report in 2019 which suggested that residents of C40 cities should be limited to one "short-haul return flight (less than 932 miles) every 2 years per person," to meet a "progressive" target by 2023 to reduce consumption emissions from aviation.
The think tank's "ambitious" target recommendation by 2030 was one return flight every three years, instead of every two.
The organization's goal – which includes participation from major capitals around the world like London, Paris, Madrid, Rome, Istanbul, Berlin, Amsterdam and Copenhagen – is to cut climate change-related emissions by 50% in its member cities within a decade to stop global warming.
LONDON MAYOR PRESSED BY PIERS MORGAN IN INTERVIEW TO DEFINE 'WOMAN'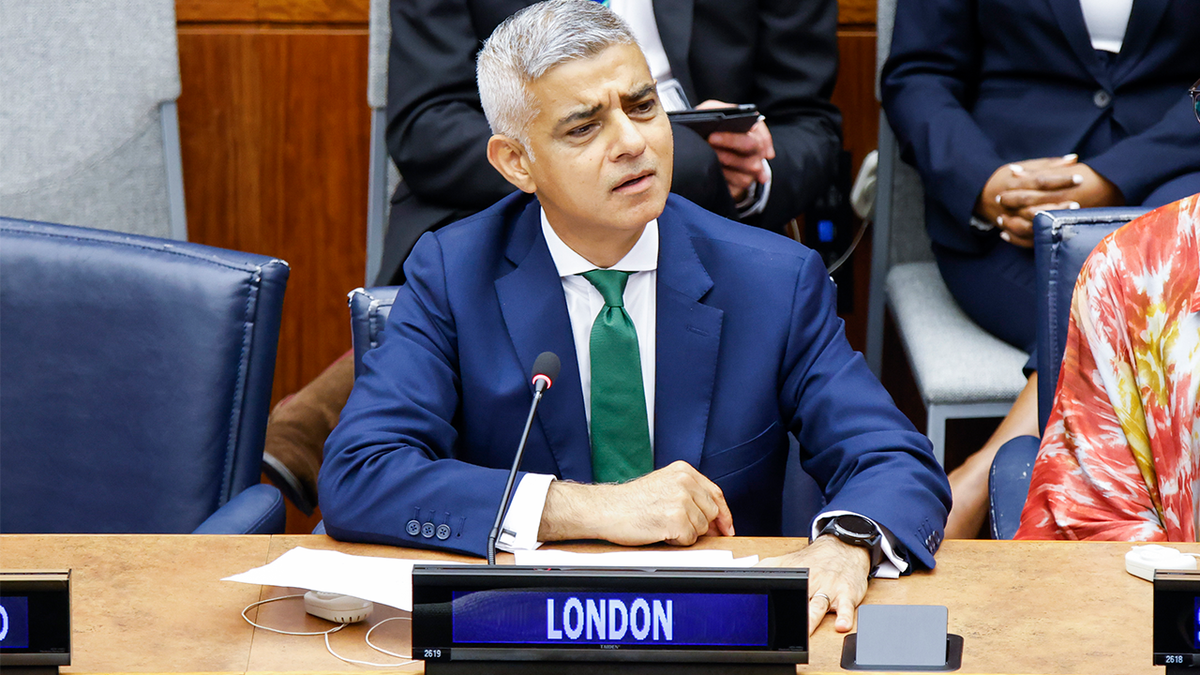 Mayor Sadiq Khan speaks at the Climate Ambition Summit at the United Nations on Sept. 20, 2023, in New York City. Khan has been chairman of the group C40 since 2021. (Kena Betancur/Getty Images)
"If all residents of C40 cities fly less and airlines increase the proportion of sustainable aviation fuel they use as outlined in the progressive target, a cumulative 43% emissions saving can be achieved," the report says.
"Given the current global disparity in flying, it is important to note that C40 cities can, on average, actually increase flight trips by 43% compared to 2017 levels, if the target is one short-haul flight every two years per person," the report adds. "However, 46% of C40 cities' residents would need to reduce the number of trips, compared to their 2017 levels."
A recent Daily Telegraph article highlighting the report states, "To put that into context, the C40 cities account for about one 12th of the global head-count. So that's about 664 million people; roughly twice the population of the USA."
"One flight per person every three years would cut the air industry's emissions by way more than 43%. It would slash them to practically nothing," the outlet wrote.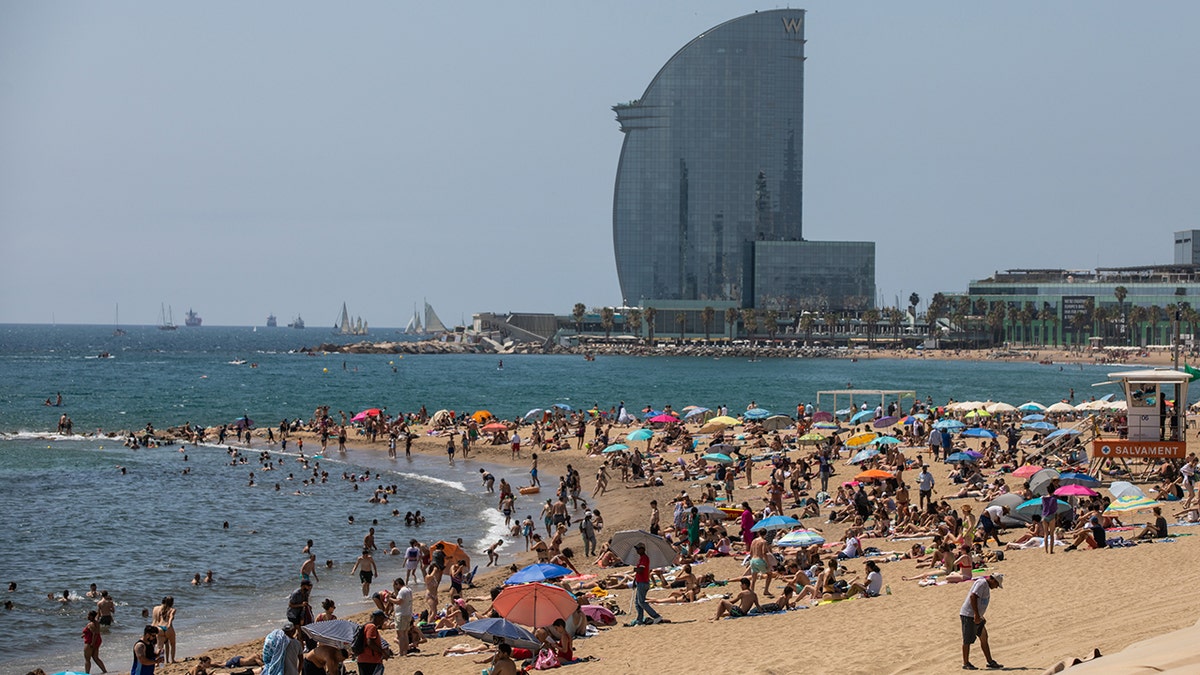 Barceloneta Beach in Spain (Zowy Voeten/Getty Images)
"Because there would be no air industry. The airlines – many of which barely survived the pandemic – would be unable to remain profitable with such meager passenger numbers. The foreign holiday would consequently disappear, without the planes and customers to fill those summer packages, leading to vast unemployment from Cascais to Cadiz to Crete," the Telegraph stated.
A representative for C40 responded to Fox News Digital by saying, "The report is a generic analysis of consumption-based emissions not looking at any specific C40 city. It is not a plan for any city to adopt but instead is a generic analysis and it's up to individuals to make their personal lifestyle choices."
LONDON MAYOR SADIQ KHAN SLAMMED FOR 7,000 MILE FLIGHT TO CLIMATE CHANGE SUMMIT: 'HASN'T HE HEARD OF ZOOM?'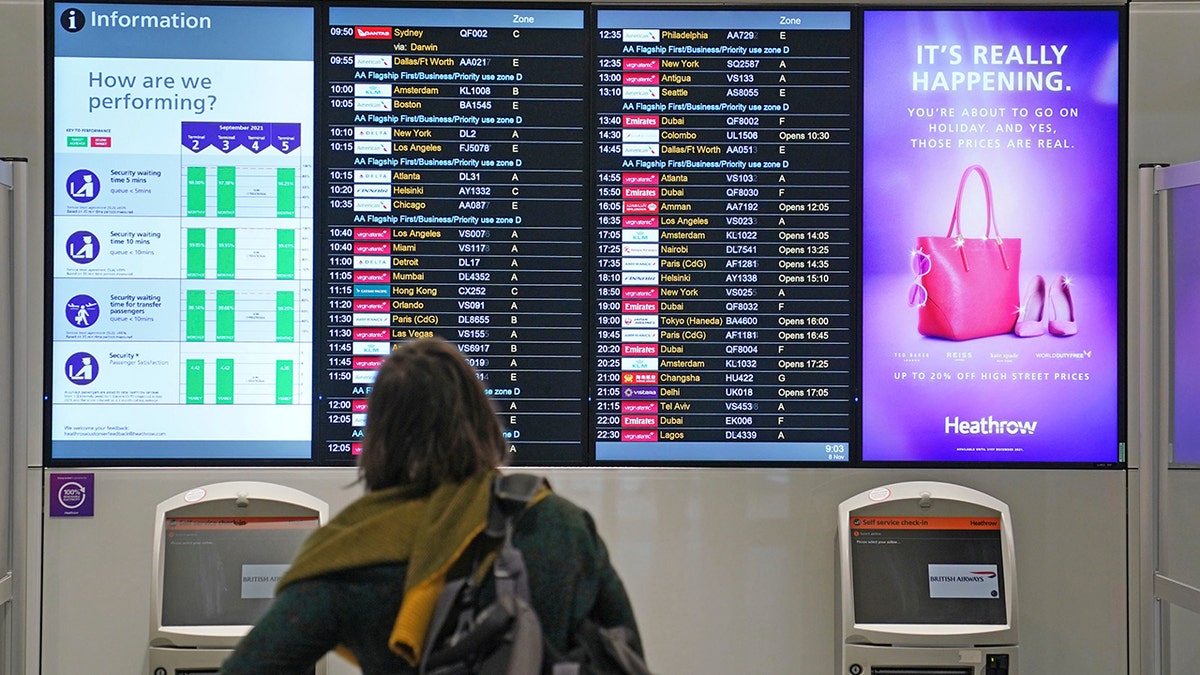 A passenger looks at a departures board at London Heathrow Airport on Nov. 8, 2021. (Anthony Upton/PA via AP)
Nile Gardiner, director of the Margaret Thatcher Center at the Heritage Foundation, said what Khan and the C40 coalition suggest for its citizens is "completely insane." This is one of the most crazy demands from the eco lobby that we've seen in decades. It is thoroughly, utterly ridiculous," Gardiner told Fox News Digital in an interview.
Gardiner added that the "the fact that C40 is his chaired by Sadiq Khan is very significant."
"Because Sadiq Khan, of course has a long track record of flying across the world attending climate summits and crossing a large number of miles," Gardiner noted.
"The level of hypocrisy, of course, coming from this group is absolutely staggering," Gardiner said.
Khan became the chairman of C40 in 2021. A spokesperson for the London mayor noted the report was published "well before Sadiq became Chair of C40."
"The ideas mentioned are not proposals let alone recommendations and the Mayor is certainly not suggesting to anyone that they shouldn't eat meat, or that they shouldn't fly. It is for cities to determine the most effective implementation pathway for them," the spokesperson said.
"Sadiq has set an ambitious target for London to reach net zero by 2030, and London is leading the way by insulating homes, electrifying our bus and taxi fleets, and expanding electric vehicle infrastructure to the extent that our capital has the most public rapid charging points of any European city."
Just last month, Khan, who is in a race to keep his seat against the Conservative party candidate, traveled to New York City to address the United Nations climate ambition summit.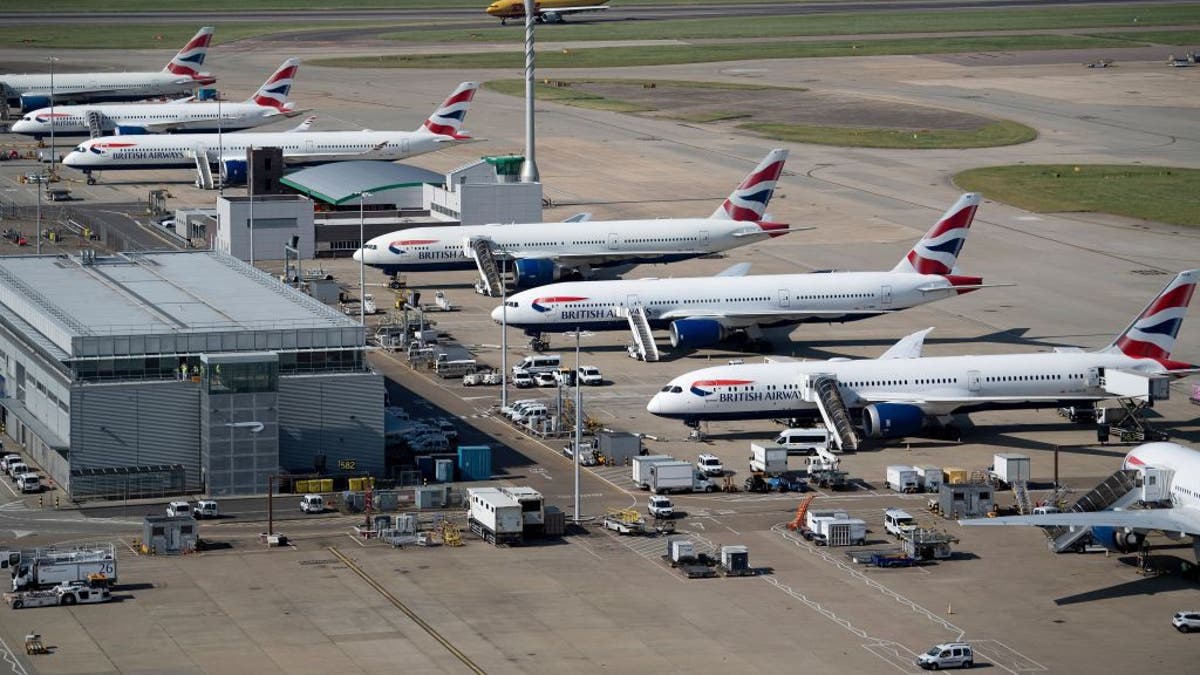 British Airways jets are seen at Heathrow Airport June 13, 2021, in west London.
Susan Hall, running against Khan for the mayoral election in May, questioned how "green" it was for her rival to travel 7,000 miles to discuss environmental issues, according to a report in the Daily Mail.
JET-SETTING LONDON MAYOR BLASTED FOR ACTIVATING 'CLIMATE CLOCK' WITH OMINOUS 6-YEAR WARNING: 'LEAVE US ALONE'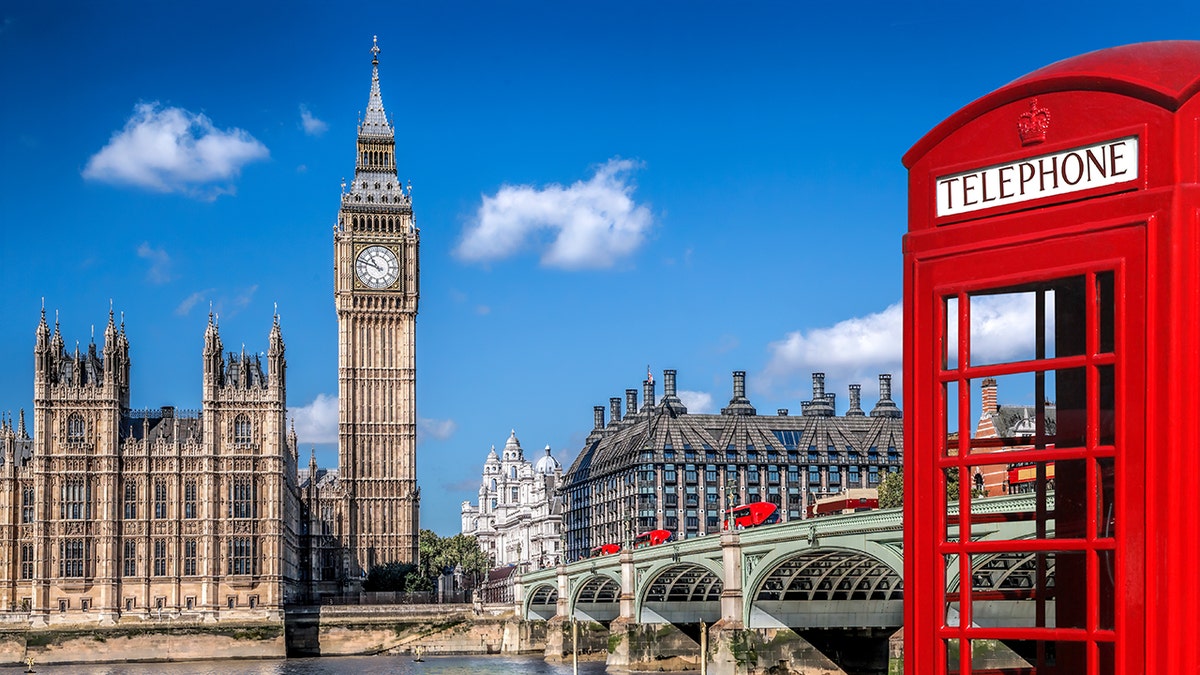 Climate change think tank C40 wants London and other cities to limit their residents to one return flight every two to three years. (iStock)
Hall accused Khan of "swanning off to America to lecture everyone" while Londoners were being hit by the "disastrous' Ultra-Low Emission Zone (ULEZ) expansion. ULEZs are areas that charge cars a daily fee if they don't meet certain emissions standards.
Khan has been a champion of the hotly-contested ULEZs.
Gardiner argued that, should Khan try and implement a one flight per every three years rule to fight climate change, most Londoners would regard it as "completely ludicrous," and prefer their mayor focus on rising crime in the city.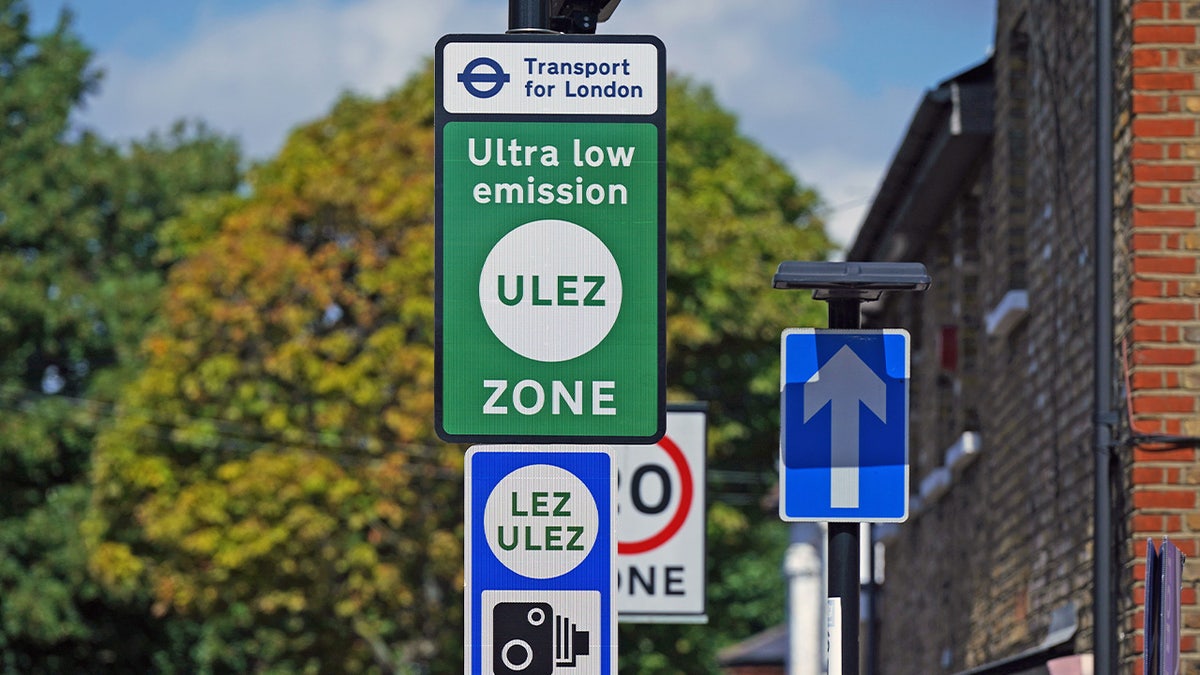 An information sign for the Ultra Low Emission Zone (Ulez) on Brownhill Road in Lewisham, south London, on Aug. 17, 2023. (Yui Mok/PA Images via Getty Images)
"They would prefer to see the mayor of London actually addressing real issues for Londoners, including high levels of violent crime and urban decay, etc.," he said.
According to a report in Sky News, there have been 79 violent deaths in London so far this year, including 15 teenagers.
Just last week, a 15-year-old girl, Elianne Andam, was stabbed to death on her way to school in south London, leaving the community devastated and in shock. A 17-year-old boy was arrested in connection with the crime.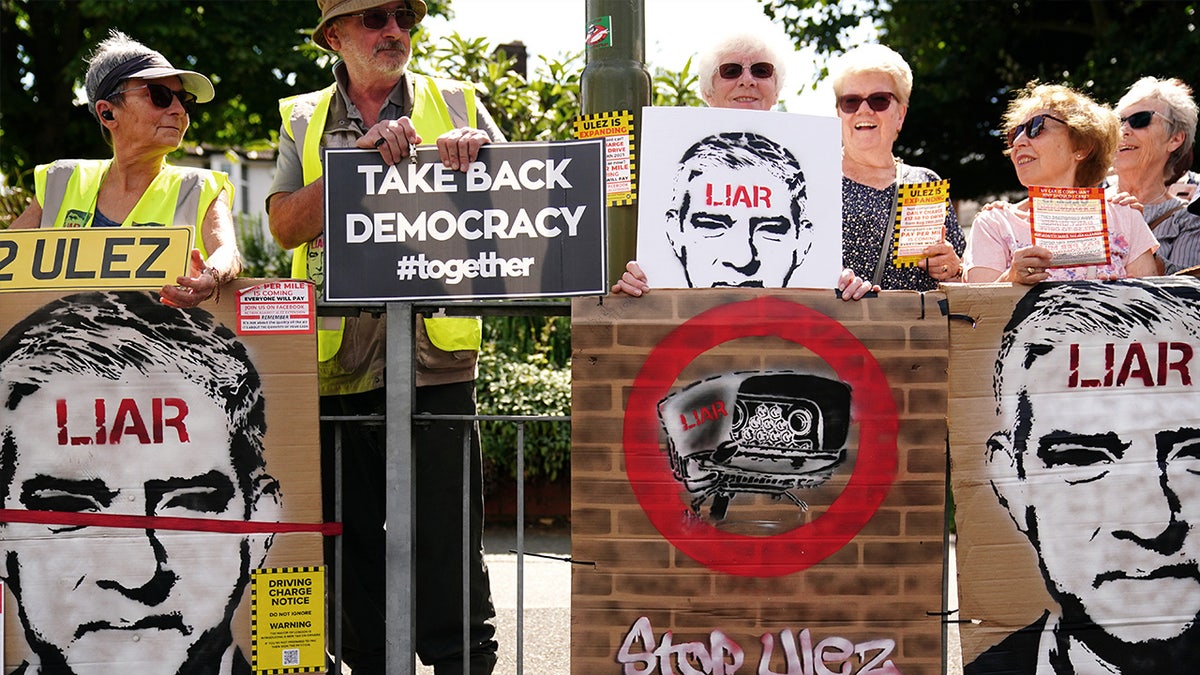 People take part in a protest against the proposed ultra-low emission zone (Ulez) expansion in London. (Victoria Jones/PA Images via Getty Images)
CLICK HERE TO GET THE FOX NEWS APP
"I think Sadiq Khan is just out of touch with reality," said Gardiner. "I don't think this is going to be taken very seriously by people in London," he said of the C40 report
"I would say [Khan] is viewed by many Londoners as a very extreme figure and increasingly divorced from reality," said Gardiner.
Former member of the European Parliament, Nigel Farage took to Tik Tok to protest the C40 report, saying, "I suggest you join me in telling Sadiq Kahn where to go."
Brianna Herlihy is a politics writer for Fox News Digital.