Batteries for e-bikes should be regulated in the same way as fireworks, heavy machinery or medical devices because of the fire risk they pose, a charity has said.
In June, a woman and two children died in a fire linked to an e-bike battery.
Currently, manufacturers can self-declare that e-bike and e-scooter batteries meet safety standards.
But campaigners Electrical Safety First says the batteries should require third-party approval before sale.
Cambridgeshire Fire Service said the bike was the "most probable cause" of the fatal blaze in June, and it is investigating the e-bike that was left charging in the flat.
Meanwhile, the London Fire Brigade said it has been called to a fire caused by e-bike batteries on average once every two days in 2023.
"The huge amount of energy that is released over time when a battery bursts into flames is unlike other fires," said Electrical Safety First chief executive Lesley Rudd.
A room could be destroyed "in a matter of minutes" she said.
"This unique type of fire requires special measures to tackle the increasing problem."
The UK should adopt regulation similar to rules introduced in New York City in March 2023, Ms Rudd believes.
The US city has signed into law legislation which requires e-bikes, e-scooters and their batteries to meet standards set by a third party with expertise in battery technology.
"We need to get on top of this issue now to prevent more lives being lost," said Ms Rudd.
"There are too many reckless operators in this space, such as third-party sellers on online marketplaces, who are risking the lives of the public and giving responsible manufacturers of these products a bad name."
A government spokesperson told the BBC: "The Office for Product and Safety and Standards is working closely with the fire brigade to ensure product safety issues are properly assessed and action is taken to protect consumers.
"If manufacturers don't comply with product safety regulations, appropriate enforcement action will be taken, such as ordering the removal of the product from the market."
'Incredibly ferocious'
According to the London Fire Brigade website, e-bike and e-scooter batteries "can start incredibly ferocious fires" if they are damaged or fail.
"Lithium battery fires can spread quickly out of control, and within minutes have started a large fire," it says.
Lancaster-based Andrew Beaton said his family are facing "upwards of £50,000 in damages" after an e-bike fire destroyed their home.
"If it wasn't for my son, we wouldn't be here," he said.
"He was up to get a drink at night and shouted to us after seeing the e-bike on fire – I sprinted downstairs, swung open the front door and threw the bike outside.
"In that moment, all the batteries fell out and were exploding like hand grenades."
Despite removing the e-bike from the house, he said the fire had already spread to the stairs.
"I urge anyone thinking of buying these e-bikes not to – it's not worth your life," he said.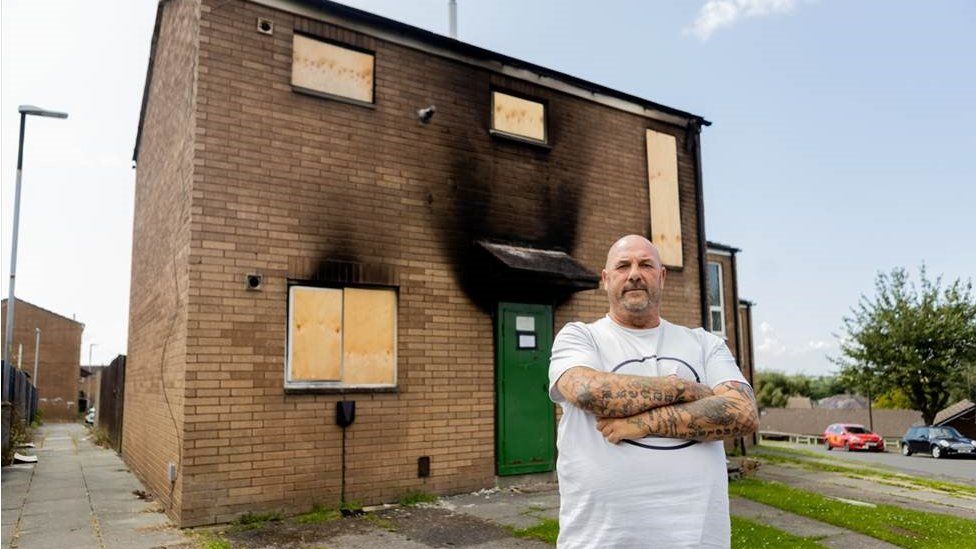 Image source, Electrical Safety FirstImage caption, Mr Beaton said the fire spread "within four minutes"
Neil Odin, prevention lead for the National Fire Chiefs Council (NFCC), said there has been a "worrying increase" in fires involved lithium ion batteries used by e-bikes.
"These are particularly concerning when they occur in people's homes with the incorrect charging or use of items such as e-bikes or e-scooters," he said.
"More awareness of the risks is required with a very close look at the standards associated with these products."
The NFCC recommends that people do not charge their device's battery while they are sleeping. It also says:
Always unplug your charger once it has finished charging
Plug the cable into a main socket rather than an extension lead
Do not cover the battery with anything while charging
Make sure you use the battery recommended by the manufacturer
Always use the manufacturer-approved charger for the product
Ensure you have working smoke alarms on every floor of your home and in the room where you charge the bike/scooter
What can be done?
Aside from regulating the sale of the batteries themselves, Electrical Safety First said e-scooters could be made safer if regulation required the battery to be positioned differently, so it was more shielded from damage.
It said the current location of batteries on e-scooters – typically under the foot plate – can expose them to damage from the ground as well as water. A mandatory increase to the height of the foot plate by 15 centimetres would minimise impact damage.
In a wide-ranging report published today, the charity also recommends:
Banning universal chargers altogether, as this is a cause of overcharging – which can cause fires
Introducing a standard for so-called conversion kits – which can be used to turn regular bikes into e-bikes
Requiring the Home Office to report e-bike and e-scooter fires
A nationwide campaign on e-bike and e-scooter safety, backed by the government, to include how to charge devices safely
Regulating online marketplaces, where it says "many sub-standard and dangerous e-bike and e-scooters are purchased"
The UK Bicycle Association (BA), the trade association representing the UK cycle industry said it would "fully support" such regulation.
"The BA particularly welcomes the comments around regulation of online marketplaces, which have been identified by fire services as the route by which many problematic products are sourced," it said.
James Metcalfe, founder of e-bike firm Volt, told the BBC there was a proliferation of substandard batteries online and "consumers need to be educated that cheap imported batteries can be extremely dangerous".
He said firms like Volt already had robust quality standards and welcomed any measures that would better protect the consumer.