close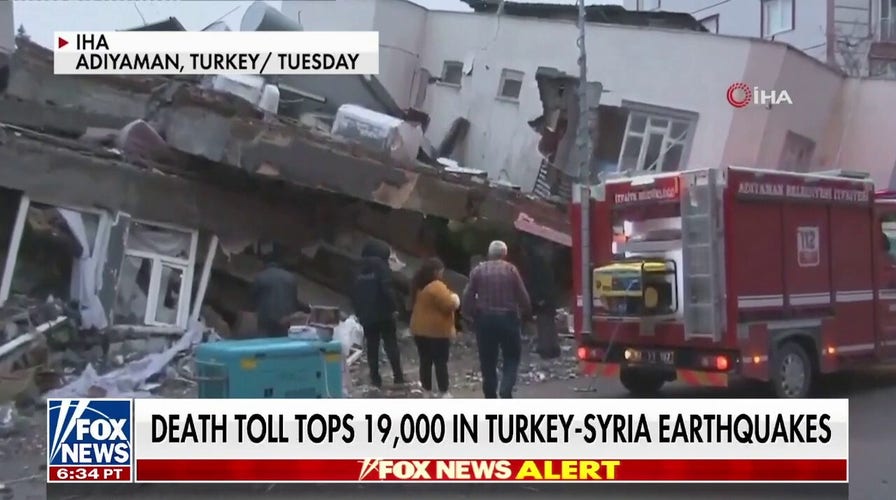 Video
More than 19,000 dead following Turkey-Syria earthquakes
Senior foreign affairs correspondent Greg Palkot reports the latest on the aftermath from Adiyaman, Turkey. 
Police in the Netherlands say they have found narcotics in a truck Thursday that was part of a convoy carrying aid to victims of the earthquake that rocked Turkey and Syria.
Authorities did not give details of what kind of drugs or the quantity, but said they were hidden among emergency supplies.
The drugs have since been destroyed, and the five other trucks in the convoy are being scanned before being allowed to proceed.
No arrests were immediately made. Police said they received a tip that the drugs were on board.
STAGGERING TURKEY EARTHQUAKE DEATH TOLL INCLUDES AT LEAST 3 US CITIZENS: STATE DEPARTMENT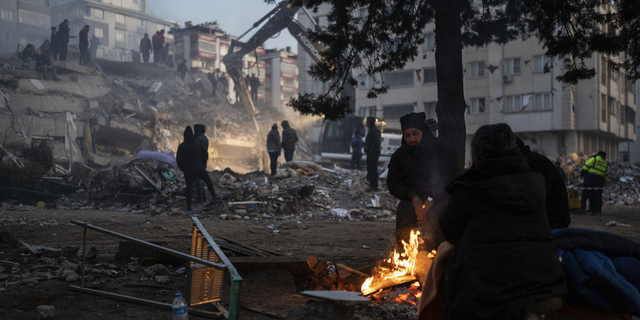 People warm around a fire as rescuers search in a destroyed building in Kahramanmaras, southeastern Turkey, on Thursday, Feb. 9. (AP/Petros Giannakouris)
Turkish groups throughout the Netherlands have been gathering emergency relief supplies in the aftermath of the devastating earthquake that hit the country and neighboring Syria, killing more than 19,800 people and destroying countless buildings.
DRAMATIC VIDEO SHOWS TURKISH EARTHQUAKE RESCUE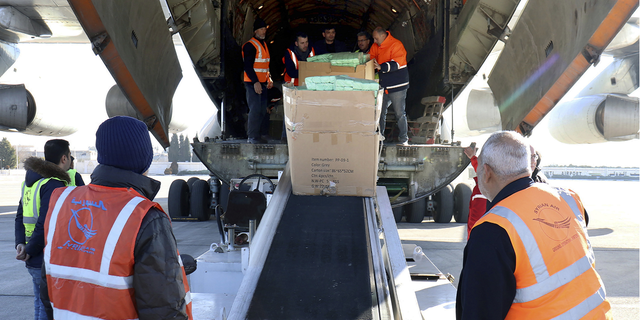 Workers unload humanitarian aid sent from Armenia, for Syria following a devastating earthquake, at the airport in Aleppo, Syria, on Thursday, Feb. 9. (AP/SANA)
U.N. Secretary-General António Guterres is pressing the international community to provide money for both countries and work on physical access for aid to earthquake-stricken parts of Syria.
Guterres spoke to reporters at U.N. headquarters Thursday, hours after a U.N. aid convoy crossed from Turkey into Syria's rebel-held northwest for the first time since Monday's 7.8 magnitude quake.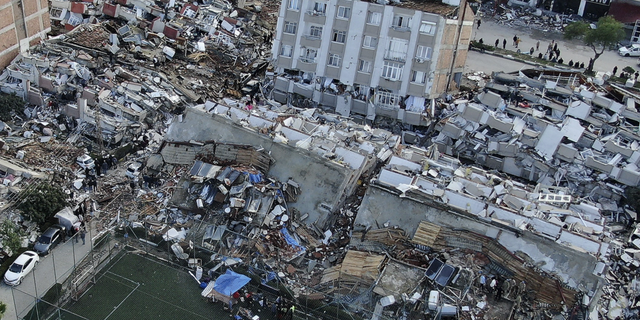 This aerial photo shows the destruction in Hatay city center, southern Turkey, on Tuesday, Feb. 7. (AP/IHA)
CLICK HERE TO GET THE FOX NEWS APP
"More help is on the way, but much more — much more — is needed," the U.N. chief said, adding that the organization plans to launch an international appeal next week for funding for the effort. The U.N. has released $25 million of its own money so far.
"People are facing nightmare on top of nightmare," the U.N. chief said.
The Associated Press contributed to this report.
Greg Norman is a reporter at Fox News Digital.