close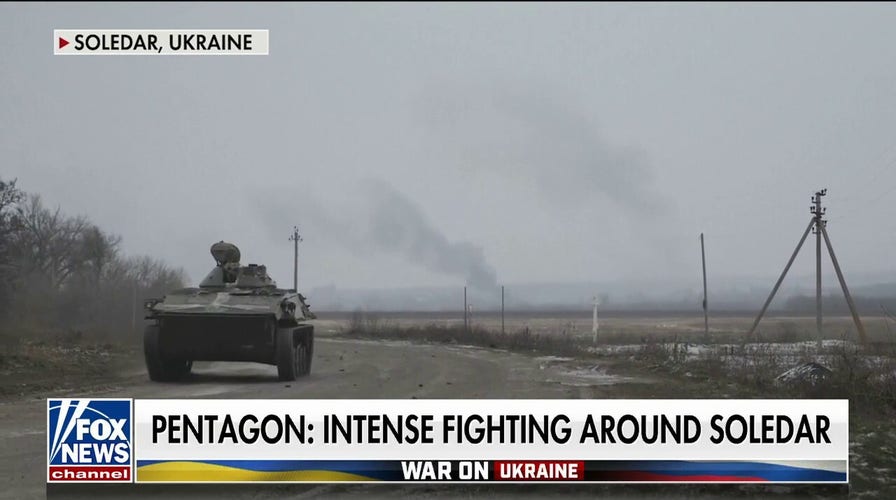 Video
Russia and Ukraine battle over eastern town Soledar
Fox News correspondent Alex Hogan reports Russia believes it has taken over the town of Soledar and that adoptions are placed on pause for Ukrainian children due to the war on 'The Story.'
Dozens of Ukrainian civilians were injured and others trapped after Russia on Saturday struck a nine-story civilian apartment complex in Ukraine's central-eastern city of Dnipro, located near the Zaporizhzhia border.
In videos posted to social media the screams of those trapped inside the demolished building reportedly rang out as dust filled the air and rescue teams worked to the help victims caught in the attack.
At least 27 people were injured, including six children, and at least two people were killed in the attack, Valentin Reznichenko, regional governor of the Dnipropetrovsk region said on Telegram.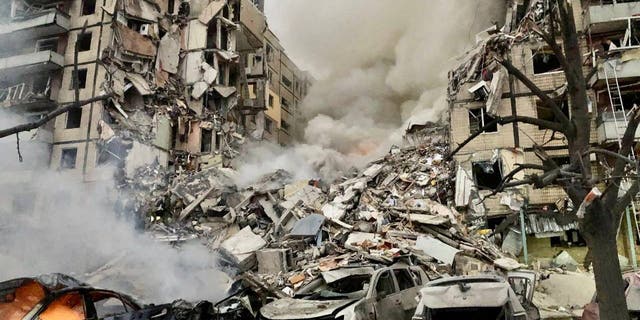 A view shows an apartment building heavily damaged by a Russian missile strike, amid Russia's attack on Ukraine, in Dnipro, Ukraine January 14, 2022. Governor of Dnipropetrovsk region Valentyn Reznichenko via Telegram/Handout via REUTERS.
(Governor of Dnipropetrovsk region Valentyn Reznichenko via Telegram/Handout via REUTERS )
UK COMMITS TO SENDING UKRAINE CHALLENGER 2 TANKS, GOING FURTHER THAN BIDEN ADMIN
Reznichenko said all of those who had been recovered have been taken to the hospital as searches and debris removal continued.
"All services are working," he said. "We are fighting for every person, every life."
An indeterminate number of missiles struck the building, partially wiping out the second to ninth floors in the early evening local time.
Ukrainian President Volodymyr Zelenskyy took to Twitter to condemn the attacks and said, "Eternal memory to all whose lives were taken by Russian terror."
"The world must stop evil," he continued, adding that debris removal was ongoing. "All services are working. We're fighting for every person, every life. We'll find everyone involved in terror."
The attacks on Dnipro came just hours after air raid sirens rang out in Kyiv amid a heavy layer of fog as a renewed round of missile fire struck the capital after two weeks had passed without a single drone or missile strike.
Ukrainian officials said civilian infrastructure had been damaged, but no casualties were reported.
Kyiv mayor Vitali Klitschk said explosions were heard in the residential area of the Dniprovskyi district on the left bank of the Dnieper River and that missile fragments fell to the south on non-residential areas of the Holosiivskyi district where a fire broke out.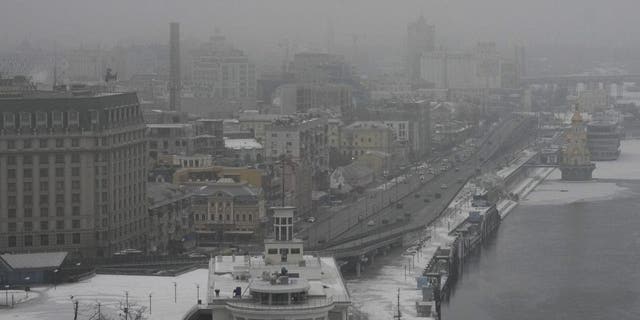 Fog covers Kyiv city center, Ukraine, Saturday, Jan. 14, 2023. A series of explosions rocked Kyiv on Saturday morning and minutes later air raid sirens started to wail as an apparent missile attack on the Ukrainian capital was underway. 
(AP Photo/Efrem Lukatsky)
US TO START TRAINING UKRAINIANS ON PATRIOT SYSTEM ON US SOIL NEXT WEEK
Another 18 house were also damaged along with a "critical infrastructure facility" on the outskirts of the city according to the regional governor Oleksii Kuleba.
Though Russia has routinely hit Kyiv with missile strikes since the war broke out nearly 11 months ago – including an intense barrage over the Christmas season – the Saturday strikes were the first Russia had launched at the capital since the New Year kicked off.
The reduction in strikes could signal diminishing missile stocks as Western defense officials repeatedly said Russia would not be able to maintain the level of attacks it was levying just weeks ago.
Ukrainian Air Force spokesman Yurii Ihnat said the missiles most likely "flew on a ballistic trajectory" from north of Ukraine, reported Ukrainian news outlet Pravda.
It is unclear where exactly the missiles were fired from as Russian troops have levied missiles from Belarus as well as within its own borders.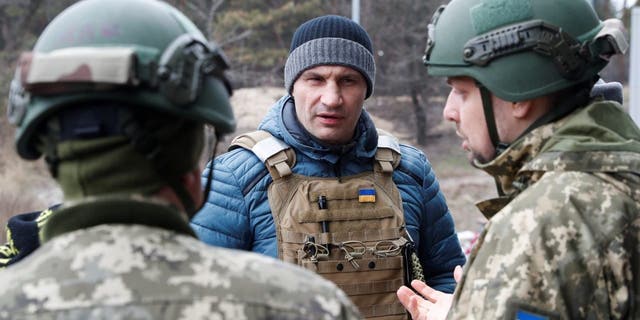 Mayor of Kyiv Vitali Klitschko visits a checkpoint of the Ukrainian Territorial Defence Forces, as Russia's invasion of Ukraine continues, in Kyiv, Ukraine March 6, 2022.
(REUTERS/Valentyn Ogirenko)
RUSSIA AGAIN CLAIMS VICTORY OVER UKRAINIAN CITY SOLEDAR, IN POSSIBLE RARE VICTORY
Ihnat said officials were still investigating the fragments of the missiles to determine if they were in fact ballistic or S-300 anti-aircraft missiles.
The official stressed that Ukraine has no way of stopping ballistic missiles, though Ukrainian soldiers will begin training in the U.S. next week on the Patriot missile system which is capable to downing ballistic and aircraft launched missiles.
Ihnat also reported that Russian Tu-95 strategic bombers were airborne and being monitored, though he said it was unclear if they intended to launch their own strikes.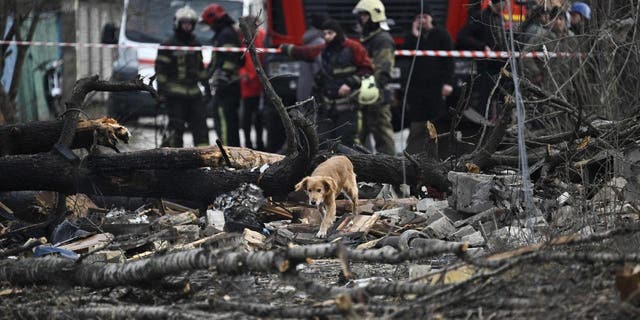 A dog walks among debris of homes destroyed by a missile attack in the outskirts of Kyiv, on Dec. 29, 2022, following a Russian missile strike on Ukraine.
(GENYA SAVILOV/AFP via Getty Images)
CLICK HERE TO GET THE FOX NEWS APP
At least two S-300 missiles were also levied at "energy and industrial objects" in the Kharkiv region Saturday reported its regional governor Oleh Syniehubov.
Emergency power cuts were immediately made, but no casualties were reported.
Strikes in Lviv were also reported Saturday.
The Associated Press contributed to this report.
Caitlin McFall is a Reporter at Fox News Digital covering Politics, U.S. and World news.