The Justice Department said Monday it is working with the intelligence community to determine how best to brief the Senate Intelligence Committee on potential national security risks posed by President Biden's and former President Trump's improper retention of classified records.
Senate Intelligence Committee Chairman Mark Warner, D-Va., and Vice Chairman Sen. Marco Rubio, R-Fla., requested information about the classified records seized from Trump's Mar-a-Lago home during the FBI's unprecedented raid in August. Warner and Rubio also demanded the DOJ provide similar information regarding classified records discovered at Biden's Penn Biden Center office and his Delaware home.
BIDEN, TRUMP, PENCE UNDER SCRUTINY FOR CLASSIFIED RECORDS, POTENTIALLY COMPLICATING 2024 WHITE HOUSE BIDS
Assistant Attorney General Carlos Uriarte on Monday responded to Warner and Rubio, saying that the Justice Department "recognizes the committee's important oversight interest over intelligence matters."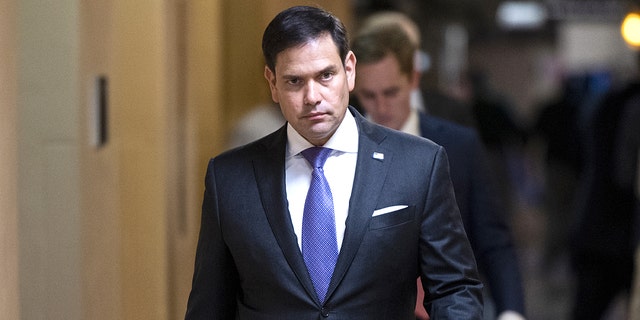 Sen. Marco Rubio
(Bill Clark/CQ-Roll Call, Inc via Getty Images)
Uriarte reminded that the DOJ worked "in good faith" to schedule a briefing in September 2022, but noted that, since then, "there have been significant developments, including the appointment of two separate Special Counsels to handle the respective matters."
"We are working with the Office of the Director of National Intelligence to support the provision of information that will satisfy the Committee's responsibilities without harming the ongoing Special Counsel investigations," Uriarte wrote, adding that prosecutors on both the Biden and Trump matters "are actively working to enable sharing information with the Committee."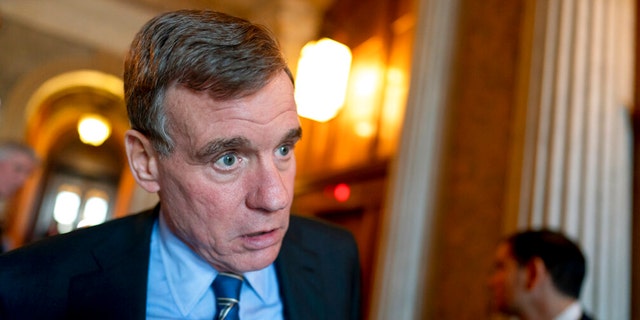 Senate Intelligence Committee Chairman Mark Warner
(AP Photo/J. Scott Applewhite)
"The Department looks forward to continuing to engage with the Committee to meet its needs while protecting the Department's interests," Uriarte wrote.
Uriarte pointed to the DOJ's "long-standing policy to maintain the confidentiality of information regarding open matters."
DOJ TELLS JORDAN DISCLOSING INFO ON BIDEN DOCUMENTS PROBE TO CONGRESS WOULD JEOPARDIZE INVESTIGATION
"The Committee's interest in overseeing the nation's intelligence activities must be carefully balanced to protect the conduct and integrity of law enforcement investigations," Uriarte wrote Monday, warning that "disclosing non-public information about ongoing investigations could violate statutory requirements or court orders, reveal road maps of our investigations, and interfere with the Department's ability to gather facts, interview witnesses, and bring criminal prosecutions where warranted."
The FBI conducted an unprecedented early morning raid on Trump's private residence in Palm Beach Aug. 8, 2022, and seized classified records.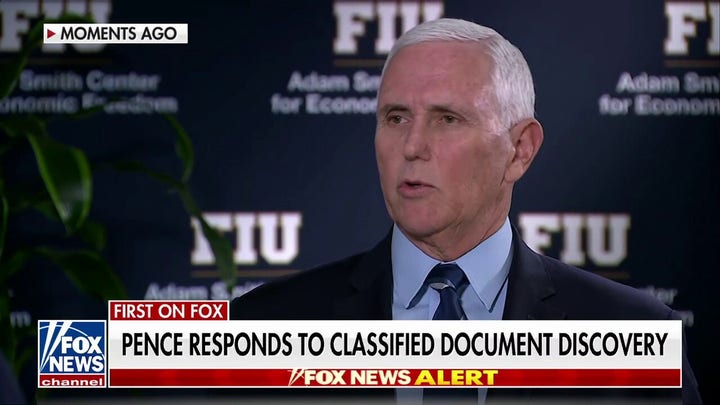 Video
Trump and his legal team dispute the classification and argued that they were cooperating with the Justice Department and FBI ahead of the unprecedented predawn raid of the former president's Palm Beach home.
JIM JORDAN LAUNCHES FIRST INVESTIGATION AS JUDICIARY CHAIR INTO BIDEN CLASSIFIED DOCS SCANDAL
Attorney General Merrick Garland on Nov. 18 appointed former DOJ official Jack Smith as special counsel to investigate the issue of classified records being held at Mar-a-Lago.
When he appointed Smith, Garland and top DOJ officials were simultaneously conducting an internal review of President Biden's mishandling of classified records. That review, and the discovery of classified records at Biden's office, was not disclosed to the public until January.
Classified records were found inside the Washington, D.C., offices of the Penn Biden Center think tank on Nov. 2, 2022, but only disclosed to the public earlier this month.
A second stash of classified documents was also found inside the garage of the president's home in Wilmington in December but revealed to the public earlier this month, prompting Garland to appoint former U.S. Attorney Rob Hur to serve as special counsel.
CLICK HERE TO GET THE FOX NEWS APP
Days later, additional classified documents were found in the president's home in Delaware.
DOJ revealed the classification level of Trump documents held at Mar-a-Lago but refuses to disclose the classification level or contents of the classified records discovered in Biden's home and office.
Former Vice President Mike Pence also discovered classified records at his Indiana home. Garland has not yet tapped a special counsel to review that matter, and it is unclear if he will do so.