Two Florida residents were indicted by the U.S. Department of Justice on Tuesday for attacks on crisis pregnancy resource centers, becoming the first of such indictments following the Supreme Court's leaked draft opinion to overturn Roe v. Wade.
Caleb Freestone, 27, and Amber Smith-Stewart, 23, allegedly conspired to prevent reproductive health services facility employees at a clinic in Winter Haven, Florida from providing services, according to the indictment.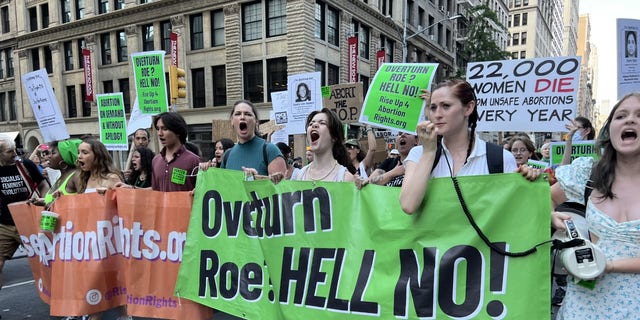 Protesters hold a green sign protesting Roe vs. Wade being overturned in New York City.
(Peter Gerber/Fox News Digital)
Both suspects are accused of targeting the pregnancy resource facility in Winter Haven and vandalizing it with spray-painted threats such as, "If abortions aren't safe than niether [sic] are you," "YOUR TIME IS UP!!," "WE'RE COMING FOR U," and "We are everywhere."
ABORTION IS 'GRUESOME SIGN' OF WHAT SOCIETY HAS FORGOTTEN, SAYS CATHOLIC ARCHBISHOP
Winter Haven was not the only clinic Freestone and Smith-Stewart targeted. In fact, the indictment alleges they also targeted facilities in Hollywood, Florida and Hialeah, Florida.
By spray-painting the threats, Freestone and Smith-Stewart violated the Freedom of Access to Clinic Entrances, or FACE, Act. President Bill Clinton signed the act in 1994 and prohibits the use of any type of force or intimidation against anyone seeking an abortion, anyone exercising their First Amendment right of religious freedom, or intentionally damaging or destroying a reproductive healthcare facility or place of worship.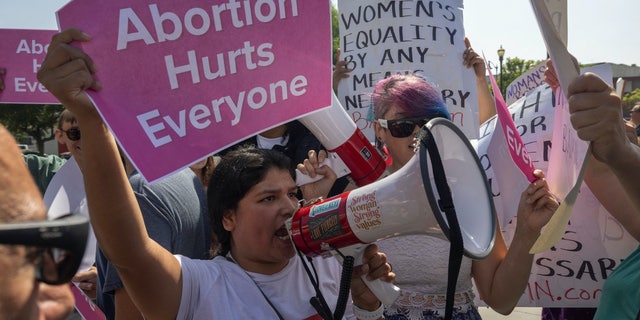 A group of anti-abortion protesters crashes the Women's March Action Rally for Reproductive Rights at Mariachi Plaza in Los Angeles, California, on Oct. 8, 2022.
( DAVID MCNEW / AFP) (Photo by DAVID MCNEW/AFP via Getty Images)
Freestone and Smith-Stewart allegedly used threats of force to intimidate and interfere with the employees at a reproductive health services facility in Winter Haven on the basis that they were providing those services.
ARMED SUSPECT ARRESTED NEAR JUSTICE KAVANAUGH HOME, CHARGED WITH ATTEMPTED MURDER
The duo also allegedly violated the FACE Act by damaging the facility with spray-painted threatsbecause the facility provides reproductive health services.
Both Freestone and Smith-Stewart face up to 12 years in prison, three years of supervised release and fines up to $350,000 if convicted.
CLICK HERE TO GET THE FOX NEWS APP
Several parties are involved in the investigation and prosecution of this case, including the FBI Tampa Field Office, the Miami Police Department, Assistant U.S. Attorney Lisa Thelwell and Trial Attorneys Sanjay Patel and Laura-Kate Bernstein of the Civil Rights Division's Criminal Section.
The DOJ has come under fire for arrests of pro-life activists last year, in the wake of a number of yet unsolved attacks on crisis pregnancy centers.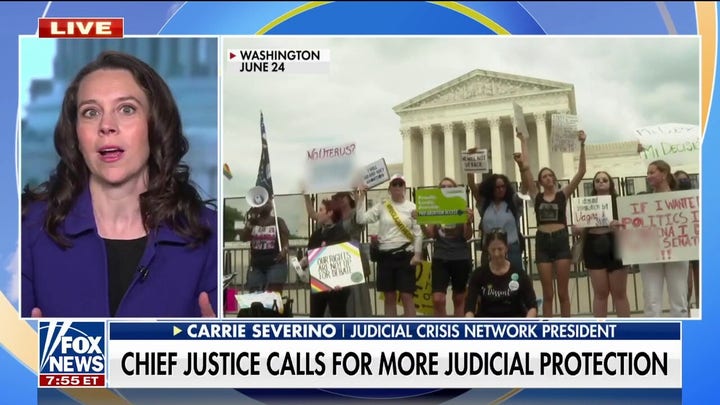 Video