The Department of Homeland Security this week announced an additional $77 million in funding for non-governmental organizations (NGOs) and communities at the border and elsewhere that are dealing with the ramifications of the migrant crisis now in its third year.
DHS announced that the funding, which comes through the Federal Emergency Management Agency (FEMA), will be made available to 53 recipients for "temporary shelter and other eligible costs associated with migrants awaiting the outcome of their immigration proceedings."
It brings the total amount handed out this fiscal year to more than $770 million. That funding originates from the omnibus bill signed by President Biden in December 2022. DHS has also requested $600 million in the FY 23 budget supplemental for similar FEMA funding to areas hit by the migrant wave.
SIGN UP NOW! WATCH THE FIRST GOP PRESIDENTIAL PRIMARY DEBATE ON FOXNEWS.COM
Of this $77 million, the largest amount, $13.2 million, is going to El Paso, Texas – one of the busiest areas for migrant border crossings. Catholic Charities in the Diocese of San Diego will receive $12.8 million. Pima County, Arizona, will receive $2.6 million and other NGOs, including food banks, will receive similar amounts in Texas and Arizona.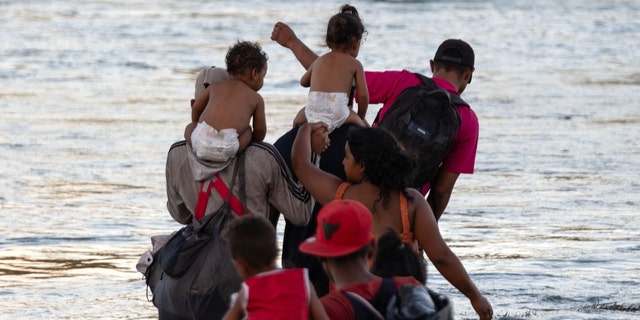 Migrants cross the Rio Grande, heading for Eagle Pass, Texas, on Aug. 4, 2023. (Guillermo Arias/AFP via Getty Images)
Meanwhile, deeper into the interior, New York City's Office of Management and Budget will receive $2.2 million. There, Mayor Eric Adams has called for more funding and a federal emergency declaration over the number of migrants the "sanctuary" city has received, which has left officials overwhelmed and led to scenes of migrants camped out on the streets.
Chicago ($2.2 million), Washington, D.C. ($1.1 million), Philadelphia ($912,000), Atlanta ($1.2 million) and Denver ($392,000) are among the non-border cities receiving funding from the new tranche.
DHS also said it has expanded a cap on hotels and airfare to 10% of the total funding awarded. However, it said that cap can be waived due to "operational need."
MIGRANT ENCOUNTERS AT SOUTHERN BORDER ON THE RISE AGAIN AFTER BIDEN ADMIN TOUTED REFORMS
Some at the border have bristled at the money being received by those cities deeper in the interior. Sen. Kyrsten Sinema, I-Ariz., said she was "livid" about funding announced for New York City in June, arguing it should have gone to Texas and Arizona instead.
But the latest funding comes after the Biden administration announced that border numbers had increased in July after a decrease in June – a decrease that officials had tied to policies it introduced at the end of the Title 42 public health order on May 11.
There were 183,503 encounters along the southern border in July, which marks a decrease from the 200,162 encountered last July, but an increase from the 144,566 in June.
NYC MIGRANT CRISIS COULD HIT $12 BILLION, MAYOR ADAMS URGES FEDERAL EMERGENCY DECLARATION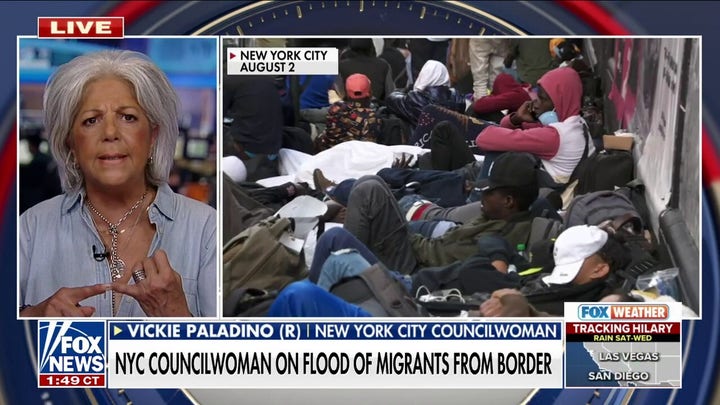 Video
Fox reported earlier this month that all four main Border Patrol sectors were either nearing full capacity or were already over capacity. Meanwhile, the administration has been calling for more volunteers from within the agency to go to the border, while sending additional ICE special agents.
It has also called for more funding from Congress, most recently requesting $4 billion out of the $40 billion budget supplemental request for aid with migration and border processing. It has separately called for the legislative body to pass comprehensive immigration reform to fix what it says is a "broken" immigration system.
CLICK TO GET THE FOX NEWS APP
Republicans have rebuffed many of those calls, including rejecting the immigration reform bill backed by the administration for its inclusion of a mass amnesty for millions of illegal immigrants already in the U.S. It has also accused the administration of fueling the crisis by rolling back Trump-era border security measures, reducing ICE interior enforcement, and what they say is an abuse of the humanitarian parole system to release migrants into the interior.