Florida Gov. Ron DeSantis used former President Donald Trump's famous line against him in the first 2024 GOP primary debate Wednesday evening hosted by Fox News.
DeSantis said he would have fired presidential adviser Dr. Anthony Fauci, who led the White House COVID-19 pandemic response under the Trump administration.
"Why are we in this mess? Part of it and a major reason is because how this federal government handled COVID-19 by locking down this economy," DeSantis said at the debate in Milwaukee, Wisconsin.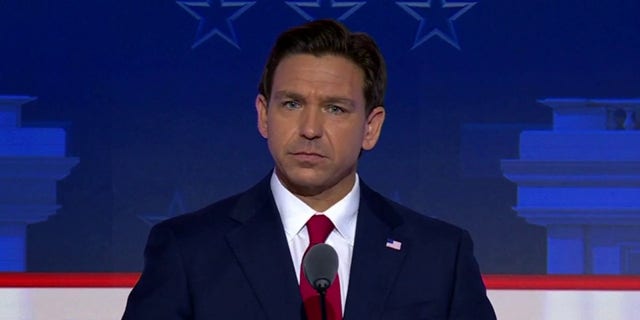 Ron DeSantis at Wednesday night's first GOP debate in Milwaukee. (Fox News)
ALL EYES ON THE GOP PRESIDENTIAL PRIMARY DEBATE! SIGN UP NOW TO STREAM LIVE.
"It was a mistake," he continued. "It should have never happened, and in Florida, we led the country out of lockdown. We kept our state free and open. And I can tell you this, as your president, I will never let the deep state bureaucrats lock you down."
"You don't take somebody like Fauci and coddle him. You bring Fauci and you sit him down, and you say, 'Anthony, you are fired,'" he added, sparking applause.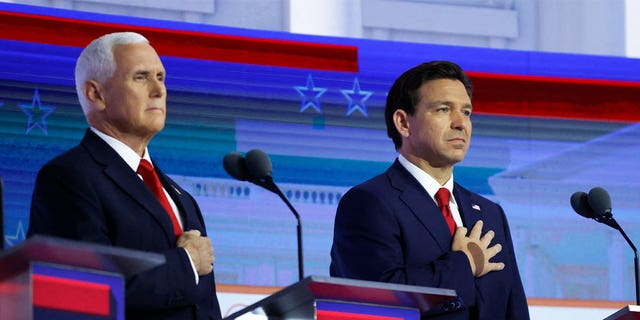 Former US Vice President Mike Pence and Florida Governor Ron DeSantis place their hands on their hearts as the US national anthem is sung during the first Republican Presidential primary debate at the Fiserv Forum in Milwaukee, Wisconsin, on August 23, 2023. (Kamil Krzaczynski)
Ahead of the debate the Republican National Committee required candidates to obtain minimum of 40,000 donors with 200 in 20 or more states and poll at 1% at least in three national polls or a mix of national and early-state polls deemed acceptable.
Eight of the nine candidates who qualified showed up to the debate: The others are former Vice President Mike Pence, DeSantis, Sen. Tim Scott of South Carolina, former Ambassador and former South Carolina Gov. Nikki Haley, former New Jersey Gov. Chris Christie, biotech entrepreneur and bestselling author Vivek Ramaswamy, former Arkansas Gov. Asa Hutchinson and North Dakota Gov. Doug Burgum.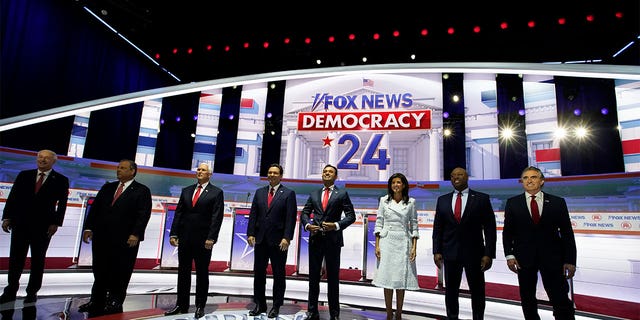 CLICK HERE TO GET THE FOX NEWS APP
Trump announced Sunday that he wouldn't be attending.