Florida Gov. Ron DeSantis on Tuesday praised the Sunshine State as the "land of liberty and the land of sanity," while slamming the "floundering federal establishment" in Washington D.C., the Biden administration, and laying out his policies for the "months and years ahead" as he was sworn in for a second term.
DeSantis, who is considered a likely GOP 2024 presidential contender, delivered his inaugural address on the steps of the state Capitol in Tallahassee Tuesday, after a decisive 19-point reelection victory.
DESANTIS TO BE SWORN IN FOR SECOND TERM AS FLORIDA GOVERNOR, BUT EVERYONE IS WAITING FOR HIS 2024 PLANS
"Freedom lives here in our great Sunshine State of Florida," DeSantis said Tuesday, touting the state's leadership throughout the COVID-19 pandemic, social issues and more.
"When the world lost its mind, when common sense suddenly became an uncommon virtue, Florida was a refuge of sanity, a citadel of freedom for our fellow Americans, and even for people around the world," DeSantis said. "In captaining the ship of state, we choose to navigate the boisterous sea of liberty rather than cower in the calm docks of despotism."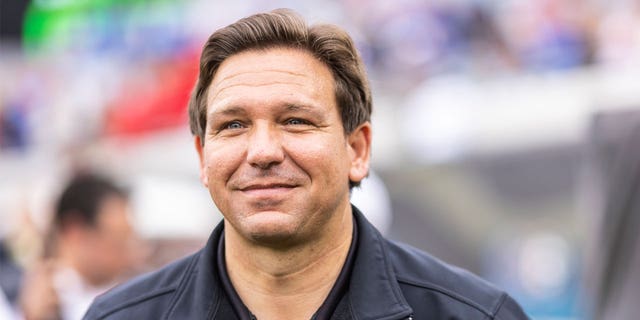 Conservatives rushed to Twitter on Tuesday to spike the football when GOP Gov. Ron DeSantis was projected to defeat Charlie Crist to secure another term as Florida's chief executive. 
(James Gilbert/Getty Images)
"We face attacks, we take hits, but we weather the storms," DeSantis continued. "We stand our ground, and we do what's right."
DeSantis, acknowledging the "tens of thousands" who "assail me on every side," said that he has "refused to use polls and to put our finger in the wind."
"Leaders do not follow, they lead," DeSantis said. "We have articulated a vision for a free and prosperous state. We have, through persistence and hard work, executed on that vision. We have produced favorable results. And now we are here today because the people of Florida have validated our efforts in record fashion."
DeSantis has faced attacks from Democrats, but also from former President Trump, who, in the days just before the midterms debuted a new nickname for the governor: "Ron DeSanctimonius." But DeSantis declined to respond to Trump's taunts.
FIRST ON FOX: IS UPCOMING DESANTIS BOOK A POTENTIAL BLUEPRINT FOR 2024?
Meanwhile, reflecting on his first term, DeSantis touted his delivery on a "bold agenda," including lowering taxes on Floridians, enacting education reforms, supporting law and order, implementing election reforms and more.
DeSantis vowed more education reforms in his second term, saying Florida "must always be a great place to raise a family."
"We will defend our children against those who seek to rob them of their innocence," DeSantis said.
As for crime, DeSantis said Florida "will always support law enforcement, and we will always reject soft-on-crime policies that put our communities at risk."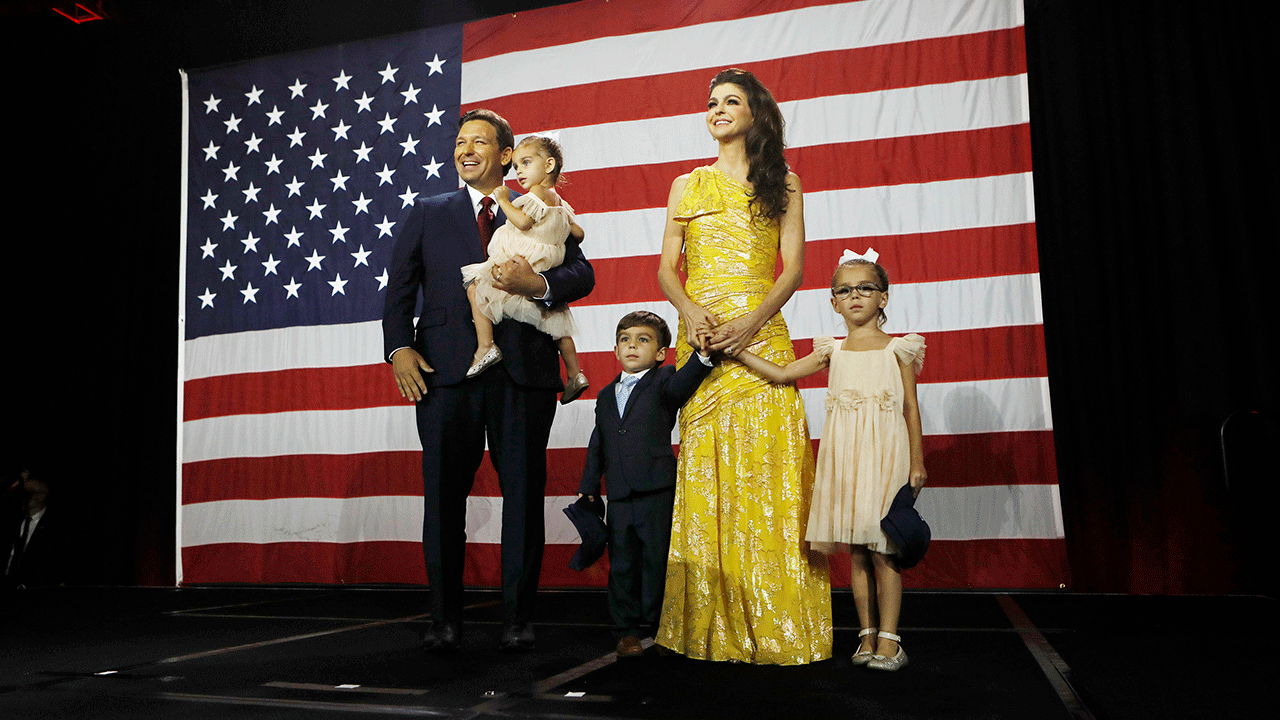 Ron DeSantis cruised to re-election on November 8. 
(Octavio Jones/Getty Images)
DeSantis has seen his popularity soaring among Republicans, not only in Florida, but across the country. His standing in early 2024 GOP presidential nomination polls rivals that of former President Donald Trump, as Republicans across the nation praise him for his forceful pushback against coronavirus pandemic restrictions and his aggressive actions as a conservative culture warrior – going after media and corporations.
Meanwhile, DeSantis on Tuesday referred to Florida as a "land of sanity," as states across the nation embraced policies that, he said, are "coddling criminals and attacking law enforcement."
"They've imposed unreasonable burdens on taxpayers to finance unfathomable levels of public spending. They have harmed education by subordinating the interests of students and parents to partisan interest groups," DeSantis said. "They have imposed medical authoritarianism in the guise of pandemic mandates and restrictions that lack a scientific basis."
DESANTIS HUDDLING WITH TOP DONORS IN WAKE OF RE-ELECTION LANDSLIDE
He added: "This bizarre but prevalent ideology that permeates these policy measures purports to act in the name of justice for the marginalized. But it frowns upon Americans detentions. It rejects merit and achievement and it advocates identity essentialism."
DeSantis said he and Floridians "reject this woke ideology."
"We seek normalcy, not philosophical lunacy," DeSantis said.
He added: "Florida is where woke goes to die."
While his address focused largely on Florida, DeSantis drew a stark contrast between his policies and those of President Biden.
Without naming him, DeSantis slammed Biden and the federal government for an "inflationary spending binge that has left our nation weaker and our citizens poorer."
DeSantis also attacked Biden administration policies that "recklessly facilitated open borders, making a mockery of the rule of law, allowing massive amounts of narcotics to infect our states, importing criminal aliens, and greenlighting the flow of millions of illegal aliens into our country, burdening communities and taxpayers throughout the land."
The governor also hit the Biden administration's energy policy, which he said has "crippled our nation's domestic production and causing energy to cost more for our citizens and eroding our nation's energy security, and in the process, our national security."
DeSantis said the Biden administration "wields its authority through a sprawling, unaccountable and out of touch bureaucracy that does not act on behalf of us, but instead looms over us and imposes its will upon us."
Florida Gov. Ron DeSantis gives a victory speech after defeating Democratic gubernatorial candidate Rep. Charlie Crist while his wife Casey DeSantis looks on during his election night watch party.
(Getty Images)
"The results of this have been predictably dismal," he said. "This has caused many to be pessimistic about the country's future. Some even say that failure is inevitable."
But DeSantis said that Florida is "proof positive that we, the people, are not destined for failure."
MEET THE POTENTIAL 2024 REPUBLICAN PRESIDENTIAL CONTENDERS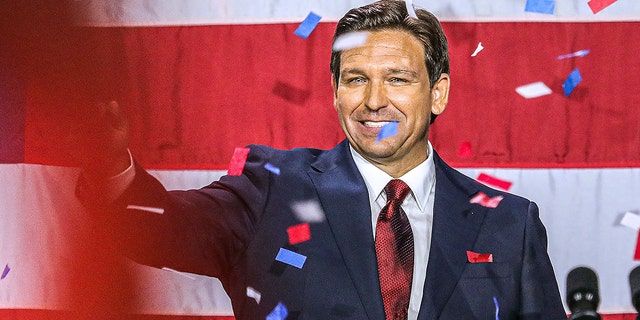 Republican gubernatorial candidate for Florida Ron DeSantis waves to the crowd during an election night watch party at the Convention Center in Tampa, Florida, on November 8, 2022.
(GIORGIO VIERA/AFP via Getty Images)
DeSantis, a former congressman, is currently the youngest governor in the nation, at the age of 44. Arkansas Gov.-elect Sarah Huckabee Sanders, when sworn in, will take that designation.
CLICK HERE TO GET THE FOX NEWS APP
DeSantis begins his second term with a Republican supermajority in the Florida state legislature.
DeSantis has routinely dismissed talk of a 2024 White House run as he focused on his gubernatorial re-election. But during his election night victory speech in November, he seemed to hint at bringing Florida's conservative success nationwide.
"We have rewritten the political map," DeSantis declared. "While our country flounders due to failed leadership in Washington, Florida is on the right track."
Fox News' Paul Steinhauser contributed to this report.