Democratic officials from across the United States have praised President Biden's recent asylum announcement ahead of his first visit to the southern border on Sunday, which will be the first of his administration.
The announcement included details on how the Biden administration will better manage the flow of asylum seekers primarily from Cuba, Haiti, Nicaragua, and Venezuela. It came ahead of Biden's visit to the U.S.-Mexico border in El Paso, Texas on Sunday.
"Thank you to the Biden-Harris Administration for their renewed commitment to taking on immigration with the nuance and resources this issue deserves. We support policies that are fair and reflect our American values," tweeted Mayor Muriel Bowser of Washington, D.C.
"President Biden's announcement today to expand the humanitarian program to allow more asylum seekers to travel to the United States safely, legally, and in a more controlled manner, is an important, positive step in ensuring our federal partners can better address this humanitarian crisis," New York City Mayor Eric Adams said in a press release.
BORDER AGENTS 'BEYOND FRUSTRATED' AS BIDEN PREPARES TO FINALLY VISIT BESIEGED SOUTHERN BORDER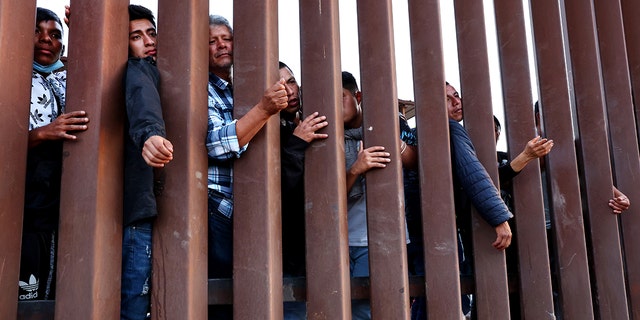 Immigrants wait for soup donated by the Yuma County Abolition group after crossing the border from Mexico on May 23, 2022 in San Luis, Arizona. 
(Mario Tama/Getty Images)
He also praised the Biden administration's "partnership and response to our request for action."
Biden announced Thursday that migrants will be expelled to Mexico if they attempt to enter the U.S. illegally, effective immediately. He said, however, the U.S. would offer humanitarian parole for up to 30,000 people a month from those four countries, a service which they could receive if they apply online, pay for their airfare and find a financial sponsor.
Adams added: "We are hopeful this policy will help better control the flow of asylum seekers arriving at the southern border. At the same time, we still need a long-term and proactive strategy to manage the crisis we are seeing."
The mayor's praise comes just days after he specifically called the migrant crisis a "real embarrassment" on a "national level" and said his city was being overwhelmed by its effects.
"It's a real embarrassment, I believe, on a national level, and we must have an appropriate response. We have had conversations around the issues on migrants for decades. This is a national issue. It must have a national response," Adams said on WABC's "Sid & Friends in the Morning."
NYC MAYOR ADAMS CALLS OUT BIDEN, SAYS MIGRANT CRISIS A 'REAL EMBARRASSMENT'
Biden also received praise from San Diego Mayor Todd Gloria, who said the border announcement will "help expedite legal pathways for orderly migration and increase funding to nonprofits doing lifesaving work in our communities."
Gloria also encouraged the new Republican majority in the House of Representatives to work with Democrats to "pass legislation to fix our broken immigration system!"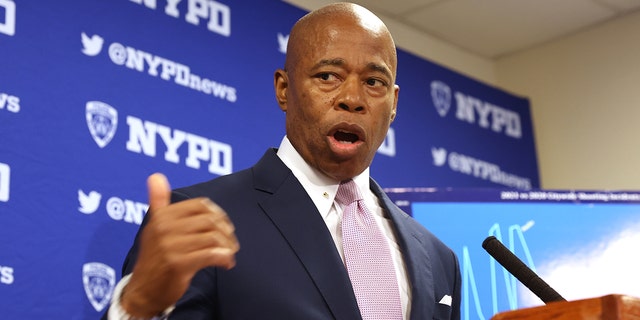 New York Mayor Eric Adams on June 06, 2022 in New York City. 
(Spencer Platt/Getty Images)
Mayor Ron Nirenberg, of San Antonio, Texas, also praised Biden's action.
"In lieu of much-needed congressional policy, [Biden's] new action humanely addresses the influx of asylum seekers entering the U.S. We will continue to work with our federal partners to ensure that San Antonio receives the necessary funding for our local migrant support efforts."
Mayor Lori Lightfoot, of Chicago, Illinois, added: "We support the President's announcement today. Additionally, we look forward to continued engagement with the White House, federal executive branch stakeholders, as well as our federal elected delegation to address this ongoing national challenge around asylum seekers."
KAMALA HARRIS REVEALS BIDEN'S 2023 PRIORITIES INCLUDES INFLATION, JOB GROWTH: 'NEVER BEEN MORE OPTIMISTIC'
And, Mayor Michael Hancock of Denver, Colorado, called the asylum change a "positive step."
"Hopeful these add'l resources/enforcement actions will help alleviate the pressures this influx of migrants is putting on Denver & cities across the country," he added.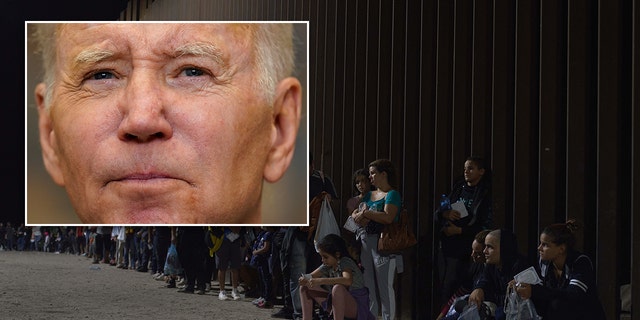 A split photo of Joe Biden and migrants line up as they wait to be processed by US Border Patrol after illegally crossing the US-Mexico border in Yuma, Arizona July 11, 2022.
(AP Photo/Patrick Semansky/ALLISON DINNER/AFP via Getty Images)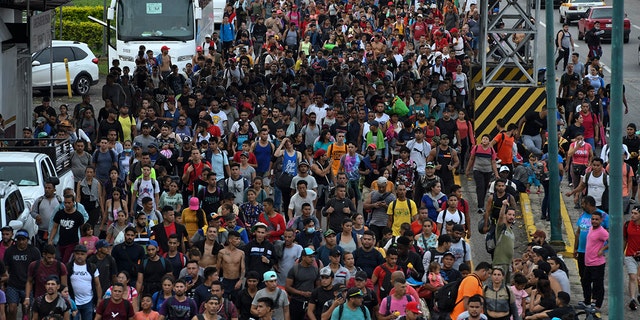 Latin American migrants take part in a caravan towards the border with the United States, in Huehuetan, Chiapas state, Mexico, on June 7, 2022.
(ISAAC GUZMAN/AFP via Getty Images)
Many of these cities have been the recipients of thousands of migrants that have been transported from Texas, Arizona, and Florida via bus to help ease local migrant facilities.
The New York City mayor specifically complained about the influx of migrants, saying during the interview that a migrant "onslaught" had an affect "on the quality of life in New York."
4 MILLION BORDER ENCOUNTERS SINCE KAMALA HARRIS ASSIGNED TO ADDRESS 'ROOT CAUSE' OF PROBLEM
"El Paso should not be going through this. Chicago should not be going through this. Houston, Washington, New York, no city should have to make a decision if they're going to provide for their citizens, particularly coming out of Covid or if they're going to deal with an onslaught of migrants and asylum seekers," he said.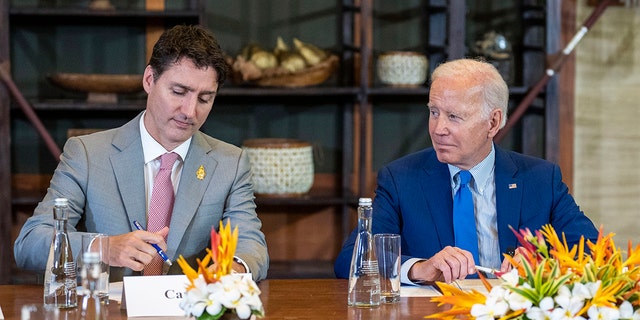 President Joe Biden looks to Canadian Prime Minister Justin Trudeau during a meeting of G7 and NATO leaders in Bali, Indonesia, Nov. 16, 2022. 
(Doug Mills/The New York Times via AP)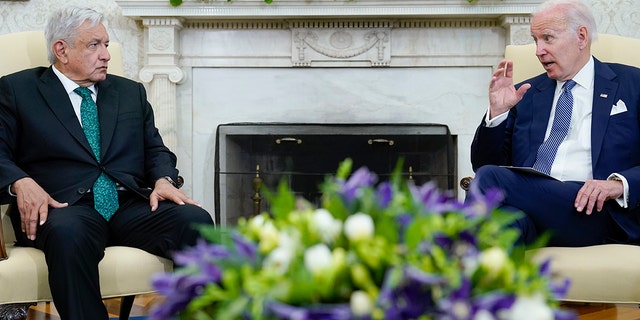 President Joe Biden with Mexican President Andrés Manuel López Obrador in the Oval Office of the White House in Washington, July 12, 2022. 
(AP Photo/Susan Walsh)
Biden's visit to the southern border comes as he kicks off a two-day North American leaders summit in Mexico City that begins on Monday. He will be joined by Mexico President Andres Manuel Lopez Obrador and Canadian Prime Minister Justin Trudeau.
CLICK HERE TO GET THE FOX NEWS APP
In addition to the immigration crisis, the leaders are expected to discuss how a collaborative North America can address climate change, manufacturing, trade, and the economy.
Biden will arrive at the Palacio Nacional in Mexico City on Monday afternoon.
Fox News' Adam Shaw and The Associated Press contributed to this report.