EXCLUSIVE: Democratic strategists are dismissing the criticism leveled at President Biden after he told reporters "no comment" when asked on Sunday about the increased death toll from the wildfire that swept through the Hawaiian town of Lahaina last week.
Fox News Digital spoke with multiple strategists who said Biden's response was out of character for someone known for empathy in tragic situations, and argued that he either didn't fully hear the question or didn't feel like he had all the knowledge necessary for a proper response at that moment.
"What I suspect is he's not been sufficiently briefed on it and would have been a little afraid to say something that turned out not to be correct," James Carville said, who added that Fox Digital's request for comment was the first he had heard of Biden's response. "You know, it's better sometimes to say nothing than to say something wrong."
HAWAII DEMOCRAT SAYS BIDEN'S 'NO COMMENT' ON WILDFIRES 'SHOCKING': 'I WOULD EXPECT MORE'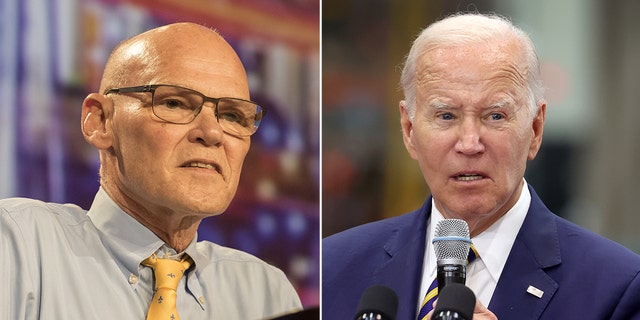 Democratic strategist James Carville (left) and President Joe Biden (right). (Getty Images)
Carville said that presidents and other politicians generally like to comment on natural disasters because it isn't their fault, and they can help, but repeated that Biden was possibly not "factually comfortable enough" to talk about it at the time.
"I'm sure some creative right wing talk show person has figured out a way to make it Hunter's fault. I'm sure Hunter Biden was behind it," he later quipped.
Fox News contributor Leslie Marshall said that she, and anybody else who knows Biden, knows that "he is a nice person" who suffered his own loss when he lost a wife and daughter in a car accident and a son to cancer, and wouldn't react coldly like his critics were portraying.
REP LUNA SHREDS BIDEN'S 'NO COMMENT' ON DEADLY HAWAII FIRES AFTER HE SHELLED OUT ANOTHER $200M TO UKRAINE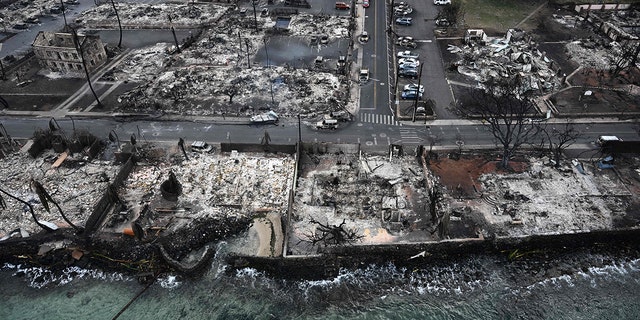 An aerial image taken on August 10, 2023 shows destroyed homes and buildings burned to the ground in Lahaina along the Pacific Ocean in the aftermath of wildfires in western Maui, Hawaii. (PATRICK T. FALLON/AFP via Getty Images)
"He's lived — everybody wants to point out and say he's lived a long time — through numerous disasters. Not just his own, but as a representative of his state and vice president and now as president," Marshall said. "I know that Joe Biden is not a cold person. I would also say that words don't matter. And I know people think they do, but they don't."
Marshall recalled how people often want to say, "I'm sorry," when someone they know experiences a loss because they don't know what else to say, but that it's just "giving lip service to disaster."
"Maybe he didn't hear what the reporter asked," she added while also echoing what Carville said in that Biden might not have wanted "to speak out improperly" because of the situation's fluidity.
WHITE HOUSE SHOOTS DOWN CRITICS OVER BIDEN'S 'NO COMMENT' HAWAII RESPONSE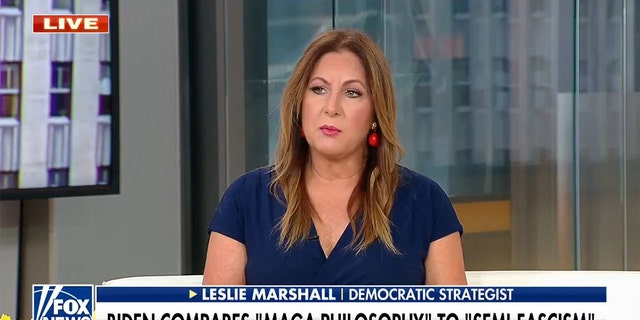 Fox News contributor and Democratic strategist Leslie Marshall appears on "Outnumbered" on August 30, 2022. (Fox News)
Marshall went on to predict the situation wouldn't ultimately be bad for his chances of winning re-election, and that people wouldn't base their vote on this instance, especially in a deep-blue state like Hawaii.
As of Wednesday morning, the death toll from the devastating Maui fire reached 106.
Biden said Tuesday that he and First Lady Jill Biden plan to visit Hawaii as soon as possible, but he does not want his arrival to get in the way of recovery efforts.
CLICK HERE TO GET THE FOX NEWS APP
Fox News' Lawrence Richard contributed to this report.