Republican White House candidate Sen. Tim Scott of South Carolina is dishing out roughly $8 million to run ads starting Thursday in Iowa and New Hampshire, the first two states to vote in the GOP presidential nominating calendar.
The announcement, shared first with Fox News and a handful of other organizations, comes as Scott's standing in the race to be the 2024 Republican standard-bearer is on the rise.
The new ad buy by the Scott campaign includes $6.6 million to run TV spots, with the rest for digital and radio commercials.
CHECK OUT INITIAL FOX NEWS POWER RANKINGS IN 2024 GOP PRESIDENTIAL NOMINATION RACE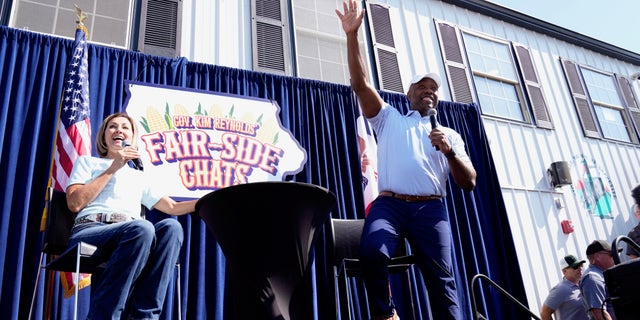 Republican presidential candidate Sen. Tim Scott, R-S.C., reacts before speaking at a Fair-Side Chat with Iowa Gov. Kim Reynolds at the Iowa State Fair, Aug. 15, 2023, in Des Moines. (AP Photo/Charlie Neibergall)
The new buy is the second major ad blitz by Scott. His campaign shelled out nearly $6 million to run spots in the early voting states as he declared his candidacy for the presidency in mid-May.
Scott's campaign touted that the senator is the only candidate to date to have ads placed post-Labor Day.
WHO'S UP AND WHO'S DOWN IN BRAND-NEW FOX NEWS 2024 GOP PRESIDENTIAL NOMINATION POLL
In addition to the new ad blitz, the Scott-aligned super PAC announced last month that it would spend $40 million to reserve TV and digital ad time to run ads starting Sept. 7 in Iowa, New Hampshire and the senator's home state of South Carolina, which votes third in the GOP presidential nominating calendar. TIM PAC said its spots will run through January, when the first votes in the GOP primaries and caucuses are cast.
Scott, the only Black Republican in the Senate and a rising star in the GOP, has been spotlighting an uplifting conservative message as he seeks his party's presidential nomination.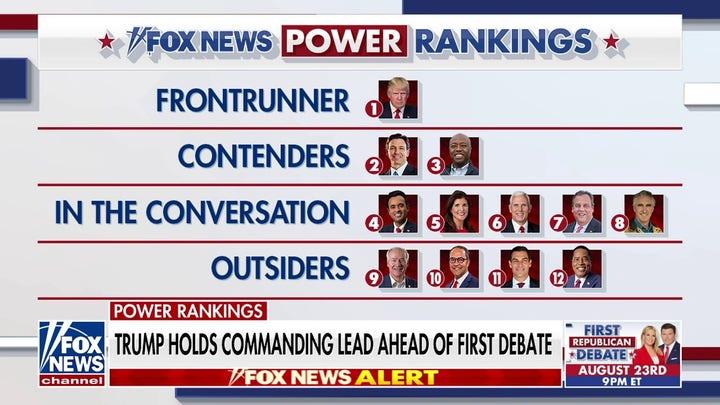 Video
Scott is in third place in the initial edition of the Fox News Power Rankings in the race for the 2024 Republican presidential nomination, which were unveiled Wednesday. He trails only former President Donald Trump – the commanding front-runner as he makes his third straight White House run – and Florida Gov. Ron DeSantis.
The senator stood at 11% in July in the most recent Fox News polling in Iowa, putting him in third place behind Trump and DeSantis.
And in his home state, he stood at 10% last month in Fox News polling, putting him in fourth behind Trump, DeSantis and his fellow home state candidate, former U.N. ambassador and former Gov. Nikki Haley.
TIM SCOTT'S BULLSEYE EXPANDS AS POLL NUMBERS RISE
The senator, who's also known for his fundraising prowess, entered July with a very healthy $21 million in his campaign coffers, according to his fundraising filing with the Federal Election Commission. That was second only to Trump.
The senator, in an interview last month in New Hampshire with Fox News Digital, emphasized that he and his campaign are going to "keep doing what we're doing. It's working. So, we have to continue to show up, continue to have the resources to put on TV."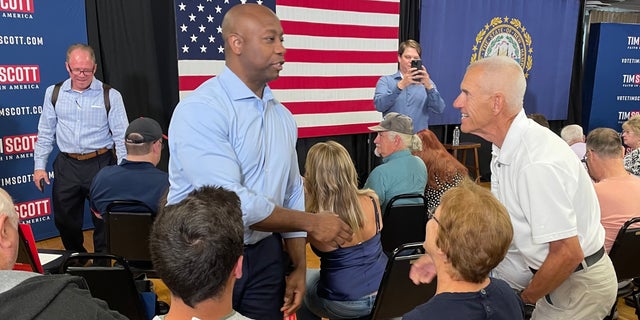 Republican presidential candidate Sen. Tim Scott of South Carolina holds a town hall in Salem, New Hampshire, on July 18, 2023. (Fox News – Paul Steinhauser)
Scott's war chest – which is paying for the new ad blitz – is fueled by grassroots support for his White House bid as well as a massive transfer of funds from his 2022 Senate reelection campaign.
CLICK HERE TO GET THE FOX NEWS APP
"Tim Scott is the only candidate who has shown steady, upward momentum since entering the race. As he prepares to take the debate stage, it is clear he not only is the best messenger and most consistent conservative in the race but also has the resources to win," the Scott campaign said as it pointed to next week's Fox News-hosted first GOP presidential primary debate.