House Minority Leader Hakeem Jeffries, D-N.Y., called Republican legislation requiring medical care for infants born alive after a botched abortion an effort to impose "government-mandated pregnancy," slamming what he said was an "extreme MAGA Republican right-wing agenda."
The Democratic leader spoke to reporters at his weekly press conference Thursday, denouncing a purported Republican plan to "impose a nationwide ban on abortion." On the day before, House Speaker Kevin McCarthy, R-Calif., held votes on two pieces of abortion legislation – the Born-Alive Abortion Survivors Protection Act and a resolution to condemn violence against crisis pregnancy centers and pro-life groups.
"They made it clear they're going to do everything possible to impose a nationwide ban on abortion – that innate reproductive freedom," Jeffries said. He charged that Republicans want to "criminalize abortion care and impose government-mandated pregnancies on the American people."
Though some pro-life Republicans believe abortion should be illegal, the new House majority has not advanced any bills that would criminalize abortion or enact new federal restrictions on the procedure.
HOUSE APPROVES RESOLUTION TO PROTECT PREGNANCY CENTERS, NEARLY ALL DEMS OPPOSE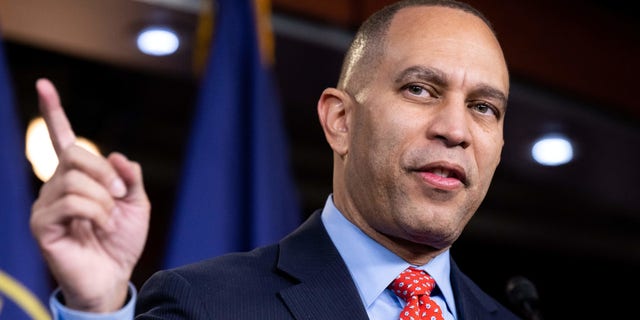 House Minority Leader Hakeem Jeffries holds a weekly press briefing at the U.S. Capitol in Washington, D.C., on Jan. 12, 2023.
(SAUL LOEB/AFP via Getty Images)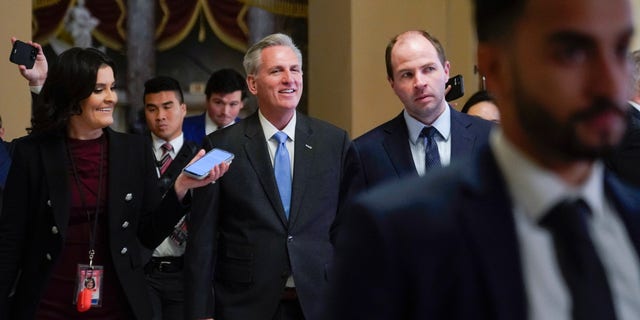 House Speaker Kevin McCarthy of Calif., speaks with members of the press as he walks to the House floor on Capitol Hill in Washington, Wednesday, Jan. 11, 2023.
(AP Photo/Patrick Semansky)
DEMOCRATS SEEK REPARATIONS, 'NATIONAL APOLOGY' FOR SLAVERY: 'WE ARE MOVING CLOSER'
The legislation, which passed Wednesday, defines any infant born alive after an attempted abortion as a "legal person for all purposes under the laws of the United States." Doctors would be required to care for those infants as a "reasonably diligent and conscientious health care practitioner would render to any other child born alive."
Afterwards, doctors would be required to admit those babies to a hospital for further care. Violations of the law could carry up to five years imprisonment and/or fines.
Republicans argued on the floor that comments from Virginia's former Democratic Gov. Ralph Northam are an example of why the law needs to be clarified to protect newborn infants who survive abortions. Northam was talking about third-trimester abortions and appeared to indicate support for delivering babies that might still be alive before taking their life outside the womb.
210 DEMOCRATS VOTE AGAINST BILL REQUIRING MEDICAL CARE FOR BABIES BORN ALIVE AFTER ABORTION ATTEMPT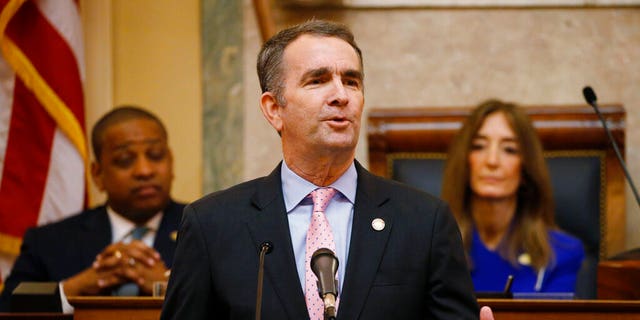 Comments from former Virginia Gov. Ralph Northam in 2019 were cited by Republicans as a reason why the bill is needed.
(AP Photo/Steve Helber, File)
Democrats dismissed this argument and asserted that Republicans were actually trying to criminalize abortion, though no abortion restrictions were included in the text.
The bill passed 220-210, and all 210 of the "no" votes came from Democrats. Only one Democrat voted for the bill — Rep. Henry Cuellar of Texas — and one other Democrat, Rep. Vicente Gonzalez of Texas, voted "present."
It is unlikely to advance in the Senate, where Democrats hold a majority.
The House also voted 222-209 in favor of a resolution introduced by Rep. Mike Johnson, R-La., which "condemns recent attacks of vandalism, violence, and destruction against pro-life facilities" and "recognizes the sanctity of life and the important role of pro-life facilities, groups, and churches play in supporting pregnant women, infants, and families."
CLICK HERE TO GET THE FOX NEWS APP
Most House Democrats opposed the resolution because it did not also condemn political violence against abortion clinics.
Fox News' Peter Kasperowicz contributed to this report.