A 2020 campaign video shows then-presidential candidate Joe Biden backing his Corvette into a garage amid new revelations that classified documents were found at his home in Wilmington, Delaware.
The White House revealed this week that classified documents were discovered at the Washington, D.C. office for Biden's think tank, the Penn Biden Center for Diplomacy and Global Engagement, in early November. On Wednesday, news broke that another trove of classified documents from Biden's time as vice president had been discovered. It was revealed Thursday that the second batch of documents was found in the president's garage in Wilmington, Delaware.
The video, shared on Aug. 5, 2020, has more than 7.5 million views and 101,300 likes as of Thursday. It was not completely clear if the garage shown is the same one where the documents were found, but Biden, in a testy exchange with Fox News correspondent Peter Doocy, seemed to confirm both his Corvette and the documents were in the same "locked garage."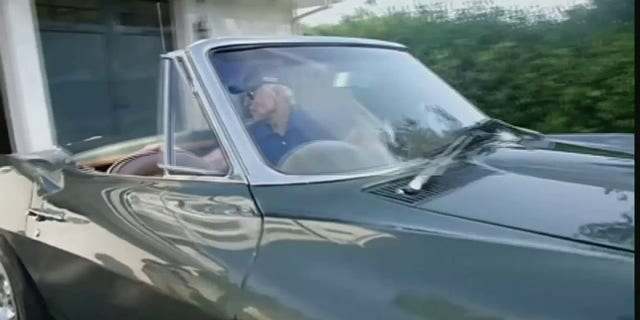 Joe Biden backs his Corvette into a garage in a campaign video released Aug. 5, 2020.
(Joe Biden for President)
In a bid for the return of American-made vehicles, Biden cruised in his classic 1967 Chevrolet Corvette Stingray C2 – complete with the "Liberty and Independence" seal of Delaware plate.
MORE CLASSIFIED DOCUMENTS FOUND IN BIDEN'S DELAWARE GARAGE, WHITE HOUSE REVEALS
"I used to be a pretty good driver," then-President Trump's then-presidential opponent said in the ad.
"I love this car. Nothing but incredible memories," Biden said, taking a peaking under the hood.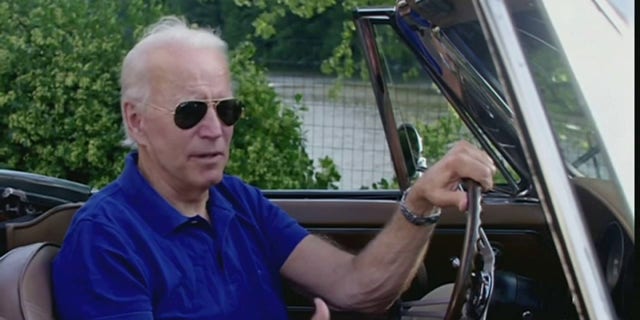 Joe Biden sits in his Corvette in a campaign video released Aug. 5, 2020.
(Joe Biden for President)
"Every time I get in it, I think of my dad and Beau," Biden adds, referring this eldest son and the former attorney general of Delaware who died in 2015 from brain cancer. "God, could my dad drive a car."
"This is iconic industry. How can American-made vehicles no longer be out there? I believe that we can own the 21st century market again by moving to electric vehicles," Biden said from the front seat. "And by the way – they tell me, and I'm looking forward, if it's true, to driving one – that they're making an electric Corvette that can go 200mph. You think I'm kidding. I'm not kidding."
Backing into the driveway of a home, Biden added, "So, I'm excited about it."
In the background, several cardboard boxes and a lamp shade are visible.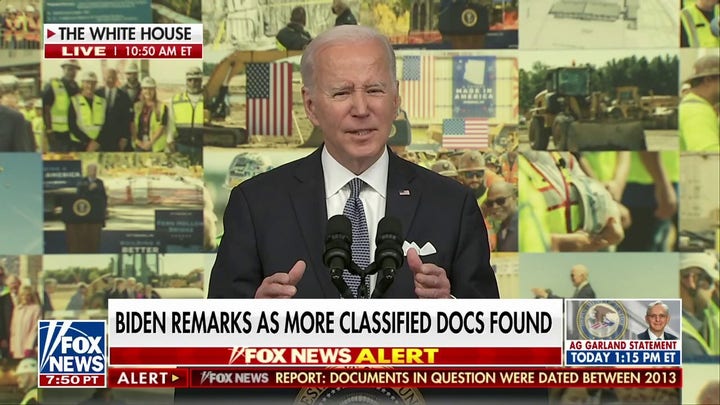 Video
The ad concluded with the written message, "American-made is making a comeback."
Fox News Digital exclusively reported that the incoming chair of the House Permanent Select Committee on Intelligence has asked the Department of Justice and the government's top national security agency to provide information related to several batches of classified documents. In letters to Attorney General Merrick Garland and the Director of National Intelligence Avril Haines Thursday, Rep. Mike Turner, R-Ohio, demanded a briefing by Jan. 26 regarding the discovery of several batches of classified materials.
"Classified material next to your Corvette? What were you thinking?" Doocy challenged Biden at an unrelated press conference on Thursday.
Joe Biden backs his Corvette into a garage in a campaign video released Aug. 5, 2020.
(Joe Biden for President)
"By the way, my Corvette's in a locked garage. OK, so it's not like it's sitting out in the street," Biden said. "As I said earlier this week, people know that I take classified documents and classified materials seriously. I also said we're cooperating fully and completely with the Justice Department's review."
"As part of that process, my lawyers reviewed other places where documents – from my time as vice president were stored, and they finished the review last night," he added. "They discovered a small number of documents of classified markings in storage areas and file cabinets in my home and my personal library."
CLICK HERE TO GET THE FOX NEWS APP
Fox News' Kelly Laco contributed to this report.