With nearly 40 years in the music business, British rockers Def Leppard know a thing or two about what makes a band stay united.
"We can turn it on and off. We've always said, 'Leave your ego in the dressing room,'" lead singer Joe Elliott told People magazine of the group's ability to check themselves.
"We play rock stars on stage, but when everybody's at home, it's got nothing to do with it. That's a major part of our longevity."
DEF LEPPARD FRONTMAN JOE ELLIOT ON WHY 'POUR SOME SUGAR ON ME' IS A STRIP CLUB STAPLE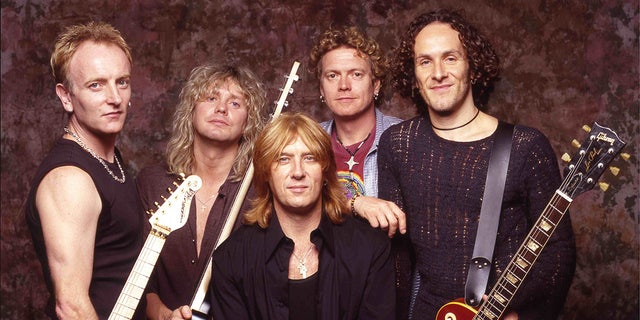 From left to right, Phil Collen, Rick Savage, Joe Elliot, Rick Allen and Vivian Campbell have fronted the British rock band Def Leppard since 1992, although the band was originally created in 1976. (Robert Knight Archive/Redferns/Getty Images)
"I think it's really important that you are actually two different people," Elliot added.
DEF LEPPARD DRUMMER RICK ALLEN BREAKS SILENCE ON UNPROVOKED ATTACK BY 19-YEAR-OLD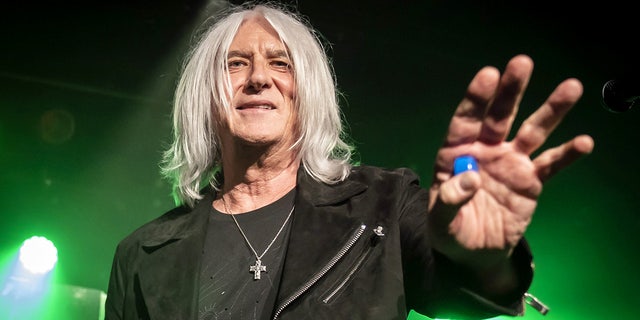 Joe Elliot says that Def Leppard is still going strong because its members can check their egos at the door. (Danny Lawson/PA Images via Getty Images)
Guitarist Phil Collen said he becomes an avatar for the crowd, comparing the experience of performing his music to acting.
"It's almost like method acting. The person that goes on stage has got so much more swagger than I do. I never get stage fright or any of that stuff. Never," he explained.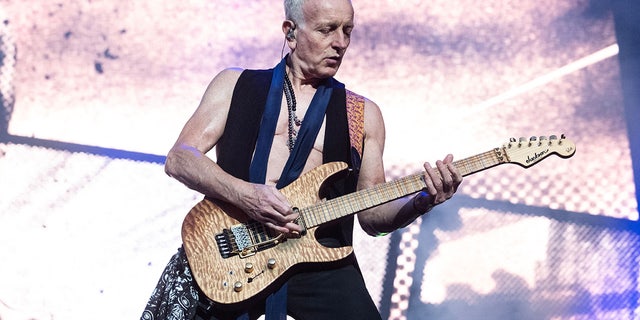 Phil Collen says he does not get stage fright, even performing in front of huge groups of people. (HELLE ARENSBAK/Ritzau Scanpix/AFP via Getty Images)
"I actually checked my heart rate once just as we went on to do Rocking Rio, which is like, 100,000 people. I thought, 'Let me just test this to see if it changes.' And it didn't. That is the god's honest truth, because the avatar goes on and does his thing. He's got swagger."
CLICK HERE TO SIGN UP FOR THE ENTERTAINMENT NEWSLETTER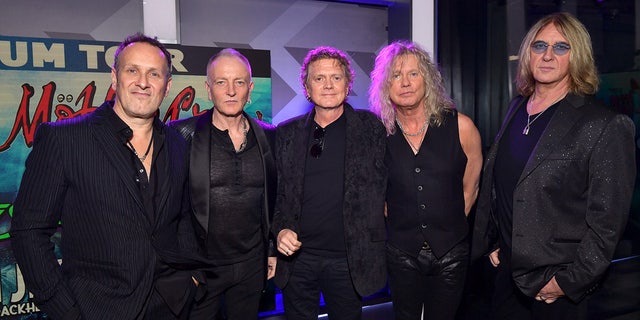 Def Leppard is currently on tour with Mötley Crüe. (Emma McIntyre/Getty Images for SiriusXM)
Currently on a joint tour with fellow rock band Mötley Crüe, Def Leppard's additional members are Vivian Campbell, Rick Savage and Rick Allen.
The men of the band, which originally formed in 1976, also give credit to their families for keeping them grounded, sharing that they are constantly humbled and reminded that they're regular people in disguise as rockers.
CLICK HERE TO GET THE FOX NEWS APP
"[Lyla], on a regular basis, says, 'Dad, you might be a good singer, but you can't dance,'" Elliot notes of his daughter. "And it's the same thing with the wife—it's two different lives. We get up there and do our thing, and then when you're at home, you're in your jammies, and that's what it is."