For the past few weeks, Republican presidential candidate Vivek Ramaswamy has been accused of wanting to "defund" foreign aid to Israel, a characterization he categorically denied in an interview with Fox News Digital.
The firestorm began this month when he sat down with Rumble livestream host Russell Brand, who read a viewer's question on whether the GOP hopeful would include Israel in his "defunding" spree of halting funds to foreign entities like Ukraine.
"Now, as that relates to Israel, my view is, I asked the question, there's no North Star commitment to any one country other than the United States of America. So, what advances American interests?" Ramaswamy responded to Brand. "I actually do think our relationship with Israel has advanced American interests. I come out on the side of that. Here's what I want to see happen, though. I want to negotiate – I'm a dealmaker, OK? I want to negotiate now Abraham Accords 2.0, get Saudi [Arabia], Oman, Qatar, Indonesia in there, get Israel on its own two feet, and I believe in standing by commitments that we've already made, so our commitments have, I think,$38 billion in aid, military support, etc., going in through 2028. I want to get Israel to the place where it is negotiated back into the infrastructure of the rest of the Middle East."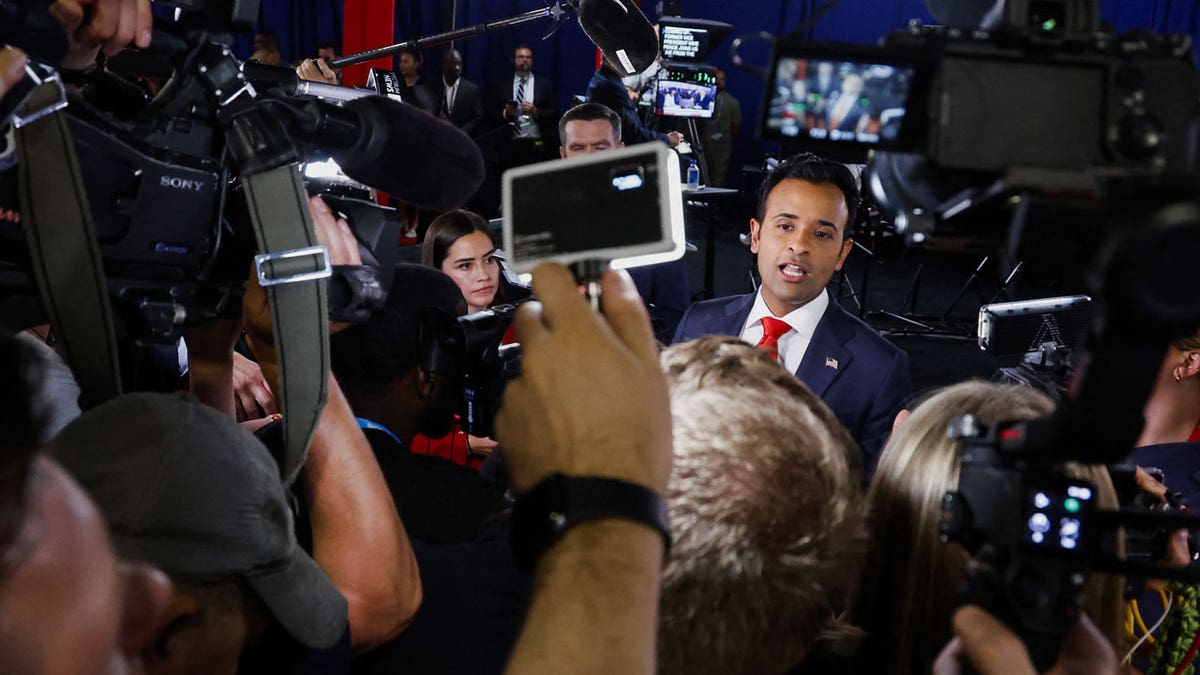 Republican presidential candidate Vivek Ramaswamy has been at the center of multiple media firestorms in recent weeks, one of them being about his comments on Israel. (Reuters / Jonathan Ernst / File)
"That's good for Israel. It's good for the rest of the Middle East. It's good for us such that come 2028, that additional aid won't be necessary in order to still have the kind of stability that we'd actually have in the Middle East by having Israel more integrated in with its partners," Ramaswamy continued. "And I think that the Trump administration took the first step getting Bahrain and some other countries. I think we need Saudi, I think we need Oman, Qatar, Indonesia and others in there. And then I think that puts us in a position, and it's everybody's position, to say we don't have to meddle."
RAMASWAMY SAYS HE 'WON'T CUT AID TO ISRAEL' UNTIL 'ISRAEL TELL US SO' AS HE FACES QUESTIONS ON FOREIGN POLICY
Ramaswamy's comments, which he made Aug. 11, led to a slew of negative headlines both in the U.S. and overseas roughly one week later, predominantly from Jewish news organizations.
The New York-based Jewish Telegraphic Agency ran the headline "Vivek Ramaswamy says US should not give Israel more aid than to others in the Middle East." Tel Aviv-based Haaretz ran the headline "Rising GOP Presidential Candidate Calls to End U.S. Military Aid to Israel as Part of Mideast Normalization."
The Jerusalem Post printed "US must reduce aid given to Israel, Republican candidate Ramaswamy says," and London's The Jewish Chronicle went with "Israel shouldn't get special treatment says US presidential candidate."
"That was clearly guided by opposition research, right? So, it was not organically coming from those outlets, I think," Ramaswamy told Fox News Digital on Tuesday.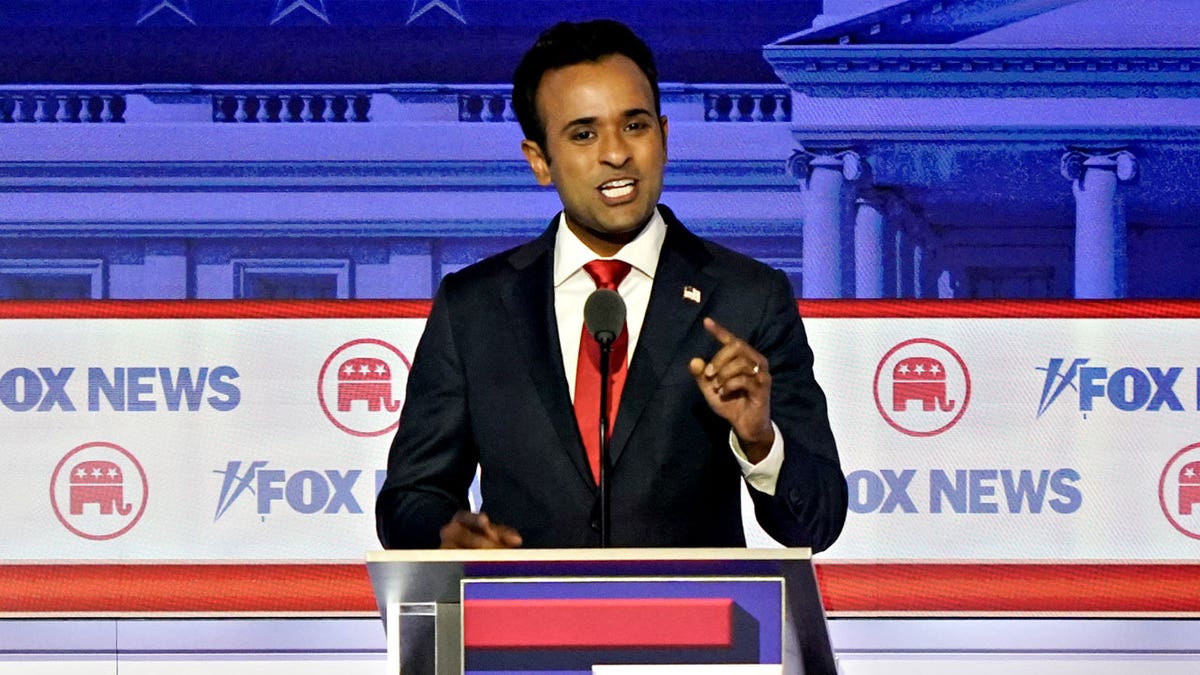 Vivek Ramaswamy, chairman and co-founder of Strive Asset Management and a 2024 Republican presidential candidate, speaks during the Republican primary presidential debate hosted by Fox News in Milwaukee on Aug. 23, 2023. (Al Drago / Bloomberg via Getty Images)
In the days following the first Republican presidential debate, where he was bombarded with attacks on his Israel comments by former U.N. Ambassador and GOP rival Nikki Haley, Ramaswamy told multiple Israeli journalists he would not cut aid to Israel "until Israel told us they were ready for it," a sentiment he reiterated to Fox News Digital.
"We won't cut off our current aid to Israel unless and until we reach the day where Israel tells us they don't need it anymore. And it'll be a mark of true success," Ramaswamy said. "And as a side note, people say, 'Oh, that would never happen.' That's not true. I think good friends are honest with each other. [Israeli Prime Minister Benjamin Netanyahu (Bibi)], who I respect immensely and who I would greet to the White House in a way that Biden never had the courage to do, actually did in the '90s, back when he was in charge, say something similar to that effect. So, yes, I think we have a deep relationship of trust and that's what it looks like."
CLIP OF 18-YEAR-OLD RAMASWAMY ASKING 2004 HOPEFUL AL SHARPTON ABOUT LACK OF 'POLITICAL EXPERIENCE' GOES VIRAL
Ramaswamy was likely referring to comments Netanyahu made in his 1996 address to a joint session of Congress, where he expressed his desire that his country would "achieve economic independence" from the U.S.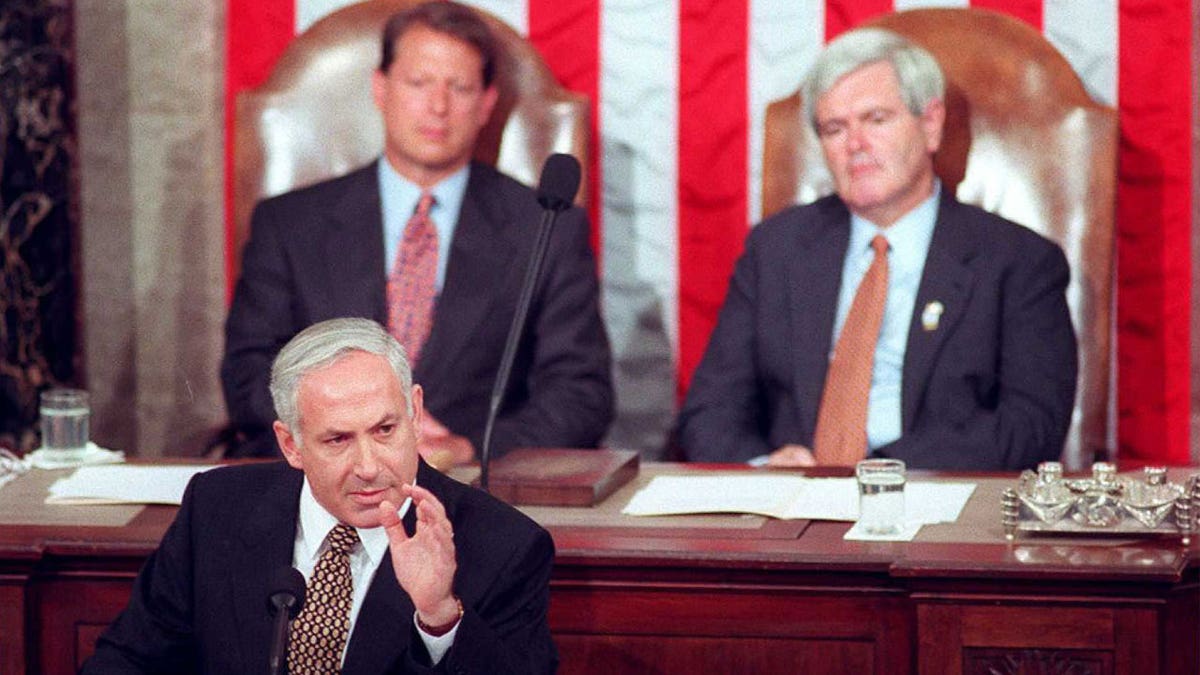 During his address to a joint session of Congress in 1996, Israeli Prime Minister Benjamin Netanyahu said his goal was for Israel to "achieve economic independence" from the U.S. (Travis Heying / AFP via Getty Images / File)
"We are deeply grateful for all we have received from the United States, for all that we have received from this chamber, from this body. But I believe there can be no greater tribute to America's longstanding economic aid to Israel than for us to be able to say: We are going to achieve economic independence. We are going to do it," Netanyahu told lawmakers at the time. "In the next four years, we will begin the long-term process of gradually reducing the level of your generous economic assistance to Israel. I am convinced that our economic policies will lay the foundation for total self-reliance and great economic strength."
'Fan of simplicity'
There are "three critical elements," Ramaswamy says, to his policy on Israel. One is making sure Iran never reaches nuclear capability. The second is "learning" things from the Jewish state to implement in the U.S., citing its border security enforcement and the American-funded Iron Dome that intercepts incoming rockets from hostile territory as examples.
But the third element, the one perhaps at the center of the controversy Ramaswamy has faced in recent days, is what he calls the "Abraham Accords 2.0," an expansion of the Trump administration's brokered diplomatic relations between Israel and Arab nations Bahrain, Sudan, Morocco and United Arab Emirates (UAE).
In virtually every media interview he has given while discussing Israel, Ramaswamy has cited Abraham Accords 2.0 as a pathway for Israel to no longer rely on U.S. aid and instead find streams of revenue from its news Middle East partners facilitated by his administration. He expressed confidence he could get this done by the end of his first term in 2028, when foreign aid to Israel is set to lapse. In other words, the money Israel would take in from Abraham Accords 2.0 would effectively replace the aid previously given by the U.S.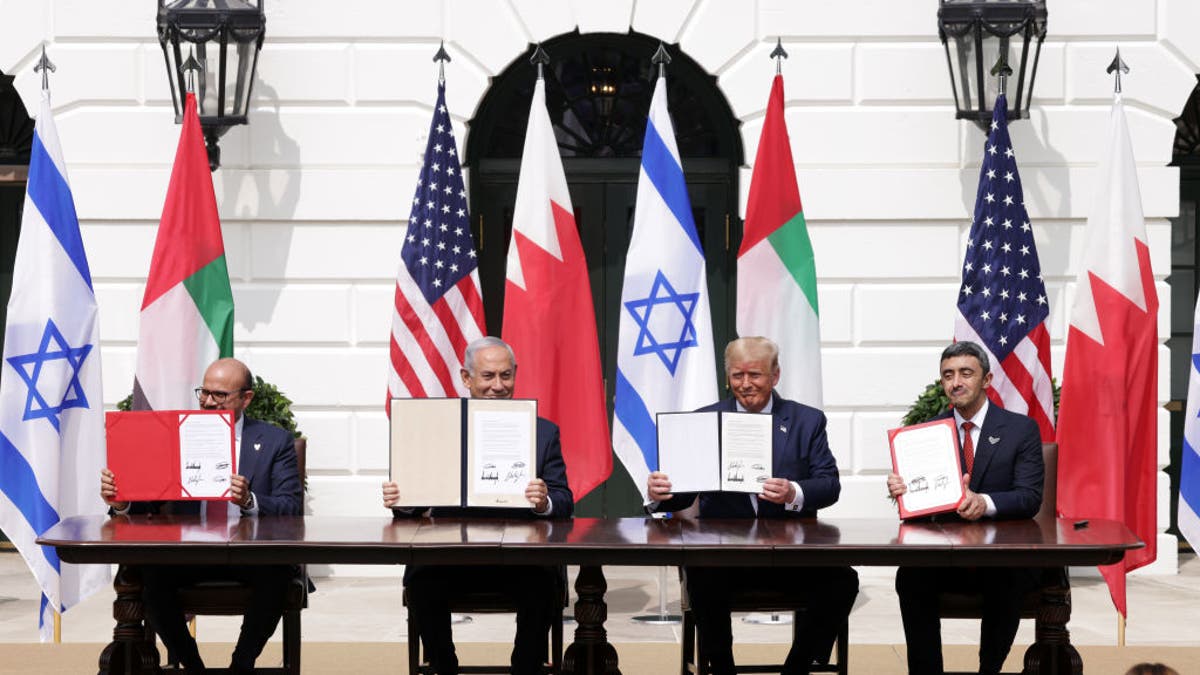 Vivek Ramaswamy said he hopes to advance the Trump administration's Abraham Accords, the peace treaty signed in September 2020 by the leaders of Israel, Bahrain and the United Arab Emirates. (Alex Wong / Getty Images / File)
Ramaswamy previously told the press that if Abraham Accords 2.0 doesn't come to fruition, he will continue to provide aid for Israel. When asked by Fox News Digital if the U.S. will continue to provide aid to Israel upon Israel's request even if the Abraham Accords 2.0 are brokered, Ramaswamy replied, "Yes."
VIVEK RAMASWAMY RESPONDS TO RECENT MEDIA FIRESTORMS: 'MY POSITION HAS BEEN CARICATURED'
The countries Ramaswamy has repeatedly cited for Abraham Accords 2.0, Saudi Arabia, Oman, Qatar and Indonesia, are "quietly at the ready," he asserts, pointing to recent reports about Saudi Arabia signaling interest in establishing diplomatic ties with the Jewish state.
But as a "fan of simplicity," Ramaswamy said he believes Abraham Accords 2.0 will be "easily achieved" in his first term by establishing bilateral trade agreements between Israel and other nations as well as a "common security infrastructure and a common commitment to making sure that Iran never becomes nuclear equipped."
"Half the battle in diplomacy is literally just showing up, like most things in life is just showing up," Ramaswamy said. "It undermines our ability to be able to stand for Israel when the U.S. president himself, like Joe Biden, refuses to have Bibi at the White House, right? And so I think that part of this is just the tone that we set."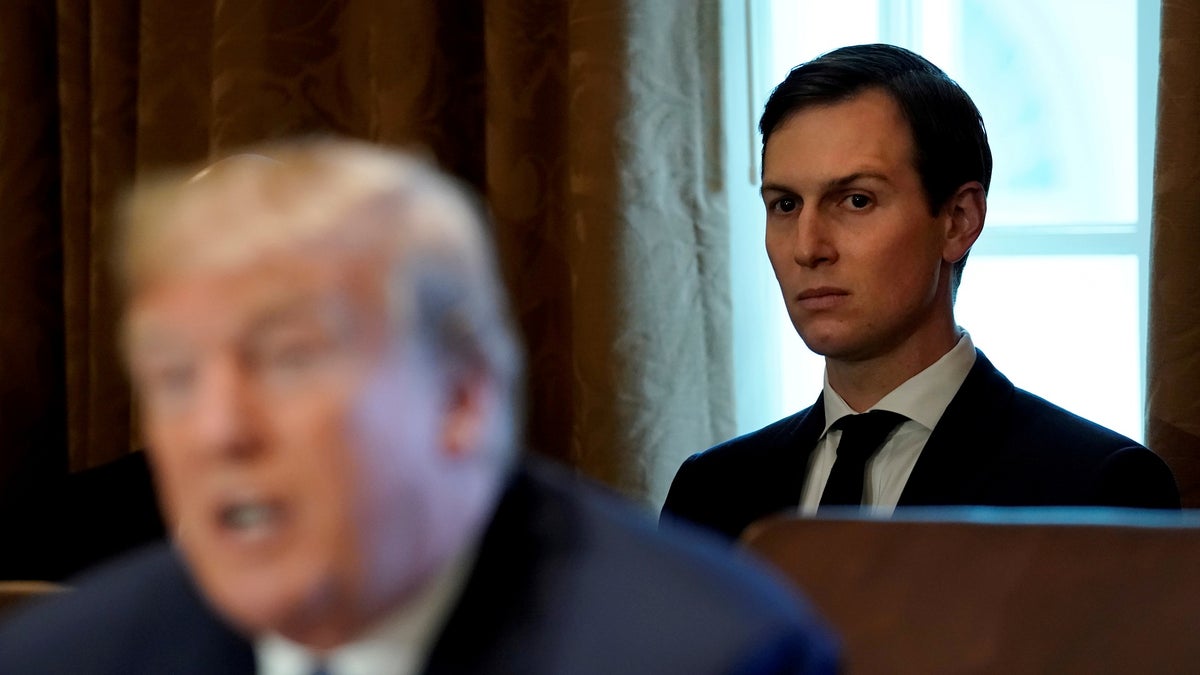 Jared Kushner, son-in-law and senior White House adviser to then-President Trump, was heralded for his role behind the scenes in the creation of the Abraham Accords. (Reuters / Kevin Lamarque / File)
He continued, "And you know what? If those other nations want to be allies of the United States, there's things that each of those nations want in terms of the access they'll have to me as U.S. president, from their head of state, etc., from the kind of dialog and respect we provide them, we'll say that, 'Look, if you like us, you got to talk to our friend, too.' And I think that alone is going to be half the battle."
When asked whether he had anyone in mind who can help bring Abraham Accords 2.0 to life, Ramaswamy said there are "a number of scholars on Israel" who are "close friends" as well as "top business leaders in Israel" with whom he developed professional relationships as an entrepreneur.
He then name-dropped fellow "outsider" Jared Kushner, former President Trump's son-in-law and top White House adviser who was widely credited for brokering the Abraham Accords in 2020.
"I also think it's telling that Jared Kushner, who is an outsider, is actually the one who delivered and got it done," Ramaswamy said. "And I'm a big believer in outsiders coming in with a fresh perspective but combined with existing relationships. And so I'll be leveraging all of those relationships that I have in the U.S. and Israel and probably even bringing in some outsiders that can bring fresh perspective to get it done."
Would a President Ramaswamy call Kushner to help broker the next installment of the Abraham Accords? He refused to say.
"I'm not going to go into specifics on this," Ramaswamy said. "These are serious topics that I intend to execute on as U.S. president, but it gives you a broad foundation of how I will build on the Trump administration's achievements to take our relationship with Israel to the next level, which will be the strongest level it's ever been by the end of my first term in Israel."
'Beyond shameful'
During the interview, Ramaswamy took an unprompted moment to make a not-so-subtle dig at Haley, who has spearheaded criticism toward him on the subject of Israel in recent weeks.
"I think it is beyond shameful that establishment politicians who are threatened by my rise, instead of actually engaging in real debate on the substance, are literally making up things that I never said as a fundraising ploy," the 38-year-old Ramaswamy said. "It's really demonstrated everything that's wrong with our politics and why it does take an outsider like me to get this job. And I'm just deeply disappointed by people who, you know, I still respect in some narrow sense and think highly of. I'm just deeply disappointed in some of the other candidates stooping to this level."
Ken Farnaso, a spokesperson for Haley, told Fox News Digital, "The only shameful thing is Vivek's eagerness to throw our ally Israel under the bus. He has changed his position on Israel five times in the last month and still hasn't gotten it right. We need a president with moral clarity not moral confusion."
FLASHBACK: RAMASWAMY'S 'BOUGHT AND PAID FOR' DEBATE ATTACK ECHOES SIMILAR LINE TRUMP WAS BOOED FOR IN 2016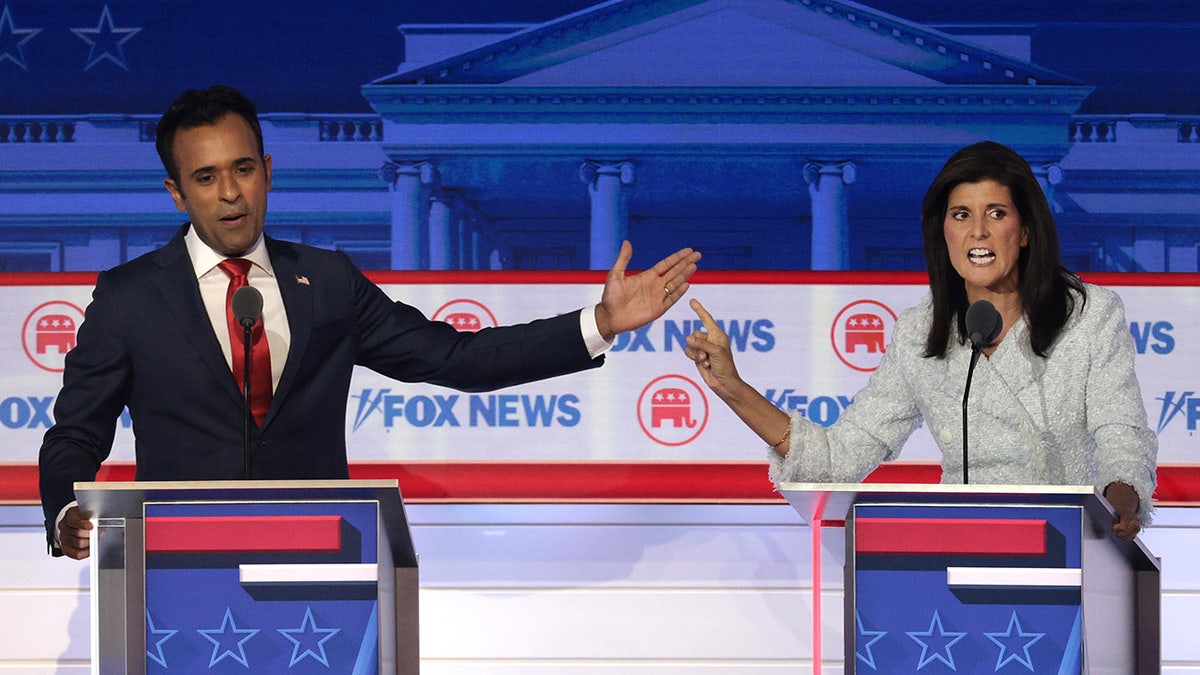 Former U.N. Ambassador Nikki Haley tore into Vivek Ramaswamy over foreign policy at the first Republican presidential debate last week. (Win McNamee / Getty Images / File)
Ramaswamy isn't just feeling the heat from his GOP rivals. Several members of the media, including conservative outlets like the Washington Examiner and the Washington Free Beacon, have accused him of being a flip-flopper on the issue, pointing to comments he made in June while responding to a New Hampshire voter who pressed him on whether he'd end aid to Israel.
"I think it would have to be part of a broader disengagement with the Middle East. So, I wouldn't do it as an isolated policy," Ramaswamy told the voter. "I would do it as part of also making sure that we're not leaving other people we've also propped up, from Saudi Arabia to even Iran, in other ways over the years, right? So, it has to be part of a comprehensive strategy. That's why I'm not giving you, like, 'this one policy, yes,' because it has to be part of a broader comprehensive vision for disengagement. That I do support."
A spokesperson for Ramaswamy told Fox News Digital he wasn't expressing an actual policy position with those comments and forwarded his response to the Free Beacon at the time, saying, "When someone asked about aid to Israel, I said we can't narrowly criticize our financial aid to Israel in isolation when our other policies of engagement in the Middle East have indirectly contributed to the threats that Israel faces," later adding he was in favor of providing aid to Israel.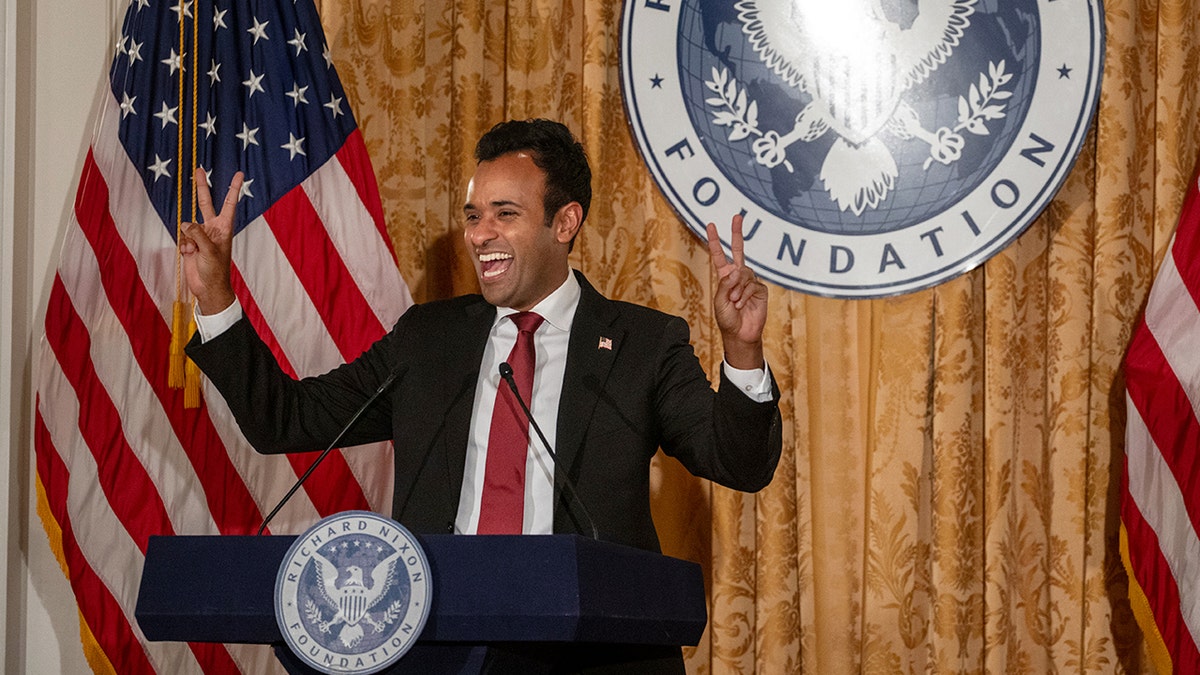 Conservative news outlets have accused Ramaswamy of flip-flopping on his Israel stance, something his campaign rejects. (Francine Orr / Los Angeles Times via Getty Images / File)
The uproar over his Israel stance could have political ramifications. While Jewish Americans overwhelmingly vote Democrat in the general election, some of the biggest supporters of Israel in the U.S. are Evangelical Christians, a key voting bloc in early GOP primary races like Iowa and South Carolina. (The RealClearPolitics average of polls currently has Ramaswamy placing fourth in Iowa behind Trump, Florida Gov. Ron DeSantis and South Carolina Sen. Tim Scott; he places sixth in South Carolina behind Trump, DeSantis, Scott, Haley and former New Jersey Gov. Chris Christie.)
How will Ramaswamy be able to cut through the noise and earn the evangelical support? He answered, "With honesty and pointing out to them how broken the political system is."
CLICK HERE TO GET THE FOX NEWS APP
"They've been lied to by the mainstream media. Now they're being lied to by mainstream politicians. And I think that I trust the voter base in places like Iowa and elsewhere to cut through the lies, frankly, conversations with the media, the conversations with voters. I have to be candid," Ramaswamy said. "But it is a shame. There are other candidates – shame on them for misleading voters to make poor choices based on their own desperate quest for personal power and likely enrichment. And that's just the way establishment politicians play the game, not me."
"And so it is a shame that I'm up against those who are willing to lie about my views when in fact, you know, I've been very clear about what those views are, but nonetheless, that's how dirty politics is. And in some sense, if we're going to fix that dirty game, it's going to take an outsider to do it. Shame on those people for being the worst versions of themselves when they're desperate to fundraise or keep themselves relevant in an otherwise floundering campaign. You know, these are the desperate tactics [they're resorting] to, but our politics is broken, and I'm in this for a reason. It's one more reason why it needs to be fixed."
For more Culture, Media, Education, Opinion, and channel coverage, visit foxnews.com/media