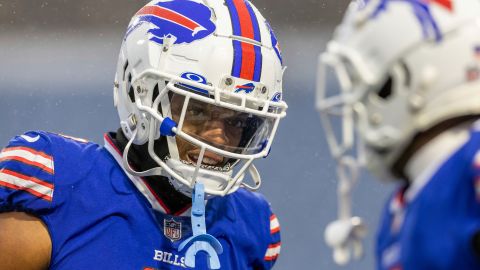 Buffalo Bills safety Damar Hamlin (3) warms up before playing against the New York Jets in an NFL football game, Sunday, Dec. 11, 2022, in Orchard Park, N.Y.
Jeff Lewis/AP

CNN
—
Former NFL player and ESPN analyst Ryan Clark described Buffalo Bills player Damar Hamlin's collapse on the field as football's "extremely ugly" side.
Hamlin suffered a cardiac arrest and collapsed during the Bills' game against the Cincinnati Bengals on Monday. His heartbeat was restored on the field, according to the Bills, and he remains in a "critical condition" at a Cincinnati hospital.
Read more

Who is Damar Hamlin?
Live updates
What is cardiac arrest?
Sports world sends messages of support
Hamlin's toy drive tops $4 million
Skip Bayless apologizes for Hamlin tweet

"Tonight, we got to see a side of football that is extremely ugly, Clark told ESPN. "A side of football that no one ever wants to see or never wants to admit exists."

The game was later postponed with players from both teams visibly distraught following the incident.

"This is about Damar Hamlin. It was about a young man at 24-year-old living his dream … and now he fights for his life," added Clark

Within 10 seconds of Hamlin's collapse, Bills team trainers were treating him. An ambulance was on the field in less than five minutes, footage shows, and he was given CPR, according to an ESPN broadcast.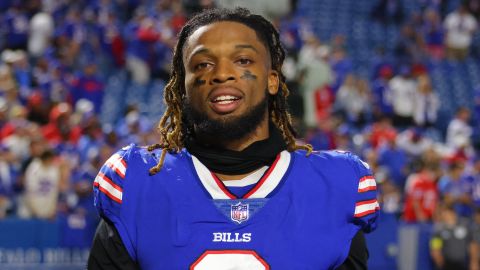 Hamlin after a game against the Tennessee Titans at Highmark Stadium on September 19, 2022.
Timothy T Ludwig/Getty Images
"When Damar Hamlin falls to the turf, and when you see the medical staff rush to the field, and both teams are on the field, you realize this isn't normal. You realize this isn't just football," Clark, who himself once collapsed during a game in 2007 while he was playing for the Pittsburgh Steelers, told ESPN.
Clark had a complication with a sickle cell trait and had to be rushed to hospital. He eventually had his spleen and gall bladder removed, forcing him to miss the remainder of the season before making a full recovery. He went on to become an analyst for ESPN on the NFL and MMA.
"I dealt with this before, and I watched my teammates, for days, come to my hospital bed and just cry. I had them call me and tell me that they didn't think I was gonna make it," Clark recalled on ESPN's live broadcast.
"And now this team has to deal with that, and they have no answers."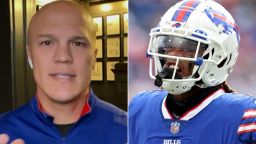 CNN/Getty Images
video
Former NFL player reacts to Damar Hamlin collapsing
Clark finished by calling on everyone in the football fraternity, pundits and fans alike, to have more compassion for the players putting themselves at risk for others' entertainment.
"And so the next time that we get upset at our favorite fantasy player, or we're upset that the guy on our team doesn't make the play, and we're saying he's worthless and we're saying 'you get to make all this money,' we should remember that these guys are putting their lives on the line to live this dream."
Clark's analysis of what happened to Hamlin has been widely praised on social media.
"Blown away by how good Scott Van Pelt and Ryan Clark are handling this. Not exactly an easy assignment, and they're shining. Perspective, class, honesty, emotion, all of it," sports writer Jason Mackey wrote on Twitter, while former sports writer Matt Lindner said the two hosts' handling of the coverage will be "taught in journalism classes for years to come."
Meanwhile, former NFL player Dante Stallworth told CNN's Jim Sciutto that the NFL is a "brutal sport."
"I think people forget that," said Dante Stallworth, who noted that Hamlin's "mother was there witnessing this with her own eyes."
"They look at players more as commodities sometimes – especially with fantasy football," added Stallworth. "Sometimes we forget the human side, that these players are actually human beings and they have families and they have wives and kids."
Stallworth also praised the decision to call off the game, something that he said would not have happened in his day.
"Five, 10 years ago the game probably would have resumed," he said. "Half the players on the field were crying, Bengals players were crying … To see the players' reactions, even though we couldn't see what was going on, that told me the story of everything happening on the field."