close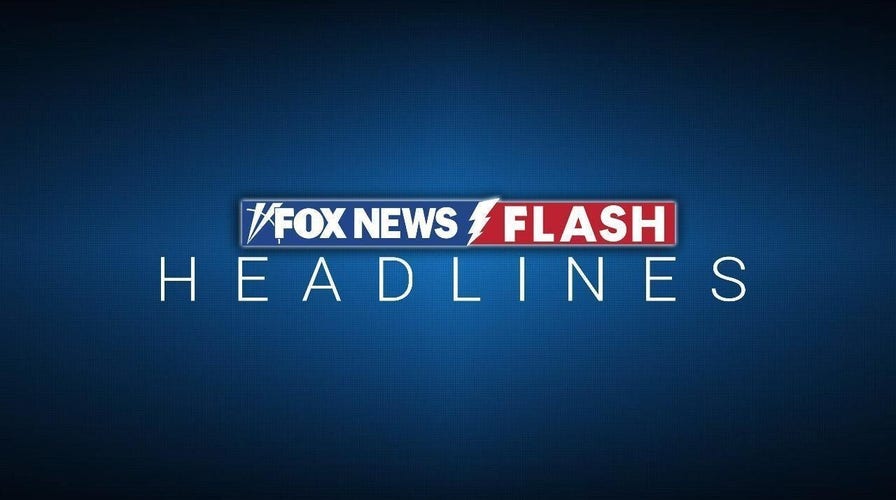 Video
Fox News Flash top headlines for March 2
Fox News Flash top headlines are here. Check out what's clicking on Foxnews.com.
A Japanese cult leader who famously claimed he could channel the spirit of any living or dead person has passed away at the age of 66.
Ryuho Okawa, leader and CEO of the "Happy Science" cult, was rushed to hospital after collapsing in his home on Monday from an apparent "state of cardiac arrest." He finally passed on Thursday night, and his cause of death remains unconfirmed, according to Fuji TV.
Okawa had remained a controversial figure for most of his life, claiming to have received "Messages of God" and to have the ability to channel the spirits of the rich and famous. Okawa would publish books based on what he said the spirits told him.
His publications included addresses from the "guardian spirits" of Jesus Christ, former President Trump, Queen lead singer Freddie Mercury and Russian President Vladimir Putin. He described his books as a form of "religious journalism."
LISTEN: THE FOX TRUE CRIME PODCAST WITH EMILY COMPAGNO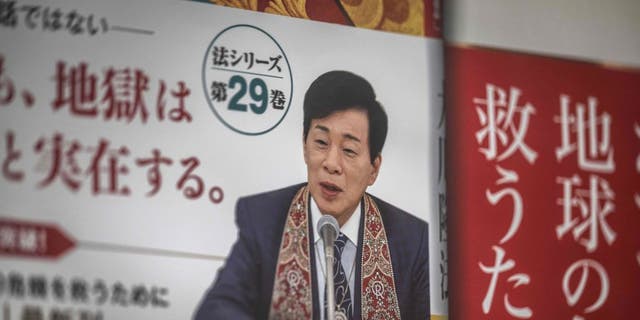 Ryuho Okawa, the leader of the Japanese "Happy Science" religious organization, is seen on an advertisement for his book in front of the spiritual movement's headquarters in Tokyo on March 2, 2023. Okawa died on March 2, 2023 aged 66, local media reported. (Yuichi Yamazaki/AFP via Getty Images)
Okawa was born in 1956 in a rural area and graduated from the University of Tokyo. He founded the "Happy Science" cult in 1986 after he had an "epiphany" that he could speak with spirits, which told him that his mission was to "lead humanity to happiness."
The group believed in Okawa's ability to channel spirits, as well as spiritual reincarnation and the construction of a global utopia.
JAPAN EASES CORONAVIRUS MEASURES FOR TOURISTS FROM CHINA BY ONLY TESTING RANDOM PASSENGERS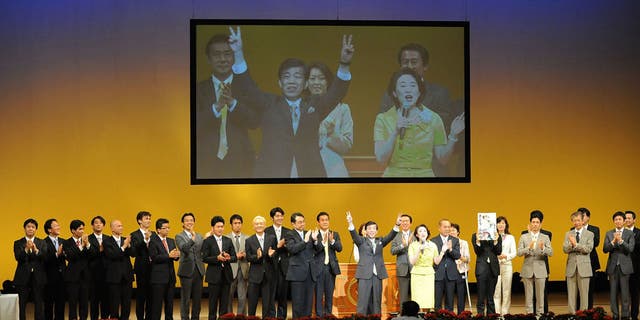 Ryuho Okawa, leader of religious corporation "Happy Science," waves to supporters during their west Tokyo meeting at Chofu City Green Hall on July 22, 2009 in Tokyo. Okawa announced his candidacy for the lower house election from The Happiness Realization Party.   (Sankei/Getty Images)
The cult claimed to have grown the group to include members in more than 110 countries and 700 related facilities both inside and outside the country. A New York Times report in 2020 cast doubt on the group's claims, including its boast of 11 million members, instead citing Okawa's first wife who said the group had roughly 30,000 members in 2011.
Hiroshi, Okawa's son, denounced his father as nothing more than a con-man. He told the Times in a 2020 interview that his father "relentlessly lied to his followers" and that he believed "what my father does is complete nonsense."
JAPANESE AIR FORCE MEMBER SUES GOVERNMENT FOR ALLEGEDLY FAILING TO PROTECT HER FROM SEXUAL HARASSMENT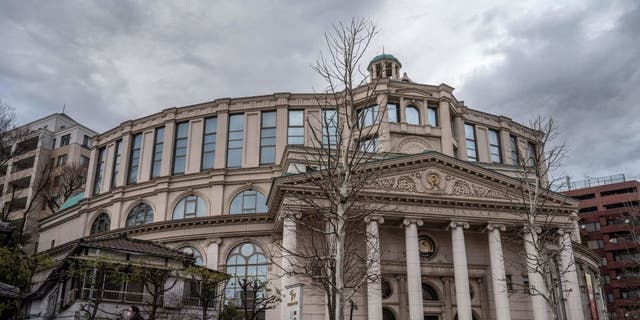 A man cycles past the headquarters of the "Happy Science" religious organization in Tokyo on March 2, 2023.  (Yuichi Yamazaki/AFP via Getty Images)
Okawa launched the group's political branch, the Happiness Realization Party, in 2009, The Japan News reported. His party advocated for small government based on religious teaching, a China containment policy and limitations on the rights of the LGBTQ community.
CLICK HERE TO GET THE FOX NEWS APP
The party failed to win any national government seats as of Okawa's death, though, some members have won local assembly seats, according to France 24.
The "Happy Science" group members have not released any statements following Okawa's death.
Peter Aitken is a Fox News Digital reporter with a focus on national and global news.