close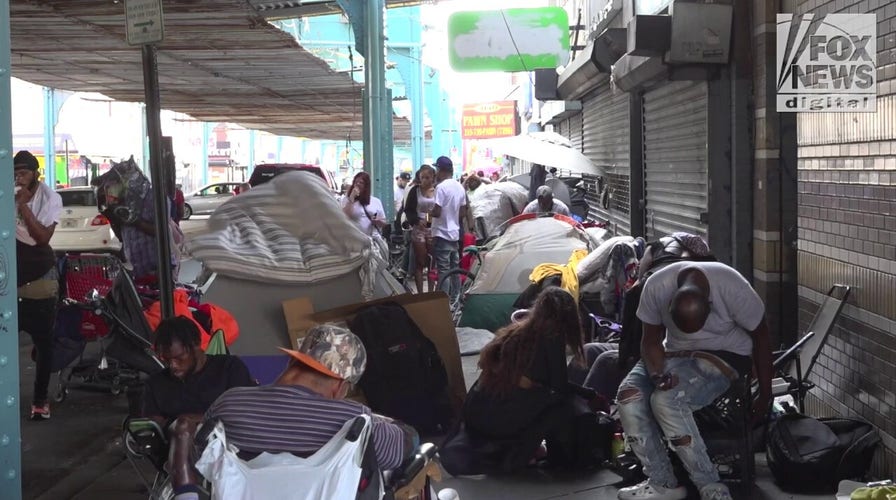 Video
CRISIS IN KENSINGTON: The place where police do nothing as addicts shoot up
David Oh, the Republican candidate for mayor of Philadelphia, shared how years of failed city policies have eliminated police officers' power in Kensington.
PHILADELPHIA – Years of failed policies in the City of Brotherly Love have pushed Kensington into despair, with more public drug users dying from lethal substances and women resorting to prostitution as powerless police officers are forced to stand by, the Republican mayoral nominee told Fox News.
"If you want to come to a place where you can … go get your drugs, not be bothered, shoot up in front of police, prostitute and all that stuff, this is the place," David Oh said. "It is a big problem."
WHAT'S CAUSED KENSINGTON TO DETERIORATE?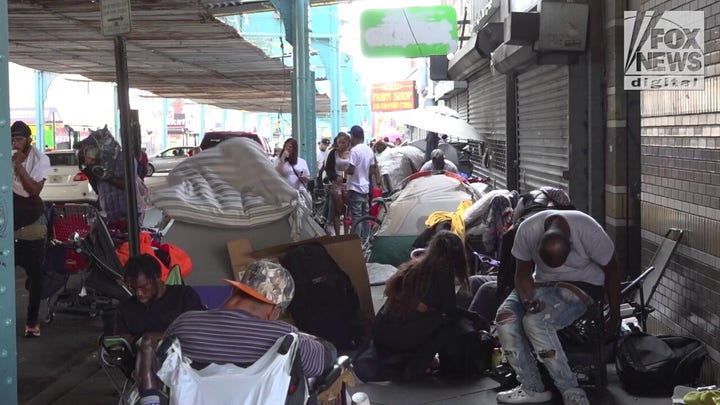 Video
WATCH MORE FOX NEWS DIGITAL ORIGINALS HERE
Kensington was already internationally known for its excessive public drug use before harder substances like fentanyl and the addictive animal tranquilizer, xylazine, took hold. The impoverished community also faces high crime rates.
"What has happened over the last 10 years has been unprecedented in terms of the explosion of drug addiction and everything that is associated with it, including violent crime, prostitution, quality of life issues, people unable to leave their homes," Oh said.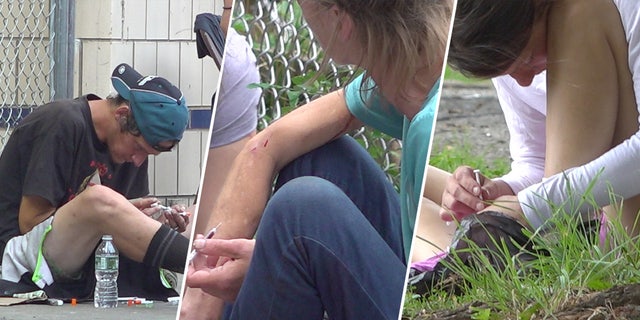 Drug users inject themselves with needles on the sidewalk of Kensington Avenue or in McPherson Park, otherwise known as needle park. (Megan Myers/Fox News Digital)
CRISIS IN KENSINGTON: IF 'GOOD OLD-FASHIONED' HEROIN WAS BACK, LIFE WOULD BE BETTER, RECOVERING ADDICT SAYS
In 2021, Philadelphia had nearly 1,300 unintentional overdose deaths, a 160% increase since 2011, according to city data. The highest number of deaths in 2021 — 164 — occurred in Kensington's zip code.
Between 2012 and 2016, Kensington's violent crime rate was over 30% higher than the rest of the city, according to a Drexel University study. More recently, the area had among the worst violent and drug crime rates citywide over the last month, according to data compiled by The Philadelphia Inquirer.
The volume of drug addicts on the streets has created "the free-for-all lawless area that Kensington Avenue is," Oh told Fox News.
"Our police are told not to arrest drug dealers," he said, "because somebody figures that drug addicts need to get drugs, and the only place they get it from are from drug dealers."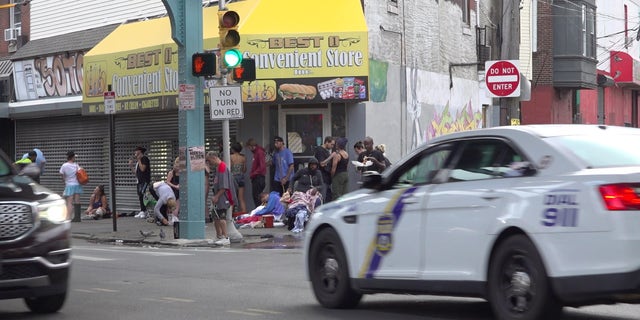 A police car whizzes past a group of drug users loitering outside a business on Kensington Avenue.  (Megan Myers/Fox News Digital)
Philadelphia's Police-Assisted Diversion Program, for example, operates in three districts, including Kensington, encouraging officers to divert arrests for non-violent drug offenses, prostitution or retail theft towards health-centered services, according to the police department's website. The program offers offenders access to treatment rather than sending them to jail.
In a statement to Fox News, a spokesperson for the mayor's office pointed to the Philadelphia Police Department Narcotics Bureau's investigations this year, recovering "over $10 million in drug seizures, confiscated 111 firearms, and seized over $350,000 in cash year as of July 2023."
"Our police are told not to arrest drug dealers," Oh said, "because somebody figures that drug addicts need to get drugs, and the only place they get it from are from drug dealers."
BUSINESSES SETTING UP BOOBY TRAPS TO PROTECT THEMSELVES IN THIS BLUE CITY'S DRUG HAVEN: RECOVERING ADDICT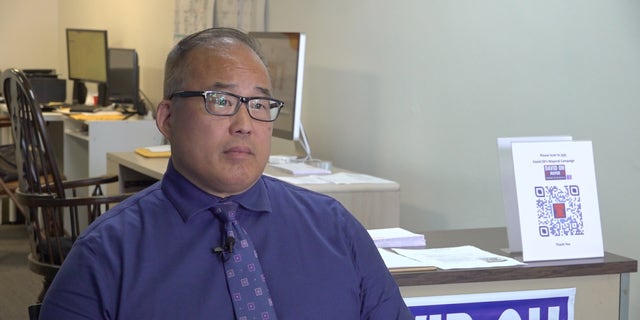 Oh, Philadelphia's Republican candidate for mayor, wants to shut down Kensington Avenue to clear drugs and crime.  (Megan Myers/Fox News Digital )
But failing to shutter Kensington's open-air drug market has allowed dealers to make fortunes off suffering.
"Where does that money go?" he asked. "It goes mostly into investing in more crime, human trafficking and other things. It goes into purchasing of illegal guns with extended magazines."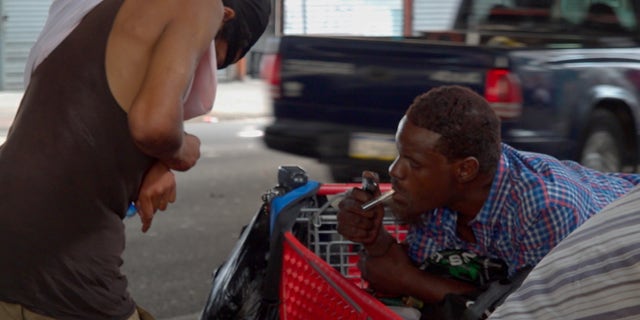 A drug user smokes out of a pipe on Kensington Avenue. The area has received international attention for its excessive public drug consumption and high crime rates.  (Jon Michael Raasch/Fox News Digital)
CRISIS IN KENSINGTON: OPIOIDS HIT PHILADELPHIA LIKE AN ATOMIC BOMB. THIS MAN IS DOCUMENTING THE FALLOUT
But Kensington residents aren't all dealers or addicts, and Oh said they're fed up with the city's inaction that's led to more dangerous streets. One lifelong resident, Rob, previously told Fox News he was picking up pizza for his kids to avoid exposing them to criminals and drug addicts wandering the streets in a stupor.
"2015 and up, it just got real bad," Rob said. "I do not let my daughter come out the car out here, and it's just for a lot of reasons … needles, guns, drug addicts, fights, disrespect, no hospitality, no nothing."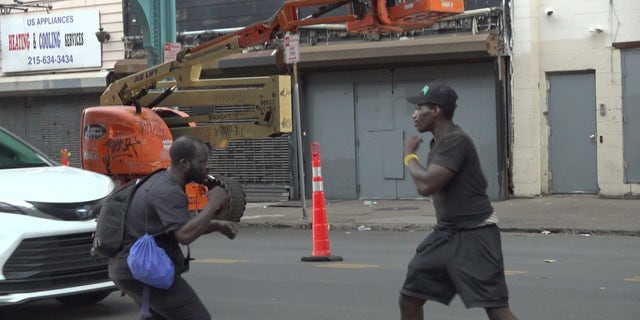 A fight breaks out on Kensington Avenue on a gloomy August afternoon. Some residents avoid bringing their kids out of the house to avoid exposing them to violence and despair on the streets.  (Megan Myers/Fox News Digital )
Oh, who served on the Philadelphia City Council for over a decade, hopes as mayor, he can finally create lasting change for Kensington.
CLICK HERE FOR THE FOX NEWS APP
"Kensington Avenue, to me, is very symbolic of everything you could possibly do wrong as a government to harm people through your policies," Oh said. "I have a very set idea about what needs to be done, and it is simply to enforce the law."
Click here for more from Philadelphia's Republican mayoral candidate.
Megan Myers is an associate producer/writer with Fox News Digital Originals.