SALEM, N.H. – Republican activist Chris Wood is all in for Florida Gov. Ron DeSantis.
Wood, a co-founder of the political action committee NH Draft DeSantis, is among many people hoping that the conservative firebrand governor will eventually launch a 2024 GOP presidential campaign.
"Our ultimate goal is to go out of business the day he announces," Wood told Fox News.
Wood spoke on Saturday at a booth he set up at the New Hampshire GOP's annual meeting, which was held this year at the high school in Salem. The keynote speaker at the event was former President Donald Trump, to date the only major Republican to launch a 2024 presidential campaign.
2024 WATCH: TRUMP'S IN — HERE'S WHO ELSE MAY JOIN THE GOP PRESIDENTIAL PRIMARY FIELD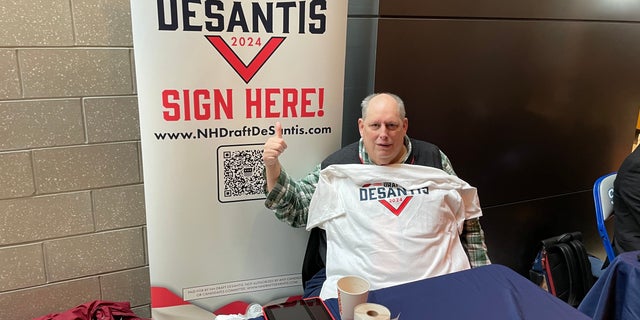 Republican activist Chris Wood mans the Draft DeSantis table at the New Hampshire GOP annual meeting in Salem on Jan. 28, 2023.
(Fox News )
"We've had a great reception where we've gone," Wood said.
Two tables away from the NH Draft DeSantis booth was a team from Ron to the Rescue super PAC, which is one of two major outside groups with no ties to the Florida governor that are also trying to convince DeSantis to launch a presidential campaign and build grassroots support for him.
DESANTIS TOPS TRUMP IN CRUCIAL PRIMARY STATE POLL
"I'm a Floridian. I love what Gov. DeSantis has done there," Alex Olson, a chief strategist for Ron to the Rescue, told Fox News. "We think that he is the best choice to be at the top of the ticket."
DeSantis saw his popularity soar among conservatives across the country the past three years, courtesy of his forceful pushback against coronavirus pandemic restrictions and his aggressive actions as a conservative culture warrior going after media and corporations.
DeSantis routinely dismissed talk of a 2024 White House race for more than a year as he focused on his gubernatorial re-election. But he's dropped some hints the past three months of a possible presidential bid, starting with his re-election victory speech in November after he cruised to an historic 19-point win in Florida, a onetime battleground state.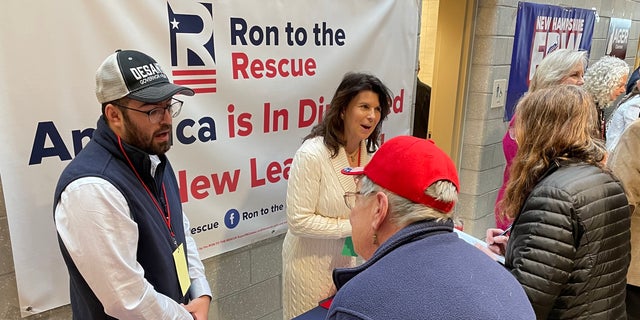 The Ron to the Rescue table at the New Hampshire GOP annual meeting is manned by Alex Olson, a senior adviser for the super PAC, and by former state GOP vice chair Pam Tucker, in Salem on Jan 28, 2023.
(Fox News )
The governor has already pushed legislation in the opening days of his second term that is popular with conservatives in Florida and nationwide. And, as Fox News first reported, he's got a memoir, "The Courage to Be Free: Florida's Blueprint for America's Revival," publishing next month. Writing a book is a rite of passage for many potential and actual presidential candidates.
TRUMP TAKES AIM AT POTENTIAL 2024 GOP RIVALS DURING NH STOP
While Trump remains the most popular and influential politician in the GOP and the party's most ferocious fundraiser when it comes to energizing the grassroots, the first two months of his latest White House bid have been anything but spectacular.
Political pundits from both the left and the right torched his campaign launch, and he's been criticized by Democrats and some Republicans for controversial actions and comments he's made during the past two months. In the wake of a lackluster performance by the GOP in the midterm elections – when the party underperformed in what many expected to be a red wave election – Trump has also been blamed for elevating polarizing Republican nominees who ended up losing in November.
While the former president remains the overall front-runner in the early 2024 GOP nomination polls, DeSantis has eclipsed him in some surveys, including a new poll in New Hampshire.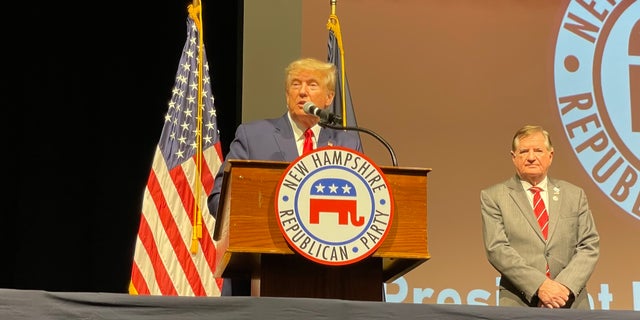 Former President Donald Trump gives the headline address at the GOP annual meeting in Salem, New Hampshire, on Jan. 28, 2023.
(Fox News)
WHY THE REPUBLICAN PRESIDENTIAL NOMINATION RACE IS OFF TO A SLOW START
"As longtime GOP consultants, we saw a lot of our clients being hindered by Trump quasi at the top of the ticket [in the 2022 midterm elections]," Olson said. "If we want our clients to be able to win again, if we want to see a Republican in the White House, we need fresh blood at the top of the ticket."
Olson emphasized that "we have an excited donor base," and that his group is "planning to raise and spend and do so in a greater capacity in the months to come."
He said Ron to the Rescue is currently concentrating in Iowa, New Hampshire and Nevada, which vote first, second and fourth in the Republican presidential nominating calendar, and that the group hopes to expand soon to South Carolina, which holds the third contest.
"Our plan is, as legally as possible, help the DeSantis campaign with our infrastructure when that comes. If they want to take it, we'd love to be able to pass the torch with a lot of our activists," Olson said.
But DeSantis is keeping his distance from Ron to the Rescue and another major outside group, Ready for Ron, which is involved in similar activities.
DESANTIS ALLY WARNS AGAINST CONTRIBUTING TO OUTSIDE PRO-DESANTIS PACS
Ready for Ron recently announced that it plans to spend more than $3 million in the coming months to boost DeSantis' already prominent national profile and organize a grassroots campaign should the governor declare his candidacy for president. But a source close to the governor's political operation told Fox News, "this doesn't help Ron DeSantis. It's a grift – plain and simple."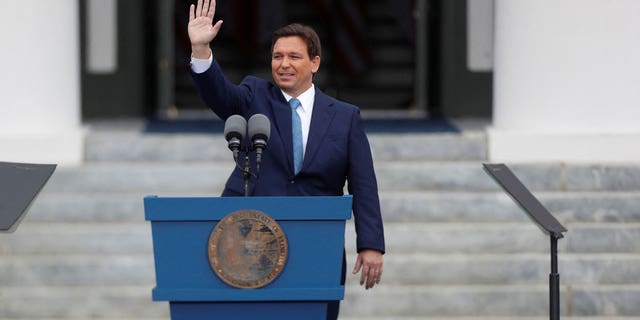 Gov. Ron DeSantis waves after taking the oath of office during his second term inauguration in Tallahassee, Florida, Jan. 3, 2023.
(Reuters/Octavio Jones)
The governor's political team pointed to a memo from last summer that highlighted that contributions to the non-affiliated PACs "do not benefit Governor DeSantis or his re-election."
Outside political committees are prohibited under long-standing federal rules from either coordinating or contributing directly to a candidate or his or her campaign. But the interest these groups appear to be garnering does serve as an early barometer of the apparently sizable grassroots support for DeSantis, should he announce a presidential run.
Pam Tucker, who on Saturday was serving her last day as New Hampshire GOP vice chair, helped to volunteer at the Ron to the Rescue booth moments after her four-year tenure with the state party officially came to an end.
Tucker emphasized that she supported Trump in 2016 and 2020 and that "I think he did a lot of great things. President Trump's polices are Republican policies and policies that are good for our country."
CLICK HERE TO GET THE FOX NEWS APP
But she noted that "they are not exclusively President Trump's policies" and argued that at this point DeSantis is "going to be the best outlet for our party in order to win the presidency."
"I see a winner; I'm just going to go with them," Tucker stressed.
And a few yards away at the NH Draft DeSantis table, Wood emphasized that "people seem very interested in Ron DeSantis up here."