close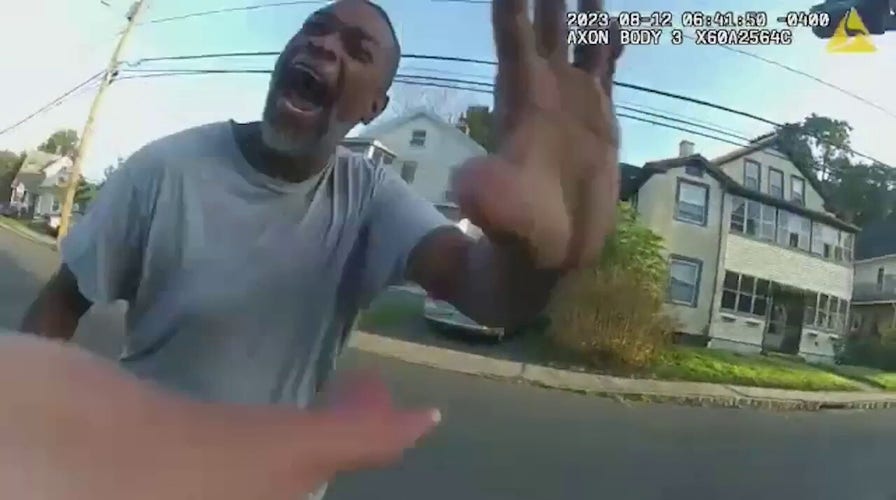 Video
Man with hammer charges toward police officer
WARNING, VIDEO MAY BE GRAPHIC TO SOME VIEWERS: The Connecticut Office of Inspector General released body camera footage of a Middletown Police Department officer-involved shooting in which authorities say Winston Tate attacked an officer with a hammer.
When he ambushed a Connecticut police officer with a hammer this month, Winston Tate was out on probation for assaulting another officer and had at least 30 priors – including a third attack on a police officer – and 14 convictions within the past six years, according to court records.
Tate is jailed at Connecticut's Garner Correctional Institution on more than $1 million bail for charges that stem from his alleged Aug. 12 attack on Middletown Police Detective Karli Travis, an attack that fellow town cops say should never have happened.
Body camera footage captured the assault during which Tate ignored Travis's instructions to "please" drop his weapon, wrestled her to the ground and struck her at least four times, according to authorities.
Travis shot Tate several times while they fought, but according to Tate's arrest warrant, the onslaught only ceased once a bystander shouted, "Hey, f— face," which distracted the attacker long enough for Travis to get out from underneath him.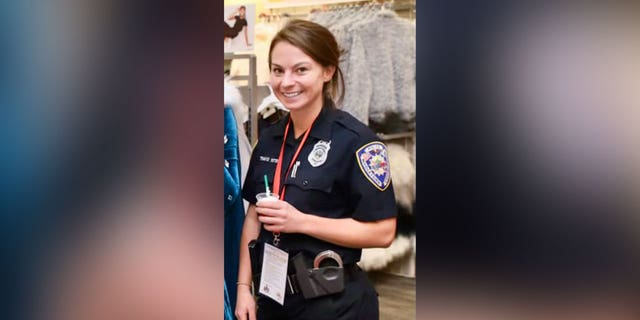 Middletown Police Department Detective Karli Travis was assaulted by 52-year-old Winston Tate on Aug. 12, police said. (Middletown Police Department)
CONNECTICUT MAN SEEN BRUTALLY ATTACKING POLICE OFFICER WITH HAMMER ON BODY CAMERA
Local Middletown Police Union President Nick Puorro told Fox News Digital that the attack was "tangible proof of the problem there is" that "shouldn't take a female officer almost being murdered on national TV to fix."
"A guy like this, who has 30 prior arrests, [who] has attacked officers, he should never have been out again," Puorro told Fox. "He has proven that he is not a functioning member of society, and he deserves to be locked up in a cage like the animal he is."
According to incident reports shared with Fox News Digital, the Middletown Police Department was "familiar" with Tate long before his most recent arrest.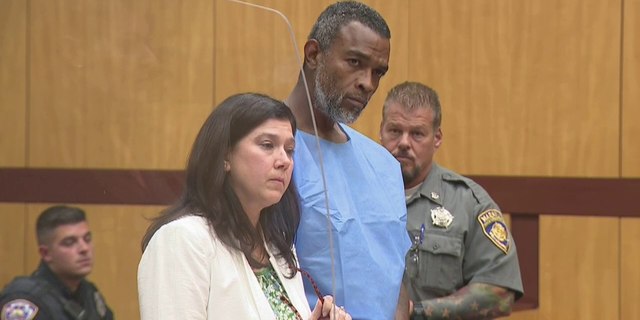 Winston Tate, with public defender Angela Anastasi, is shown at his arraignment in state Superior Court in Middletown, Connecticut, on Aug. 15. (FOX 61)
Officers had been sent to Tate's home four times in the preceding month for what Puorro called a pattern of "terrorizing his neighbors" and tenant – smashing glass, yelling on his porch and shouting racial epithets.
MAN WHO RUSHED AT OFFICER WITH HAMMER KNOWN TO ATTACK POLICE: 'DISDAIN FOR LAW ENFORCEMENT'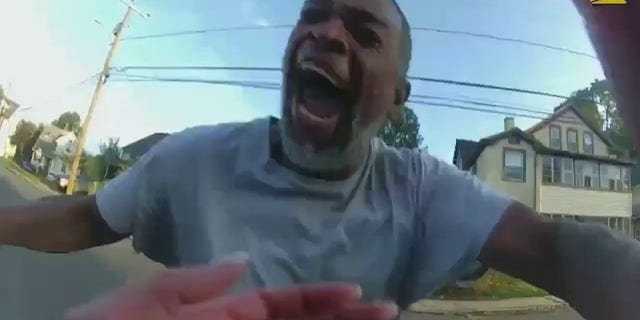 In body camera footage, Winston Tate is seen charging toward Detective Karli Travis, police said. He was on probation for assaulting another public service member at the time of the attack. (Middletown Police Department)
Tate was on probation for assaulting another police officer in October 2020, per records.
Initially, he was sentenced to three years in prison, but that sentence was "suspended" in favor of probation, per state records.
Two years prior to that, he was sentenced in a New Britain court to a year in prison for attempting to assault another police officer.
Court filings on both of these incidents have been "disposed of," per a representative with the Connecticut State Judicial Branch, and could not be retrieved at press time.
Since 2018, Tate has been arrested in eight different Connecticut municipalities and convicted on 14 separate charges.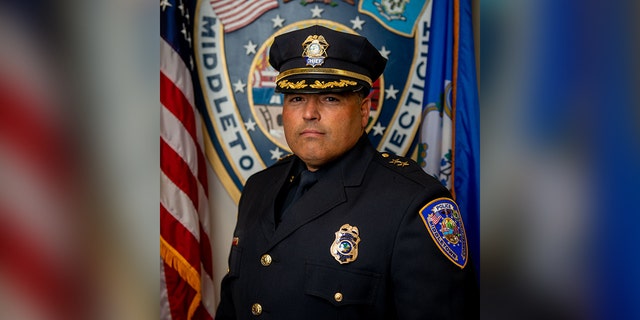 Middletown Police Chief Erik Costa told Fox News Digital that "judges are forced to get people out of jail as soon as possible." (Middletown Connecticut / LinkedIn)
OHIO POLICE OFFICER FIRED AFTER K9 ATTACK OF SURRENDERING SUSPECT
While only convictions dating from 2018 onward are viewable on the State of Connecticut Judicial Branch website, data compiled by a search of the Lexis Nexis legal database shows Tate has a criminal history dating to 1996.
For most of these convictions, he served little if any jail time. Since 2003, per incarceration records shared with Fox News Digital by the Connecticut Department of Corrections, he has spent 1,070 days – less than three years total – behind bars.
In April 2018, Tate served six months of a two-year sentence for carrying a dangerous weapon – he violated his subsequent two-year probation twice, records show.
That same month, a New London court sentenced Tate to three months for disorderly conduct, six months for second-degree breach of the peace and another six months for second-degree threatening. It is unclear how much of this sentence he served in prison.
Another court sentenced Tate to two years for his second DUI – he served 120 days, per state records. It is unclear if that was concurrent with his prison time for the New London charges. He would violate his probation three times, per records.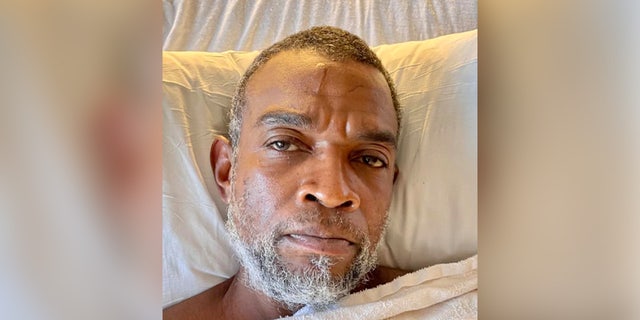 Middletown Police Department said Winston Tate is pictured here recovering from gunshot wounds at an area hospital in police custody. (Middletown Police Department)
Because they were "familiar" with Tate, Middletown police were called in 2020 when he robbed a Walgreens in the neighboring town of Meriden and assaulted the store's manager there, according to an incident report.
Police said Tate "shoved [the manager] to the ground as hard as [he] could" and began yelling and throwing items around the store. Then he stole more than $300 worth of Prevagen – an over-the-counter memory supplement.
Tate served three months of a three-year sentence handed down in March, according to legal records – if he had served the entirety of his sentence, he would have been incarcerated at the time he allegedly attacked Travis.
While he said he does not "want to keep people incarcerated that are capable of living in the community safely," Middletown Police Chief Erik Costa told Fox News Digital that "if you're violently attacking people, I think incarceration is the only cure until we're sure of [the public's safety]."
"Judges need to be given the authority to put people in jail long enough to get the resources they need," Costa continued. "Judges are forced to get people out of jail as soon as possible."
Public defender Angela Anastasi said in court on Aug. 15 that Tate is an Army veteran who was honorably discharged after serving in the Gulf War and has a "medication diagnosis."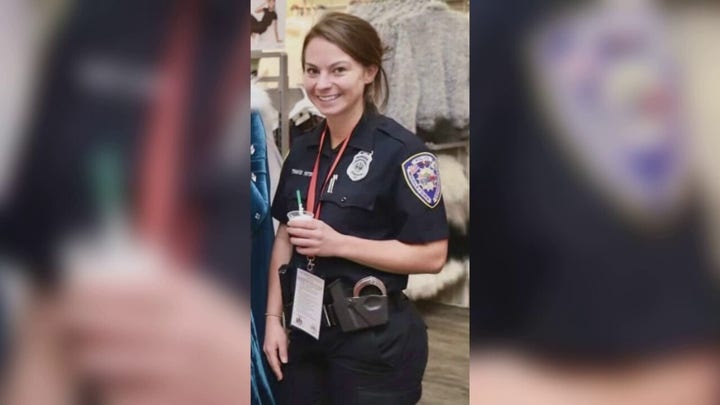 Video
Army Public Affairs Specialist Bryce S. Dubee told Fox News Digital that Tate served from October 1989 to October 1992 and was deployed to southwest Asia from January 1991 until May 1991 and saw combat in Operation Desert Storm.
Tate attained the rank of private first class before he was discharged. Among his decorations are the Combat Infantryman Badge, Kuwait Liberation Medal, Army Commendation Medal and Army Achievement Medal.
But Puorro told Fox News Digital that he was not giving Tate "any kind of pass with his mental health."
"That's justified and used appropriately sometimes," the union head said. "Other times it's just used as an excuse. This animal was a murderer intent on murdering and should be treated as a criminal."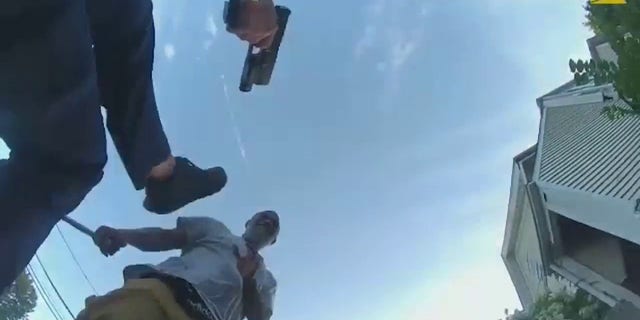 Body camera footage shows Winston Tate pushing Detective Karli Travis to the ground, police said. Tate is seen with a hammer and Travis is seen with her handgun. (Middletown Police Department)
Although Puorro said members of the Middletown Police Department are "shaken" and "upset that this even happened," there have been "silver linings" to the horrific incident, primarily "a big sense of rallying and camaraderie."
The community, he said, has shown ample support for Travis, who is recovering from a gunshot wound to her hand and significant bruising but is eager to return to work.
Moreover, Puorro said, the body camera footage has been used to train other officers.
"There's nothing that she could have done differently," he told Fox News Digital. "The training is 'this is a perfect job and hopefully anyone in this police department who is in this situation does exactly what she did.'"
CLICK HERE TO GET THE FOX NEWS APP
Fox News Digital reached out to Travis for comment, but according to Puorro, she is turning down media interviews and "wants it to all go away."
"News [has been] all over it. I know she's apprehensive, but it is what it is, and she's just going to have to embrace the hero role," he said.
Christina Coulter is a U.S. and World reporter for Fox News Digital. Email story tips to [email protected].