Conservatives panned the first floor speech from Democratic Minority Leader Hakeem Jeffries, D-N.Y., who delivered what some called "partisan" and "rambling" remarks early Satruday morning after the House elected Rep. Kevin McCarthy, R-Calif., to be the next speaker.
On the other side, progressives lauded Jeffries' address, which honored Speaker emerita Nancy Pelosi, D-Calif., touted Democratic legislation like the Inflation Reduction Act, which passed on a party-line vote, and took shots at former Republican President Donald Trump.
"We will never compromise on our principles," Jeffries said, before launching into an A through Z rundown of what Democrats support in contrast to what the left accuses Republicans of standing for. The election-denying Democrat said his party believes in "maturity over Mar-a-Lago" and "quality of life over QAnon," digging at Trump and elements of the far-right.
Jeffries' speech went on for nearly a quarter of an hour. He was intermittently interrupted by House Republicans, who jeered and booed at the most partisan lines in his speech and called on him to hurry up.
KEVIN MCCARTHY DELIVERS FIRST REMARKS AFTER WINNING HOUSE SPEAKER: 'OUR NATION IS WORTH FIGHTING FOR'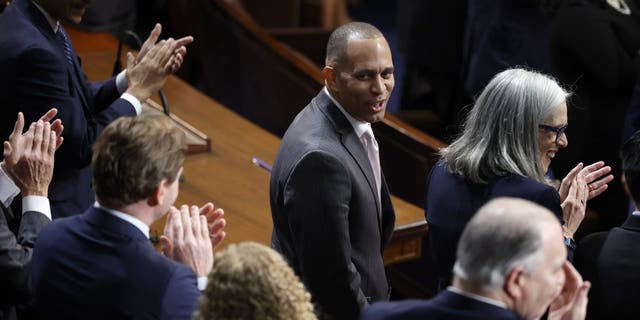 House Democratic Leader Hakeem Jeffries, D-N.Y., is acknowledged in the House Chamber during the second day of elections for Speaker of the House at the U.S. Capitol Building on Jan. 4, 2023 in Washington, D.C. 
(Chip Somodevilla/Getty Images)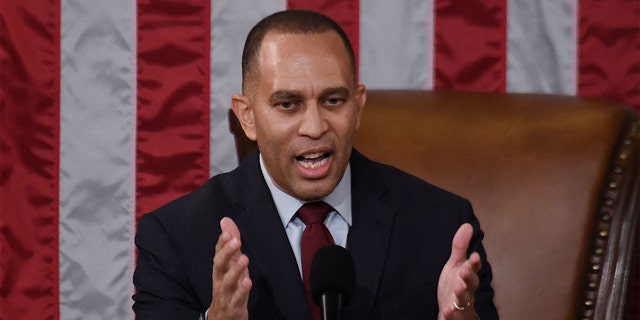 Minority Leader Hakeem Jeffries speaks after House of Representatives Kevin McCarthy was elected speaker on the 15th ballot at the U.S. Capitol in Washington, D.C., Jan. 7, 2023.
(OLIVIER DOULIERY/AFP via Getty Images)
Liberals gave effusive praise for Jeffries' rallying cry against "autocracy," "bigotry," "fascism" and "voter suppression."
"The Honorable Hakeem Jeffries of New York just gave the best opening speech I've ever heard for a session of Congress in my lifetime. Possibly the best in history from a minority leader of a party," tweeted Democrat Gary Chambers, who ran for Senate in Louisiana and lost to Republican Sen. John Kennedy.
"If you are up, please turn on your tv (@MSNBC) and listen to the leader of the Dem caucus, Hakeem Jeffries. He is delivering an amazing speech right now. He is not using a prompter," said MSNBC contributor Symone D. Sanders-Townsend, former senior adviser and chief spokesperson for Vice President Kamala Harris.
"Leader Jeffries speech was one of the best I have heard!" declared Rep. Bennie Thompson, D-Miss., who chaired the Jan. 6 committee.
MIKE ROGERS LUNGES AT MATT GAETZ DURING HOUSE SPEAKER VOTING, OTHER MEMBERS FORCED TO INTERVENE: VIDEO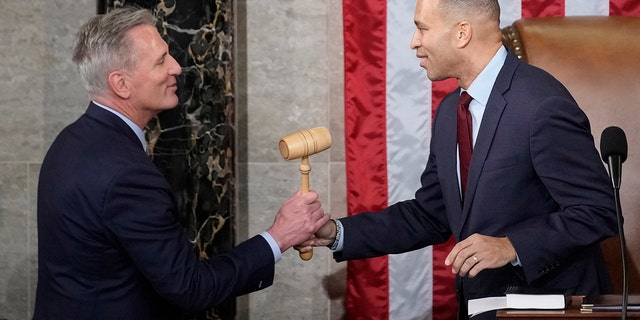 Incoming House Speaker Kevin McCarthy of Calif., receives the gavel from House Minority Leader Hakeem Jeffries of N.Y., on the House floor at the U.S. Capitol in Washington, early Saturday, Jan. 7, 2023. 
(AP Photo/Andrew Harnik)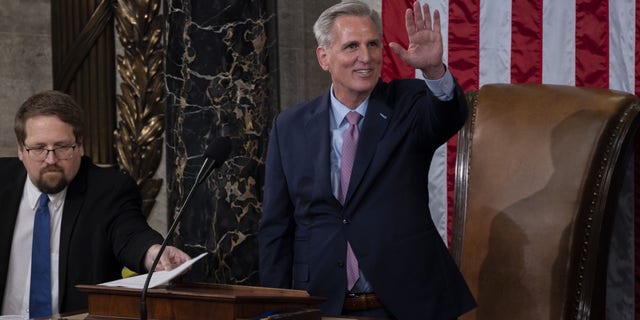 House Speaker Kevin McCarthy, R-Calif., celebrates after taking the oath of office in Washington, D.C., on Jan. 7, 2022.
(Nathan Posner/Anadolu Agency via Getty Images)
MCCARTHY THANKS TRUMP AFTER HOUSE SPEAKER VOTE: 'HE WAS WITH ME FROM THE BEGINNING'
Conservatives and Republicans were not so impressed.
"Not the place for you to give a partisan speech, Rep. Jeffries," said Brian Riedl, a senior fellow at the Manhattan Institute.
"This is one of the dumbest speeches I have ever heard," tweeted syndicated columnist Phil Kerpen.
"Is the press going to sell this rambling disaster of a speech? Or just ignore it?" he asked.
"I would rather listen to George Santos read his Wikipedia page over Jeffries giving this speech," quipped Ryan James Girdusky, a paleoconservative writer and Republican Party activist.
"I'm sure CNN and MSNBC loved every word out of Hakeem Jeffries's mouth, but idk about the rest of the country," observed News Busters managing editor Chris Houck. "Yikes."
McCarthy was elected House speaker on the 15th and final ballot, earning 216 votes from his conference with six GOP holdouts voting "present," thereby lowering the threshold to win. Jeffries maintained the united support of all 212 members of his conference throughout four days of votes.
CLICK HERE TO GET THE FOX NEWS APP
"I hope one thing is clear after this week: I will never give up," McCarthy said in his remarks after receiving the Speaker's gavel from Jeffries. "I will never give up for you, the American people. And I will never give up on keeping our Commitment to America."