FIRST ON FOX: A top conservative group is urging Republicans in Congress to reject what it says is a "border trap" in the Biden administration's request for supplemental funding, warning that a $4 billion inclusion would not contribute to border security nor end the ongoing migrant crisis.
The Heritage Foundation, in a policy brief first obtained by Fox News Digital, is warning Republicans that the money included for border and immigration funding in the $40 billion supplemental is a "cynical ploy to deceive Americans that the administration cares about national security, when in fact it does not secure the border, and ramps up processing, housing, and social services for an endless flow of illegal aliens that the administration is unlawfully shepherding into the country."
The request's big ticket items are $12 billion for disaster relief and $24 billion for Ukraine. However, approximately $4 billion of the request deals with border management, including funds to combat the flow of fentanyl across the southern border. The administration has consistently called for more funding, as well as deeper immigration reform legislation overall.
US BORDER PATROL APPREHENDS MORE THAN 7K MIGRANTS WHO CROSSED SOUTHERN BORDER ILLEGALLY TUESDAY: SOURCES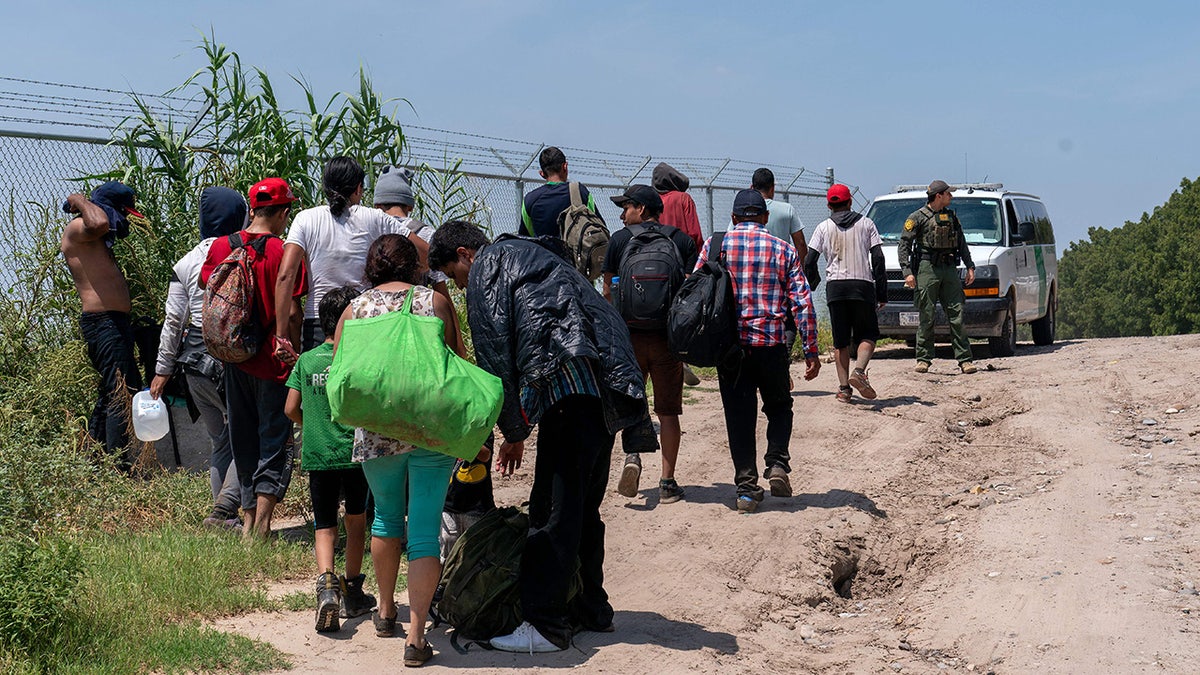 A group of migrants who have crossed into the U.S. from Mexico in Eagle Pass, Texas, are led by a Border Patrol Agent on August 25, 2023. (SUZANNE CORDEIRO/AFP via Getty Images)
In a letter to House Speaker Kevin McCarthy, the White House said that it is requesting funding for "border enforcement, management, and migrant services at the Department of Homeland Security and to hire immigration judge teams at the Department of Justice."
"To reduce irregular migration across the Western Hemisphere and expand safe, orderly, and lawful pathways to migration, the request also includes funding for the Department of State and the U.S. Agency for International Development," the request says. "To continue the Administration's efforts to combat fentanyl, the request includes nearly $800 million to reduce the influx of fentanyl across our borders and counter the threat fentanyl poses to our public health. Finally, the request includes funding for the Department of Labor to enforce child labor laws and protect migrant children from dangerous and exploitative labor arrangements."
However, The Heritage Foundation's Lora Ries and RJ Hauman said the request is a "border trap," and they highlighted inclusions they believe are troublesome for Republicans and work against the goal of border security.
Heritage Foundation policy brief by Fox News on Scribd
Specifically, they said that the $1.4 billion for Customs and Border Protection (CBP) includes an additional $600 million for FEMA's Shelter and Services Program grants that include funding for non-governmental organizations (NGOs), and $606 million to be reimbursed to the Pentagon for "border security support." They point to a separate $100 million that goes to HHS for "culturally and linguistically appropriate services, including 'wraparound' services."
The authors argue that such funding requests "do nothing to address the root of the problem."
"The solution to eliminating humanitarian relief fraud and abuse of taxpayer dollars is to defund the NGOs doing the Biden Administration's dirty work of illegal alien processing, human smuggling, and incentivizing mass migration," they said.
They also flag a $759 million request for ICE, which allows for reprogramming of funding within the agency. They warn that the authority could be used to move "essential law enforcement money to the housing of illegal aliens and providing them with social services through corrupt, open-borders NGOs." Conservatives have repeatedly expressed concern about a move away from the use of detention by ICE under the Biden administration, as well as connected social services provided to migrants.
Instead, Heritage urged congressional Republicans to push in the opposite direction, using the control they have of the House.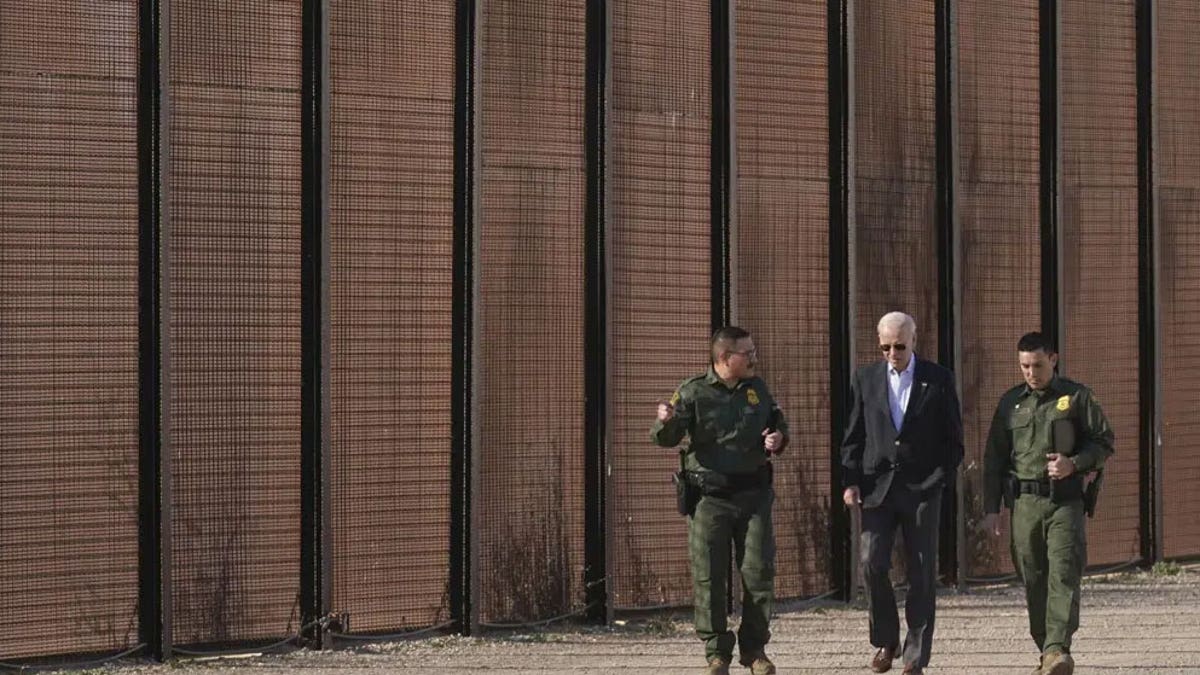 President Biden walks with U.S. Border Patrol agents along a stretch of the U.S.-Mexico border in El Paso Texas, Sunday, Jan. 8, 2023. (AP Photo/Andrew Harnik)
"Congress must defund open-borders operations and allocate such funds to real border security and immigration enforcement with stringent non-reprogramming provisions and hawkish oversight requirements, instead of abdicating its responsibility to use American taxpayer dollars responsibly and lawfully," they said.
The paper serves to show the stark difference in approaches between the administration's and Republican and conservatives' views on how the migrant crisis — now into its third year — should be tackled.
DHS ANNOUNCES $77 MILLION MORE IN FUNDING TO NGOS, COMMUNITIES HIT BY MIGRANT SURGE
The Biden administration has focused on expanding lawful migration parole pathways, in an approach it has claimed is working, while increasing funding and partnerships with NGO's to process migrants into the interior. It says it has also stiffened penalties for illegal entry at the border and has sought to implement an asylum rule that limits asylum claims for some illegal immigrants.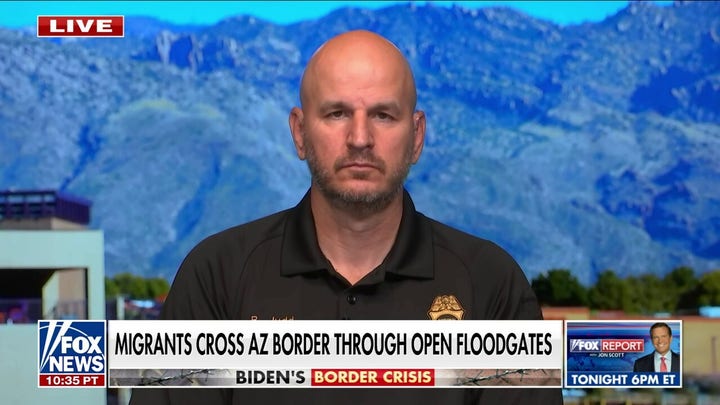 Video
Republicans, meanwhile, have passed legislation that would restart border wall construction, significantly increase the number of Border Patrol agents. It would also that would enshrine the Trump-era Migrant Protection Protocols, change laws related to unaccompanied children and restrict the use by the federal government of humanitarian parole.
It has also drafted a House appropriations bill that would defund the controversial CBP One App and provide funding for ICE detention and removal and wall construction among other considerations.
CLICK TO GET THE FOX NEWS APP
There has been little sign of common ground between Republicans and the administration on the matter. An immigration reform proposal by the administration was rejected outright by Republicans in 2021 for the inclusion of a pathway to citizenship for millions of illegal immigrants. Meanwhile, Democrats and the administration have shown little interest in the House border bill.
As government funding is due to expire in September, Ries and Hauman say that if Congress considers a short-term extension, Republicans must demand that the House border bill is included: "If the federal government cannot perform the basic task of securing the border, it should not be funded."