close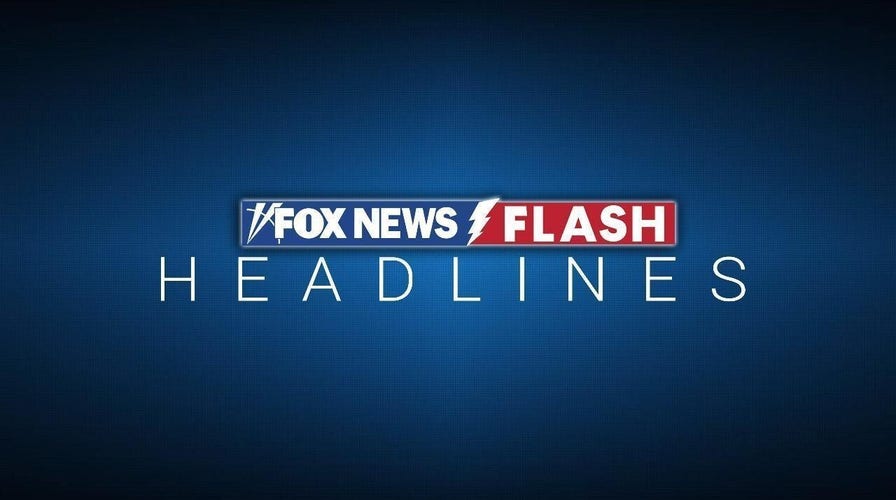 Video
Fox News Flash top headlines for March 1
Fox News Flash top headlines are here. Check out what's clicking on Foxnews.com.
JERUSALEM, Israel—A Connecticut-born dual American-Israeli national was identified as the victim of a terror attack Tuesday. Elan Ganeles was killed while driving to a wedding on Monday.
Israel's army, border police and domestic security agency on Wednesday arrested three Palestinian terrorism suspects involved in the murder of Ganeles, who was visiting the country to attend a wedding.
One of the suspected terrorists fled and was shot during the operation. It is unclear how serious his injuries are. The arrests were announced on Twitter by Prime Minister Benjamin Netanyahu who noted, "Whoever tries to hurt us will pay the price."
The 27-year-old Ganeles was from West Hartford, Connecticut, and was killed near the biblical city of Jericho when terrorists opened fire from their car on Israeli cars. The Palestinian gunmen targeted two other Israeli vehicles but there were no injuries. The suspected terrorists burned their vehicle and fled.
ISRAEL CALLS UP ARMY BATTALIONS AS SERIOUS VIOLENCE HITS WEST BANK FOLLOWING MURDER OF ISRAELI BROTHERS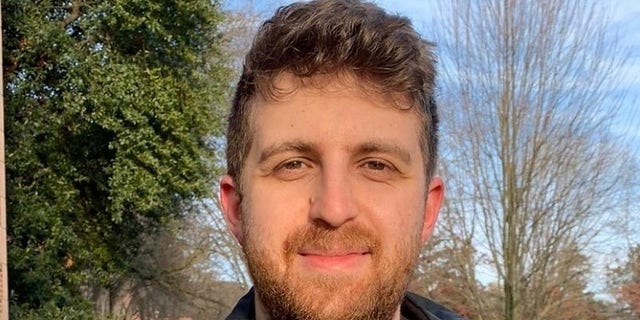 The 27-year-old Elan Ganeles, of West Hartford, Connecticut, was killed in a terrorism attack on Sunday. (Twitter account of the Consulate General of Israel in New York)
The murder of Ganeles comes just days after Palestinian terrorists killed two Israeli brothers, Hillel and Yagel Yaniv, in a similar shooting. Ganeles, who immigrated to Israel, is a veteran of the Israel Defense Forces. He was pronounced dead at Hadassah Hospital in Jerusalem hours after the shooting.
State Department spokesman Ned Price commented on the attack Monday, saying, "The United States is extremely concerned by the events of this weekend and the continuing violence in Israel and the West Bank. As we noted yesterday, we condemn the horrific killing of two Israeli brothers near Nablus and the killing today of an Israeli near Jericho, who we understand was also an American citizen. We express our deepest condolences to all of the victims' families and their loved ones."
Connecticut Gov. Ned Lamont tweeted out his condolences to his family, as did New York City Mayor Eric Adams.
U.S. Ambassador to Israel Tom Nides tweeted about the murder of Ganeles after confirming a U.S. citizen had been murdered in the terror attack. His tweet in part said, "I pray for his family."
The synagogue Young Israel of West Hartford announced on its website, "We mourn the loss of Elan Ganeles," and said people can "make a donation in memory of Elan Ganeles z'l to the Young Israel Chesed Fund, which will support the family during this time."
After Ganeles's Israeli army service, he obtained a degree from Columbia University in sustainable development and neuroscience in 2022.
PALESTINIAN GUNMAN SHOOTS AND KILLS TWO ISRAELI BROTHERS IN WEST BANK
The Chabad.org news website reported that Rabbi Yehuda Drizin, director of Chabad at Columbia, said Elan "was a very genuine guy, a committed Jew. He was very involved in the local Hillel chapter, studied hard and was a passionate man with strong friendships."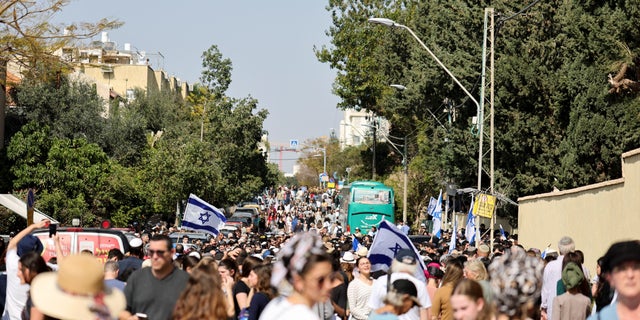 Over a thousand people mourn Elan Ganeles, a dual U.S.-Israeli citizen killed in a shooting attack while he was driving near the West Bank city of Jericho by terrorists, during his funeral, outside the cemetery, in Raanana, Israel, March 1, 2023. REUTERS/Nir Elias
Drizin, who has known Elan since 2019, added, "Everyone's in shock; it's really painful, it really hurts, he was a great friend, and he will be sorely missed."
According to the Chabad news outlet, Rabbi Shimshon Nadel of Jerusalem knew Ganeles from New Haven and said he was a "sweet boy with a great sense of humor. He played the saxophone, and we would jam together in the shul's sukkah during Hallel [gratitude-themed psalms], on Chanukah and musical Havdalahs [ceremony for symbolic end of Shabbat]. Heartbreaking."
Rabbi Yosef Gopin, director of Chabad-Lubavitch of Greater Hartford, said, "We are shocked and heartbroken by the latest news of the tragic event. Such a young life was taken by cold-blooded murderers. Our heart goes out to the Ganeles family and the entire community. Elan grew up in West Hartford, attending Hebrew Academy, Hebrew High School and the Young Israel of West Hartford. For many years, he was a camper at Camp Gan Israel. May G‑d comfort the family and bless our community with strength and unity."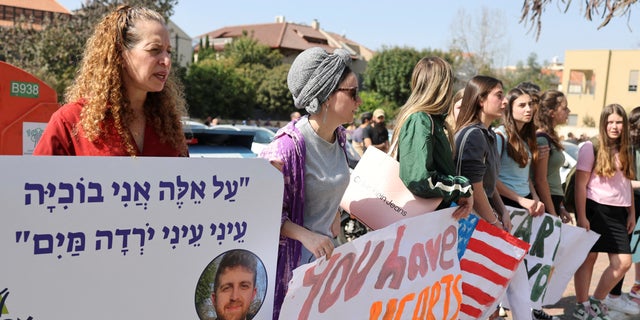 People hold placards as they mourn Elan Ganeles, a dual U.S.-Israeli citizen killed in a terrorist attack while he was driving near the West Bank city of Jericho by suspected terrorists, during his funeral, outside the cemetery, in Raanana, Israel, March 1, 2023. REUTERS/Nir Elias
Over 1,000 people attended Ganeles' funeral on Wednesday in Raanana, Israel and his family plans to return to Connecticut after the seven-day mourning period.
He is survived by his parents, Andrew and Carolyn, both of whom are physicians in West Hartford, and his two younger brothers, Simon and Gabriel.
In response to rising violence in the West Bank, also known as Judea and Samaria, Israel has called up army battalions.
CLICK HERE TO GET THE FOX NEWS APP
Benjamin Weinthal reports on Israel, Iran, Syria, Turkey and Europe for Fox News Digital. Benjamin has contributed articles to The Wall Street Journal, The Jerusalem Post, Foreign Policy, Haaretz, Forbes and The New York Post. You can follow Benjamin on Twitter @BenWeinthal.