Cindy Williams, who starred in "Laverne & Shirley," has died at the age of 75 following a brief illness, according to her family.
Williams portrayed Shirley alongside Penny Marshall's Laverne on the popular sitcom.
The star's children, Zak and Emily Hudson, shared a statement following her death.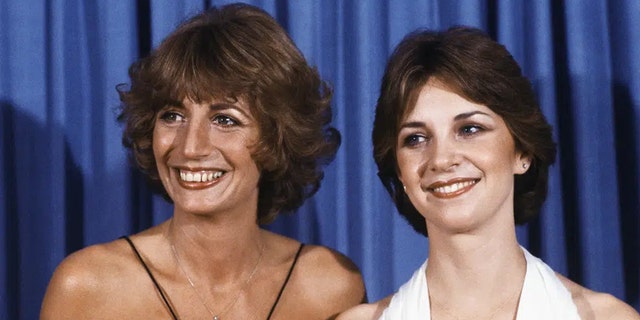 Penny Marshal, left, and Cindy Williams, right, from the comedy series "Laverne & Shirley" appear at the Emmy Awards in Los Angeles on Sept. 9, 1979.
(AP Images, FILE)
"The passing of our kind, hilarious mother, Cindy Williams, has brought us insurmountable sadness that could never truly be expressed," the statement obtained by The Associated Press read. "Knowing and loving her has been our joy and privilege. She was one of a kind, beautiful, generous and possessed a brilliant sense of humor and a glittering spirit that everyone loved."
Williams also starred in director George Lucas' 1973 film "American Graffiti" and director Francis Ford Coppola's "The Conversation" from 1974.
But she was by far best known for "Laverne & Shirley," the "Happy Days" spinoff that ran on ABC from 1976 to 1983 that in its prime was among the most popular shows on TV.
Williams played the straitlaced Shirley to Marshall's more libertine Laverne on the show about a pair of roommates that worked at a Milwaukee bottling factory in the 1950s and 60s.
The Associated Press contributed to this report