Cindy Crawford's daughter Kaia Gerber shared her thoughts on the "nepo baby" debate raging in Hollywood as she appeared on the cover of Elle magazine's February issue.
The 21-year-old model and actress, who the 56-year-old supermodel shares with husband Rande Gerber, 60, opened up about the "nepo baby" label, a recently coined term short for "nepotism babies," during the cover shoot's accompanying interview.
"I won't deny the privilege that I have," Gerber told the outlet.
"Even if it's just the fact that I have a really great source of information and someone to give me great advice, that alone I feel very fortunate for.
KATE HUDSON, LILY-ROSE DEPP AND MORE STARS FIRE BACK AT THE 'NEPO BABY' LABEL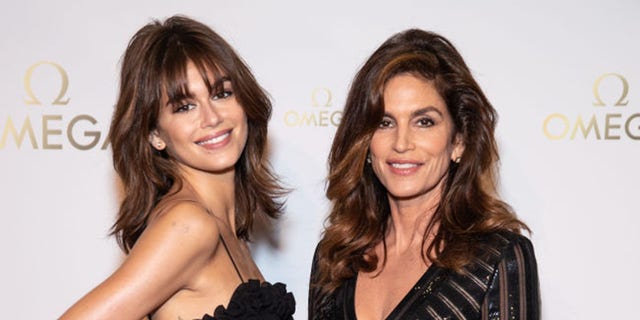 Cindy Crawford's daughter Kaia Gerber shared her thoughts on the "nepo baby" label.
(Miikka Skaffari/Getty Images)
"My mom always joked, 'If I could call and book a Chanel campaign, it would be for me and not you,'" Gerber quipped.
"But I also have met amazing people through my mom whom I now get to work with."
 

 
 

 
 
View this post on Instagram
 

 
 
 

 
 

 
 
 

 
 
Gerber began modeling at the age of 10 when she landed a campaign for the Versace children and juniors line, Young Versace. When Gerber was 16, she made her New York Fashion Week debut, walking for Calvin Klein's Spring 2018 collection in September 2017.
She hit the runway for major fashion houses, including Chanel, Marc Jacobs and Prada during Spring 2018 Fashion Weeks in New York, London, Paris and Milan.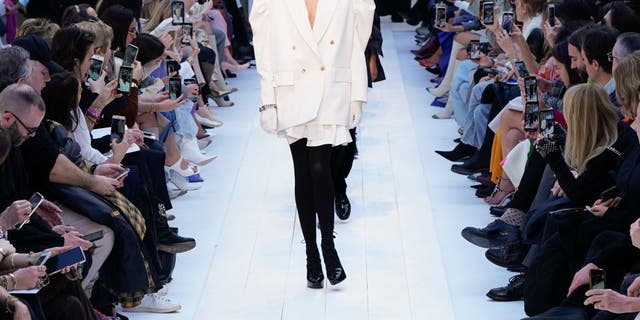 Gerber said she "wouldn't deny the privilege" she has as a daughter of a supermodel.
(Pietro D'Aprano/Getty Images)
Crawford and Gerber walked together during Versace's Spring 2018 fashion show in Milan. Over the past few years, Gerber has fronted campaigns for top designer labels and appeared on numerous magazine covers, including Vogue's coveted "Big Four," an achievement she completed by age 18.
Gerber made her acting debut in the 2016 TV movie "Sister Cities" and starred in FX's "American Horror Stories" and "American Horror Story: Double Feature." The California native told Elle acting is now her "primary focus." She explained she also sees a difference in the impact of nepotism between the acting and modeling industries.
CLICK HERE TO SIGN UP FOR THE ENTERTAINMENT NEWSLETTER
"With acting, it's so different," she said. "No artist is going to sacrifice their vision for someone's kid. That just isn't how art is made, and what I'm interested in is art.
"Also, no one wants to work with someone who's annoying and not easy to work with and not kind. Yes, nepotism is prevalent, but I think if it actually was what people make it out to be, we'd see even more of it."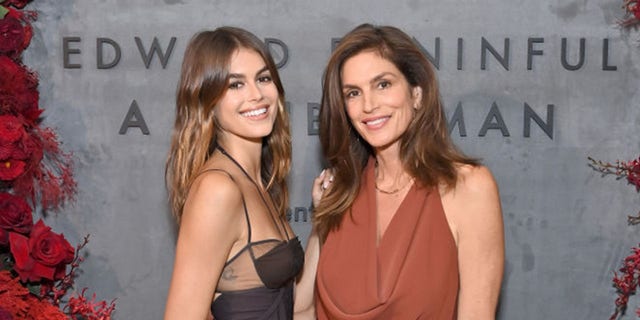 The "American Horror Stories" actress also shared career advice that Crawford had given her.
(Stefanie Keenan/Getty Images for Edward Enninful)
The 2018 Fashion Awards "Model of the Year" winner also shared some career advice her famous mother gave her.
"Be on time," Gerber said. "Take the time to learn people's names, and be nice to everyone. If you're not grateful and happy to be there, there's someone who would be.
CLICK HERE TO GET THE FOX NEWS APP
"Even when I was really tired or wanted to go home or felt lonely, I would remind myself how lucky I was. Another thing she told me is, 'I wish I had written more down,' because you think you're going to remember these amazing moments forever, and one day, it's hard to even know what shoot that was, where it happened and when. And so I wrote it down; I journaled."
During her interview with Elle, Gerber also reflected on growing up with a supermodel mother and the collective "aftershock" when Crawford walked into a room.
"Yeah, the sea parts," she said. "Especially when I started modeling, everyone would be like, 'Oh my God, your mom is so iconic,' and I'd be like, 'She's my mom.' "