Republican presidential candidate Chris Christie said over the weekend that his 2024 rival, former President Donald Trump, can get a fair trial in Washington, D.C.
Christie was interviewed Sunday on CNN's "State of the Union." He told host Dana Bash that as a former U.S. attorney in New Jersey, he believes that "jurors can be fair" even in highly controversial cases.
"I believe in the American people," Christie said. "And I believe in the fact that jurors will listen fairly and comparably."
When Bash observed that President Biden won over 90% of the D.C. vote in the 2020 election, Christie dismissed that concern.
THESE REPUBLICANS HAVE MET QUALIFICATIONS FOR THE FIRST GOP PRESIDENTIAL DEBATE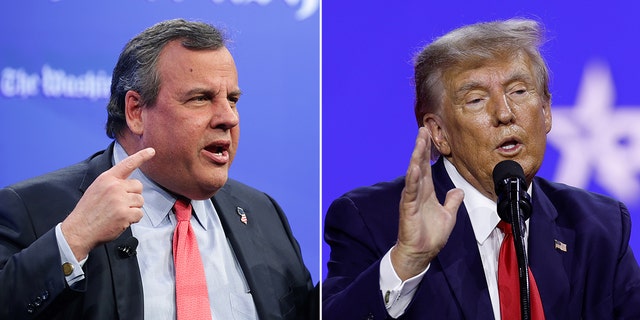 Former New Jersey Gov. Christ Christie says former president Donald Trump can get a fair trial in Washington, D.C., for his 2020 election and Capitol riot case. (Chip Somodevilla/Getty Images, Anna Moneymaker/Getty Images)
"Unlike anybody else in this race, I actually did this for seven years as the U.S. attorney in the fifth-largest office in the country, in New Jersey, which is a very blue state," he said. "I watched as jurors put aside any of their partisanship or politics and listened to the evidence and returned, in my state, fair and just verdicts."
Christie noted that he successfully prosecuted more than 130 political corruption cases and that none of them were overturned on appeal.
He said those who question the fairness of a jury "are people who believe only in themselves, like Donald Trump, and not the American people."
GEORGIA COURTHOUSE RAMPS UP SECURITY AHEAD OF POTENTIAL 4TH TRUMP INDICTMENT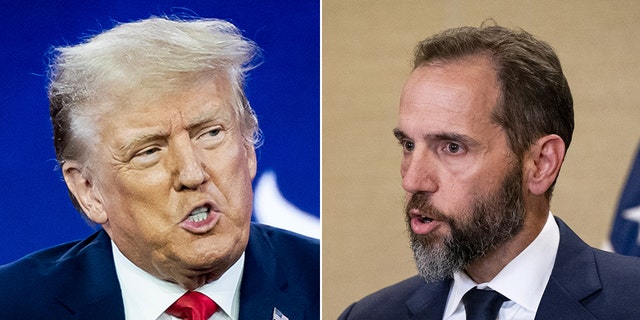 The former president was indicted on four counts by Special Counsel Jack Smith after a years-long investigation into Trump's actions leading up to the Capitol riot on Jan. 6, 2021. (Getty Images)
A federal grand jury has indicted Trump in D.C. on charges stemming from Special Counsel Jack Smith's investigation into 2020 election interference and the Jan. 6 Capitol riot. Trump has pleaded not guilty to charges of conspiracy to defraud the United States, conspiracy to obstruct an official proceeding, obstruction of an attempt to obstruct an official proceeding, and conspiracy against rights.
The former president has called the various allegations against him a political "witch hunt" and on Sunday said that he cannot get a fair trial in the nation's capital.
"NO WAY I CAN GET A FAIR TRIAL, OR EVEN CLOSE TO A FAIR TRIAL, IN WASHINGTON, D.C.," Trump posted on Truth Social.
TRUMP'S ATTORNEYS ARGUE FOR LESS RESTRICTIVE RULES OVER EVIDENCE IN 2020 ELECTION CASE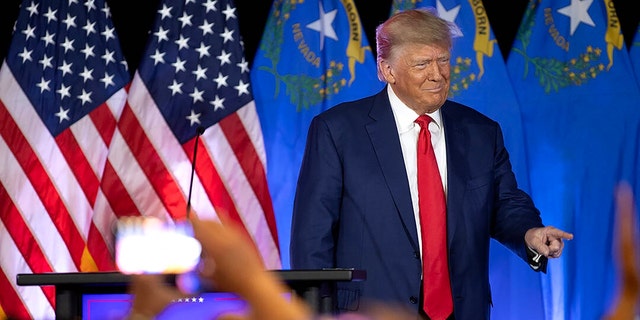 Former President Donald Trump takes the stage during an event on July 8, 2023, in Las Vegas. Trump has said he cannot get a fair trial in D.C. (Ellen Schmidt/Las Vegas Review-Journal/Tribune News Service via Getty Images)
"THERE ARE MANY REASONS FOR THIS, BUT JUST ONE IS THAT I AM CALLING FOR A FEDERAL TAKEOVER OF THIS FILTHY AND CRIME RIDDEN EMBARRASSMENT TO OUR NATION, WHERE MURDERS HAVE JUST SHATTERED THE ALL TIME RECORD, OTHER VIOLENT CRIMES HAVE NEVER NEEN [sic] WORSE, AND TOURISTS HAVE FLED. THE FEDERAL TAKEOVER IS VERY UNPOPULAR WITH POTENTIAL AREA JURORS, BUT NECESSARY FOR SAFETY, GREATNESS, & FOR ALL THE WORLD TO SEE!"
CLICK HERE TO GET THE FOX NEWS APP
Both Trump and Christie have qualified for the first Republican presidential primary debate, which Fox News will host on Aug. 23 in Milwaukee, Wisconsin. The debate starts at 9 p.m. ET.
Christie has promised to confront Trump face-to-face at the debate, but Trump, the commanding front-runner in the primary, has not yet decided whether he will show up.