close
Video
Matt Keelen on Chinese spy balloon: The world is questioning whether America is what it used to be
GOP strategist Matt Keelen and Democratic strategist Tim Hogan respond to developments about the Chinese spy balloon that was hovering over the U.S.
Reactions on Chinese social media have mocked the U.S. coverage of the surveillance balloon that entered American airspace on Wednesday, even downplaying the implications of a canceled visit by State Secretary Antony Blinken to Beijing.
"It's just an air balloon, does America really have to make a fuss about nothing?" read just one comment of many on the Chinese chat platform Weibo, where users mocked the U.S. for its responses.
The Pentagon announced Thursday that the U.S. government had detected a high-altitude surveillance balloon, first spotted over Montana, where it hovered above Malmstrom Air Force Base. The U.S. uses the base to store nuclear weapons.
Senior State and Defense Department officials have labeled the balloon's presence in U.S. airspace an "unacceptable" violation of U.S. sovereignty, but they cautioned against shooting it down, since the balloon was roughly the size of three Greyhound buses and was carrying heavy surveillance equipment. The military shot the balloon down on Saturday afternoon as it reached the Atlantic Ocean.
CHINESE SPY BALLOON APPROACHES ATLANTIC, FAA ISSUES GROUND STOP AS US CONSIDERS SHOOT-DOWN
Republicans blasted the Biden administration for its slow response, with House Speaker Kevin McCarthy tweeting on Saturday, "First Biden refused to defend our borders. Now he won't defend our skies."
In this photo provided by Brian Branch, a large balloon drifts above the Kingston, North Carolina area, with an airplane and its contrail seen below it. 
(Brian Branch via AP)
Blinken announced Friday that he would postpone his scheduled trip to China, even though the trip was never formally announced.
Users on Weibo, as well as readers of China's party-backed newspaper The People's Daily, downplayed the impact of Blinken's change in travel plans, saying, "Whether you come or not, the result will be the same. Why do we keep paying so much attention to the unreasonable nation," in reference to the U.S.
FORMER SENIOR MILITARY OFFICIAL SLAMS 'FECKLESS' PENTAGON RESPONSE TO CHINESE BALLOON, WARNS OF CONSEQUENCES
"It's good you are not coming," another user wrote. "So unreasonable."
Many comments took a joking tone, with some describing what the balloon would want – "The world is so big and I want to see it all" – to urging the U.S. to "respect the floating freedom of the balloon."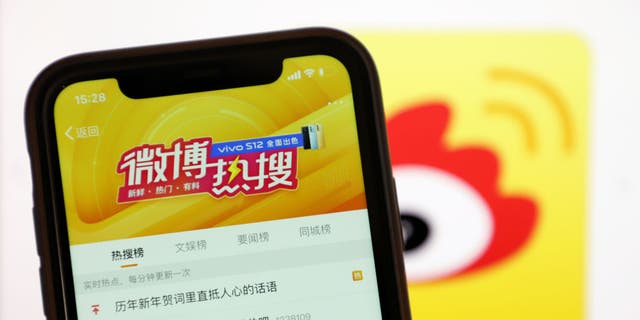 A popular weibo top search queries interface is displayed on a mobile phone, Ganzi City, Sichuan Province, China, Dec. 31, 2021. 
(Wang Jianfeng / Costfoto/Future Publishing via Getty Images)
China acknowledged that the device originated there, but it has continued to maintain that the balloon was a civilian craft that entered U.S. airspace by accident.
BIDEN SPEAKS ABOUT CHINESE SPY BALLOON ON CAMERA FOR FIRST TIME, SAYS 'WE'RE GONNA TAKE CARE OF IT'
"Regarding the unintended entry of a Chinese unmanned airship into US airspace due to force majeure, the Chinese side has verified it and communicated it to the US side. It is a civilian airship used for research, mainly meteorological, purposes," said a Foreign Ministry spokesperson on Saturday. "Affected by the Westerlies and with limited self-steering capability, the airship deviated far from its planned course."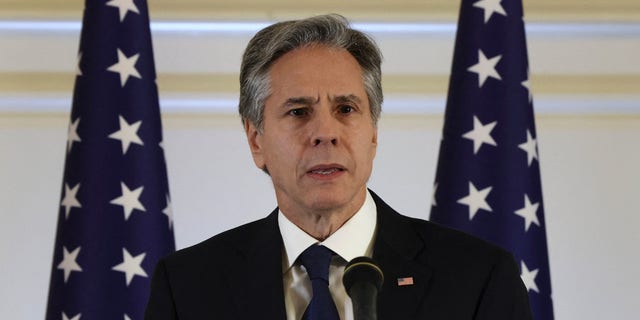 Secretary of State Antony Blinken speaks during a press conference at the Waldorf Astoria in Jerusalem on Jan. 31, 2023.
(RONALDO SCHEMIDT/AFP via Getty Images)
On the People Daily's hot page, Blinken's announcement, which was published under the title "Chinese unmanned airship accidentally entered U.S. airspace due to uncontrollable forces," according to The China Project, ranked only ninth in priority.
CLICK HERE TO GET THE FOX NEWS APP
"Blinken, China didn't invite you, don't think too highly of yourself," another user wrote in the comment section of the article.
Another user wrote, "Come or don't come, we don't care."
Peter Aitken is a Fox News Digital reporter with a focus on national and global news.