close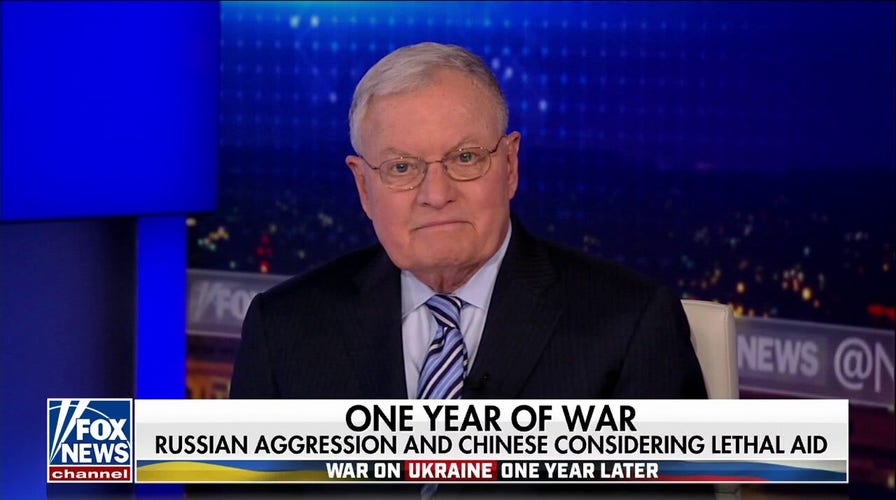 Video
Biden asked about China potentially arming Russia
Fox News contributor retired Gen. Keith Kellogg provides his insight on Biden's response to China possibly arming Russia on 'Fox News @ Night.'
A diplomat with the Chinese Ministry of Foreign Affairs met with a US consul over remarks lamenting Hong Kong's future under the Chinese Communist Party.
U.S. Consul General Gregory May said last month that he was concerned about Hong Kong's status as a business hub without the guaranteed freedoms enjoyed prior to the island's return to China.
"The National Security Law and actions taken by Beijing and Hong Kong authorities may negatively impact company staff, finances, legal compliance reputation and operations," May said in January.
BIDEN EXTENDS DEPORTATION PROTECTIONS FOR HONG KONG RESIDENTS AMID 'INCREASING REPRESSION' IN CHINA
May went on to warn that "companies should be aware that the risks faced in mainland China are now increasingly present here in Hong Kong."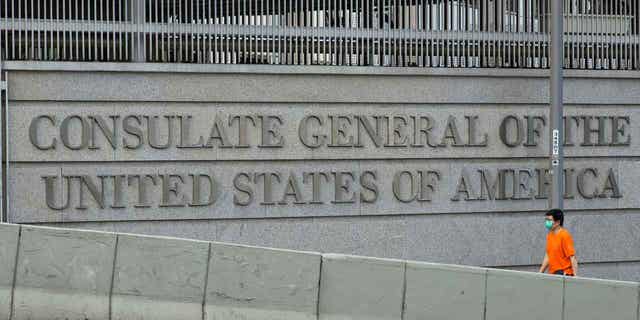 A man walks past U.S. Consulate in Hong Kong Monday, March 15, 2021. (AP Photo/Vincent Yu, File)
May's comments incensed Chinese Communist Party (CCP) officials, who have for years attempted to suppress criticism of their regime's governance of the island.
High-ranking CCP diplomat Liu Guangyuan reportedly met with May after the comments, complaining about the consul's evaluation of Hong Kong.
HONG KONG IS GIVING AWAY AIR TICKETS, VOUCHERS TO ATTRACT TOURISTS AFTER REOPENING BORDERS FOLLOWING COVID
FILE – The Chinese ambassador to Poland Liu Guangyuan is seen speaking to local journalists in Warsaw, Poland, on Nov. 5, 2019. (Jaap Arriens/NurPhoto via Getty Images)
"Liu also drew three red lines for US consul general and US consulate general in Hong Kong, which is not to endanger China's national security, not to engage in political infiltration in Hong Kong, and not to slander or damage Hong Kong's development prospect," the diplomat's office told the Associated Press.
The Chinese government moved to stifle opposition following protests in Hong Kong in 2019 against a proposed law allowing extraditions to mainland China. Under the national security law, which took effect in June 2020, police cracked down on opposition politicians, activists and demonstrators.
HONG KONG ENDS YEAR-LONG HAMSTER IMPORT BAN: REPORT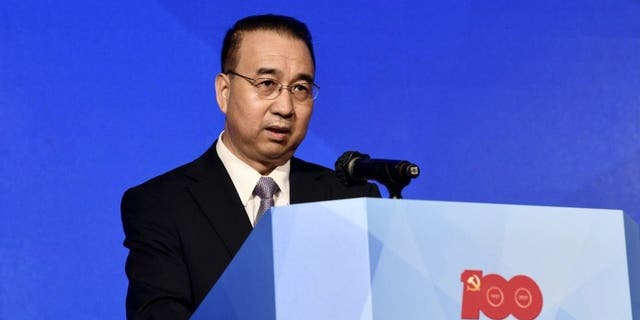 Liu Guangyuan, commissioner of the Ministry of Foreign Affairs of People's Republic of China in the Hong Kong Special Administrative Region, speaks during International Symposium on the Communist Party of China's History of 100 Years at Grand Hyatt Hotel on June 16, 2021 in Hong Kong, China.  (Li Zhihua/China News Service via Getty Images)
Since China imposed its national security law, at least 150 opposition politicians, activists and protesters have been taken into custody on politically motivated charges, including secession, subversion, terrorist activities, and collusion with a foreign country or external elements, according to the White House.
Earlier this year, President Biden extended the Deferred Enforced Departure (DED) program, which protects Hong Kong residents in the U.S. from deportation, due to "increased repression" from the Chinese government, less than two weeks before it was set to expire.
CLICK HERE TO GET THE FOX NEWS APP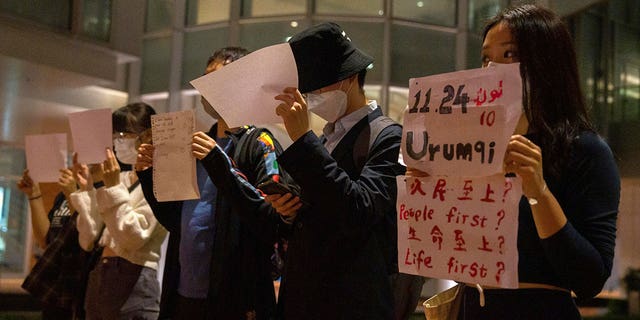 Protesters hold up white paper some with writings commemorating the Nov 24 deadly Urumqi fire during a gathering at the University of Hong Kong in Hong Kong, Tuesday, Nov. 29, 2022. (AP Photo/Bertha Wang)
Biden first extended the DED program to Hong Kong residents on Aug. 5, 2021, which deferred the deportation of Hong Kong residents for 18 months.
Timothy Nerozzi is a writer for Fox News Digital. You can follow him on Twitter @timothynerozzi and can email him at [email protected]