close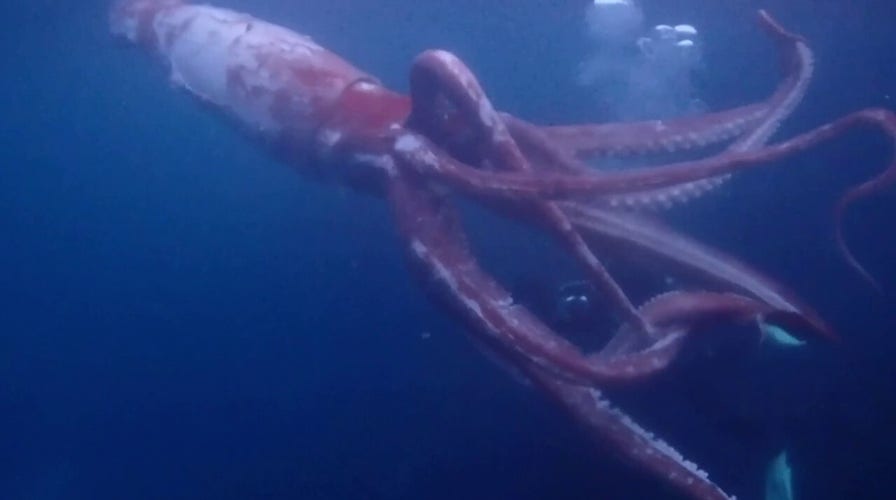 Video
Couple records giant squid while diving in Japan
Diving instructor Yosuke Tanaka, 41, and his wife Miki, 34, were on a day trip when locals at a fishing shop told them about sightings of the elusive 8.2 ft-long beast lurking off the coast of Toyooka City. (ViralPress/yosuke_tstyle)
A nonprofit dedicated to ocean conservation has raised concerns that China's recent fishing ban amounts to little more than a PR stunt since the country allegedly doesn't fish much in the recently banned areas.
"China's supposed fishing bans are built on false pretenses. It's like a penguin saying it's giving up flying," Oceana Campaign Director Dr. Max Valentine said in a press release.
"Ending squid fishing in areas where there is no fishing does nothing to protect squid," he argued. "If we are going to take responsible fishing seriously, we need real solutions — not ones built on optics to disingenuously win the world's good favor."
China's ministry of agriculture and rural affairs in 2020 announced a ban on fishing in parts of the Atlantic Ocean from July to October and parts of the eastern Pacific Ocean from September to December, Xinhua news reported at the time.
LONDON COUNCIL BLOCKS CHINA'S PLAN TO BUILD EMBASSY NEAR TOWER OF LONDON
"During the period, all Chinese fishing boats in the area will suspend operations," the ministry said, claiming it would tighten supervision of fishing boats and punish those who broke the moratorium.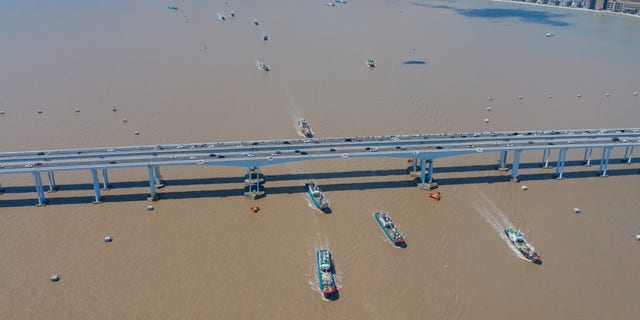 Fishing boats set sail for fishing from Shenjiamen port in Zhoushan City in east China's Zhejiang Province on Sunday. (Xu Yu/Xinhua via Getty Images)
Analysis from Oceana indicated that China's activity in those zones amounted to very little prior to the ban; data from the Automatic Identification System (AIS), part of the Global Fishing Watch (GFW), transmits a vessel's name, flag state and location to the database.
China's fishing fleet in 2019 only spent around 38 hours in the area of the Pacific Ocean it designated, and no time at all in the designated area of the Atlantic Ocean, according to Oceana. Meanwhile, China caught a total of 278,000 tons of squid in 2022, according to an analysis from GFW.
CHINA DETAINS MILITARY INDUSTRIAL WORKER ACCUSED OF ESPIONAGE FOR CIA
"This most recent feigned ban is just the latest attempt by one of the world's worst actors when it comes to illegal, unreported and unregulated fishing to improve its global image and insinuate that it is taking positive steps to combat overfishing," Valentine said.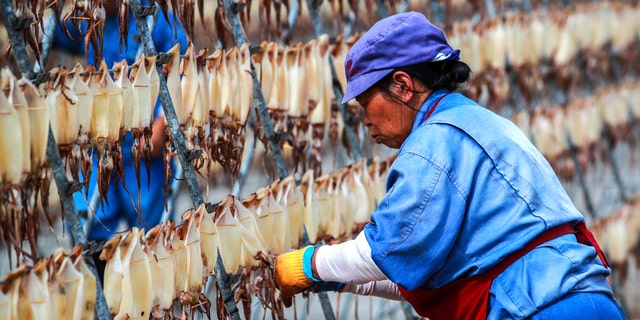 An employee dries squid at a food factory in Zhoushan, Zhejiang Province of China, on Oct. 22, 2022. (VCG/VCG via Getty Images)
"It's an insult to honest fishers and governments across the globe that take tangible steps to protect our oceans and those who depend on them," he added. "These PR stunts are perfect examples of how bad actors can pillage and overfish our oceans, then announce phony conservation measures to cover their tracks.
"It serves as further proof that increased transparency of fishing is needed to stop these types of bait and switches."
CHINA SENDS 6 NAVY SHIPS, 33 FIGHTER JETS TOWARD TAIWAN IN NEW SHOW OF FORCE
The group claimed that China's distant-water fishing fleets stand as the largest in the world with nearly 11,000 vessels, based on the AIS data. The fleet conducted more than 330,000 hours of squid fishing in the first six months of 2023 alone despite the ban it had announced.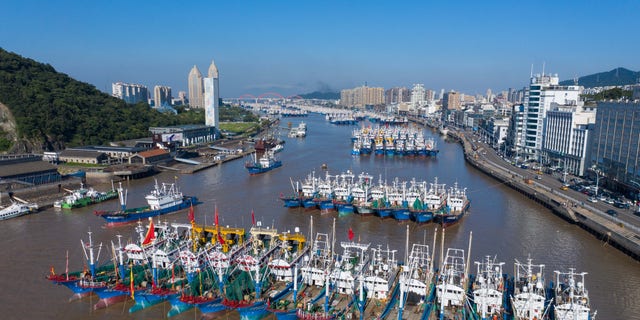 Fishing boats are lined up at Shenjiamen port in Zhoushan City in east China's Zhejiang Province. (Xu Yu/Xinhua via Getty Images)
China has previously flouted fishing regulations, most famously in 2020 when officials agreed to pay North Korea for access to fish in their waters for squid, defying a United Nations ban and sanctions enforcement, The New York Times reported at the time.
GFW found that China had a deal in place with North Korea going back 15 years prior to that, and the Chinese boats regularly pushed out the North Korean vessels.
CLICK HERE TO GET THE FOX NEWS APP
The Chinese vessels also allegedly try to conceal their locations and identities, but a U.N. panel raised concerns in the years following its 2017 ban that China's "dark fleet" was breaching the sanctions by continuing to pay for fishing rights, an explicit breach.
Peter Aitken is a Fox News Digital reporter with a focus on national and global news.