close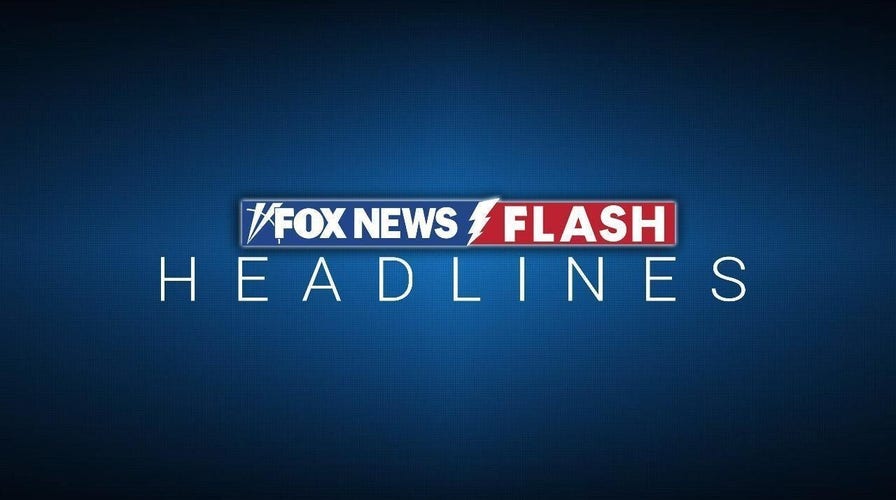 Video
Fox News Flash top headlines for May 10
Fox News Flash top headlines are here. Check out what's clicking on Foxnews.com.
China's foreign minister said Tuesday that his country has no intention of benefiting from the war in Ukraine and hopes for further discussions on a peace plan Beijing proposed earlier this year.
Speaking after a meeting with his German counterpart in Berlin, Foreign Minister Qin Gang noted the recent talks the government in Beijing had with both Moscow and Kyiv, and said China's special envoy for Europe was expected to visit Ukraine again soon.
"We won't pour oil on the fire" of the war, Qin said, according to an official interpreter.
Western countries have accused Beijing of providing political and material support to Russia since its invasion of Ukraine in February 2022. The European Union is currently considering imposing sanctions against companies that supply critical components to Russia's arms industry.
CHINA THREATENS RETALIATION AFTER EU WEIGHS SANCTIONS FOR BEIJING'S MILITARY AID TO RUSSIA
Qin denied Chinese firms were doing so. He said China maintains "normal" trade relations with Russia, not mentioning a significant bump in China's purchases of Russian crude oil at a major discount.
German Foreign Minister Annalena Baerbock urged China to use its clout to find a peaceful solution to the conflict but suggested that Beijing wasn't doing enough yet.
"As a permanent member of the United Nations Security Council, China can play a significant role in ending the war, if it decides to do so," she told reporters in Berlin.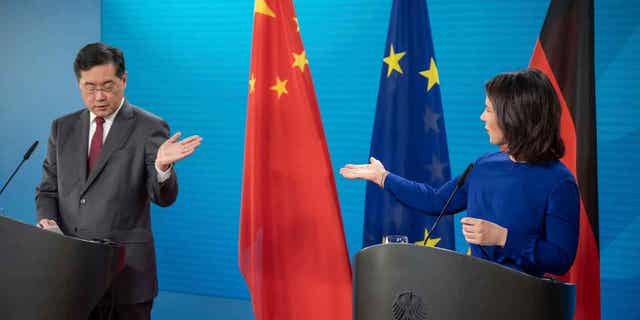 Germany's Foreign Minister, Annalena Baerbock, right, and her Chinese counterpart, Qin Gang, attend a press conference in Berlin, on May 9, 2023.  (Michael Kappeler/Pool photo via AP)
Baerbock welcomed recent statements by the Chinese government confirming the sovereignty of countries that once made up the Soviet Union, adding that the position must hold for Ukraine, too.
THE FUTURE IS NOW: CHINA, RUSSIA REVERT TO PRE-1989 WORLD AND FUNDAMENTALLY CHALLENGE THE US-LED WEST
The German government is currently in the process of adjusting its policy toward China, with some in the three-party coalition government pushing for a tougher line toward Beijing.
Chancellor Olaf Scholz said in a speech to the European Parliament on Tuesday that he favors a "de-risking" rather than a "decoupling" of Germany's economy from China.
The distinction did not satisfy Qin, who suggested the German government's eventually policy could hurt trade between the two countries.
"Normal economic exchange should not be politicized," he said.
Qin downplayed the recent cancellation of a meeting between China and Germany's finance ministers, saying the visit was postponed for "technical" reasons and should not be over-interpreted.
CLICK HERE TO GET THE FOX NEWS APP
A fellow member of German Finance Minister Christian Lindner's Free Democratic Party, Education Minister Bettina Stark-Watzinger, visited Taiwan in March, prompting criticism from Beijing, which considers the island part of its territory.
Lindner said Tuesday that Germany should have less of a soft touch approach in its dealings with China.
"We won't allow our liberal values to be bought in return for good business," he told German news site The Pioneer.