close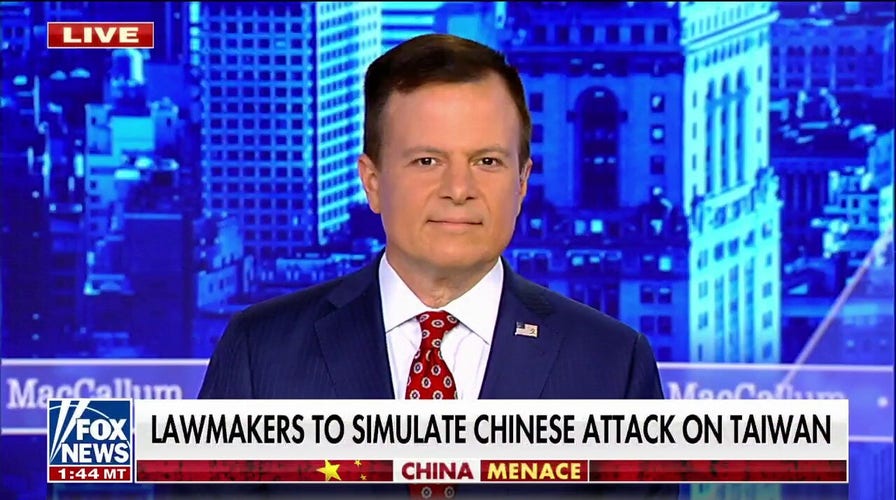 Video
Lawmakers to simulate Chinese attack on Taiwan
Fox News chief Washington correspondent Mike Emanuel explains how lawmakers are conducting war games on Taiwan to prepare for a possible attack from China on "The Story."
Military drills and saber-rattling between the U.S. and China may give the image that conflict is just around the corner, but military experts argue that the important role played in deterrent shows of force should not be overlooked.
"I favor robust exercises with all U.S. bilateral treaty partners in the Indo-Pacific region, and we do that," James Anderson told Fox News Digital. "That is a good and positive thing, and to the extent that we can combine exercise with other partners, that's also beneficial."
"In other words, the more clearly that the PRC (People's Republic of China) is able to see the U.S. resolve and capabilities with our allies in the region the better because that will make them think twice before doing anything reckless and rash," he added.
Beijing's threats have increased since former House Speaker Nancy Pelosi, D-Calif., visited the island nation last year.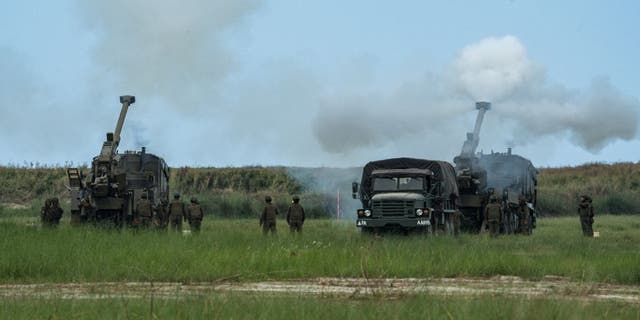 Philippine and U.S. soldiers fire artillery during a joint military exercise at Zambales in the Philippines on April 26, 2023.
BING CENSORED MORE SEARCH RESULTS IN CHINA THAN DID DOMESTIC RIVAL PLATFORMS, NEW STUDY FINDS
The People's Liberation Army (PLA) of China earlier this month executed military drills around Taiwan in what appeared to be a dry run of its plan to take the island, with dozens of aircraft and ships gathering near Taiwan and seeming to surround it.
Taiwan reported as many as 70 fighter aircraft near the island, with half of the fighters detected as having crossed the median line of the Taiwan Strait and entering Taiwan's self-declared air defense identification zone (ADIZ).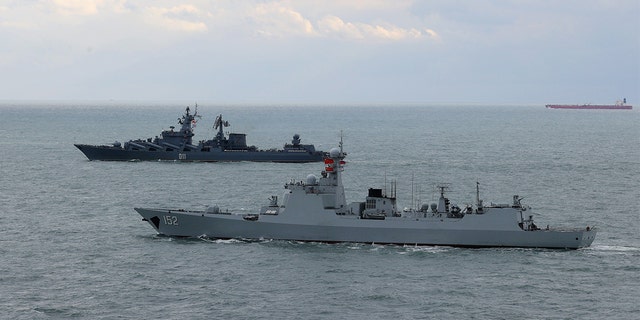 Destroyer Jinan from the Chinese navy, front, and cruiser Varyag from the Russian navy sail in formation after a joint naval exercise in the East China Sea on Dec. 27, 2022. (Sun Fei / Xinhua via Getty Images)
The exercise, which Beijing claimed was part of general "combat readiness patrols," occurred following a meeting between Taiwanese President Tsai Ing-wen and U.S. House Speaker Kevin McCarthy in Los Angeles around the same time a U.S. delegation visited Taiwan.
Anderson described China's "large-scale provocative military exercises" carried out following Pelosi's visit as "problematic and inherently risky" as they carry "the risk of miscalculation" tantamount to "dress rehearsals" for a blockade or attack on the island.
CHINA BLOCKS YELLEN'S SPEECH ON US NATIONAL SECURITY, BILATERAL ECONOMIC RELATIONSHIP
The U.S. then executed its largest-ever joint military drills with the Philippines, which had been planned for months ahead of time, but military officials said the timing only helped reaffirm that the U.S. views China's threat to Taiwan as "a big deal."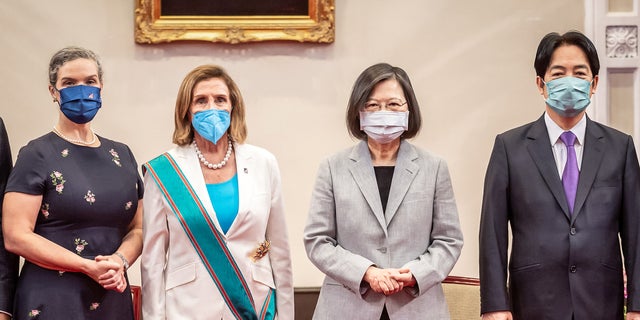 House Speaker Nancy Pelosi, center left, poses for photos after receiving the Order of Propitious Clouds with Special Grand Cordon, Taiwan's highest civilian honor, from Taiwanese President Tsai Ing-wen, center right, at the president's office. (Chien Chih-Hung / Office of The President via Getty Images / File)
Anderson said he views such drills as "positive" as long as they remain "clearly a defensive exercise." The drills take months to organize with "extensive coordination" of "quite complicated" maneuvers.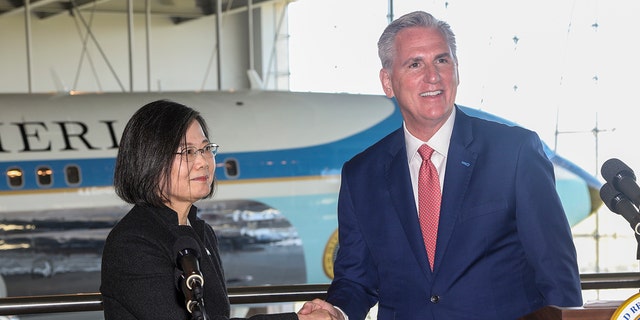 House Speaker Kevin McCarthy, R-Calif., shakes hands with Taiwanese President Tsai Ing-wen after delivering statements to the press at the Ronald Reagan Presidential Library in Simi Valley, California, April 5, 2023. (AP Photo / Ringo H.W. Chiu)
"There's also a messaging component that goes with these exercises to convey to allies and partners," Anderson said. "A message of assurance that we're doing this to be able to better protect our interests in the region – and a messaging component to the PRC that we are doing these exercises to protect our allies."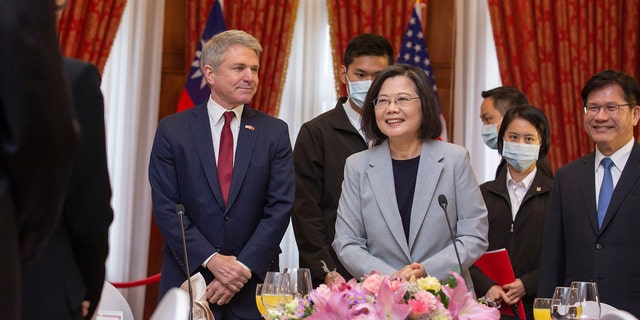 U.S. House Foreign Affairs Committee Chair Michael McCaul, R-Texas, left, attends a luncheon with Taiwanese President Tsai Ing-wen during a visit by a congressional delegation to Taipei, Taiwan, on April 8, 2023. (Taiwan Presidential Office via AP)
The drills, then, can play a positive role in deterring Chinese ambition, even if it appears that each country is inching closer to all-out conflict.
HOUSE PASSES BIPARTISAN BILL STRIKING DOWN BIDEN'S CHINESE SOLAR HANDOUT
"I think it's important for us to demonstrate military capability and will to potentially use force to defend our interests and our interests with our allies, so the military tool has to be fundamental to our efforts," Matt McInnis told Fox News Digital.
But McInnis said military might is not the only tool in play, nor should it be: Shows of force occur in tandem with economic and political components, all of which the U.S. has utilized as it seeks to maintain Taiwan's independence.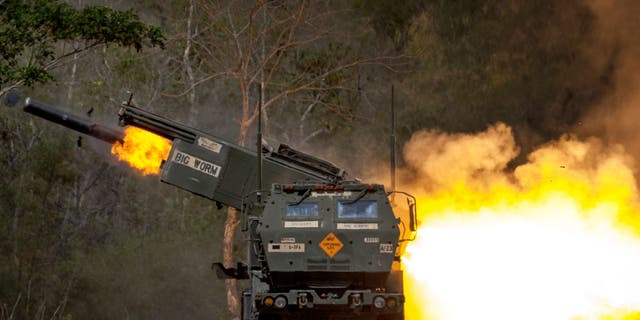 U.S. and Philippine troops fire rocket artillery during joint drills on March 31, 2023, in Laur, Nueva Ecija, Philippines.
"I think that the more the U.S. can do to help investment in our partners in the region, especially in the South Pacific, in Southeast Asia and even into the Indian Ocean basin, to be competitive with China's investments because we know China develops economic ties in part to create those political relationships that can then translate into support in potential military or crisis scenarios," McInnis said.
Anderson again noted the importance of not only displaying military might but also helping arm and train Taiwanese military personnel so they can mount their own defense.
CLICK HERE TO GET THE FOX NEWS APP
"That's what deterrence is all about. It's making sure your would-be aggressor has a clear picture of what they would face in the event they decide to attack. So, helping Taiwan arm itself and exercising robustly in the Indo-Pacific region are things that we need to continue to do and do as robustly as possible," Anderson said.
Fox News Digital's Lawrence Richard contributed to this report.
Peter Aitken is a Fox News Digital reporter with a focus on national and global news.