close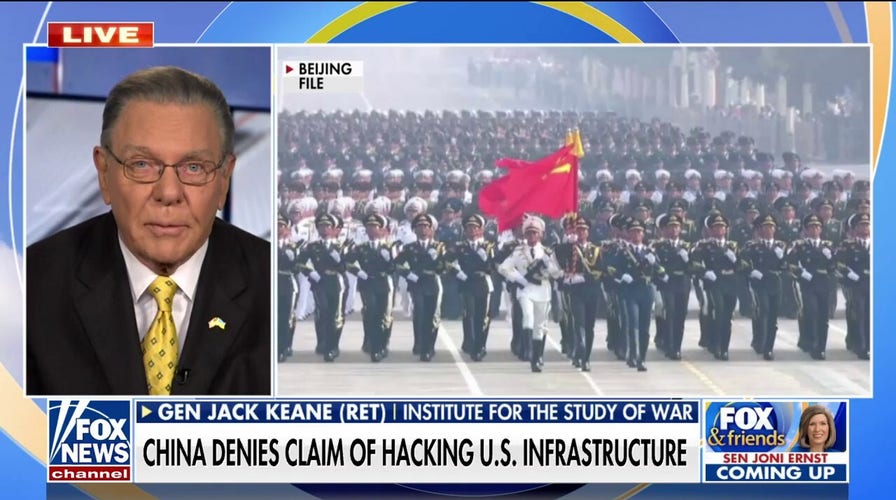 Video
Gen. Keane: China is conducting comprehensive cyber operations against US
Retired Gen. Jack Keane on China denying allegations it hacked U.S. infrastructure in Guam.
China on Friday once again disregarded Vietnam's exclusive economic zone (EEZ) and deployed a research ship along with five escort vessels to an area where a Russian state firm jointly operates a gas block with Hanoi in the energy rich South China Sea.
The move is Beijing's latest escalatory step in the region after it first sent in the research vessel earlier this month along with at least one Chinese coast guard ship and nearly a dozen other vessels, Reuters reported.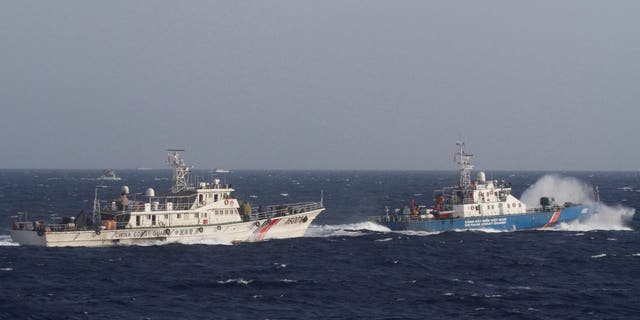 A ship from the Vietnam Marine Guard, right, is seen near a ship from the Chinese Coast Guard in the South China Sea about 210 km (130 miles) offshore of Vietnam May 14, 2014. (REUTERS/Nguyen Minh/File Photo)
TAKE THAT! PHILIPPINES SENDS CHINA MESSAGE ON CONTESTED ISLANDS AS TUSSLE BREWS
The research ship, Xiang Yang Hong 10, on Friday crossed a gas block known as 04-03 operated by Vietsovpetr, a joint venture between Russian-owned Zarubezhneft and PetroVietnam.
The news comes one day after Vietnam called on the Chinese vessel to leave the area near the Spratly Islands after it first entered the region May 7.
China has attempted to lay sovereign claim over the entire South China Sea, recently increasing its aggressive posture against neighboring nations with jurisdictional rights in the vast body of water like the Philippines, Taiwan, Malaysia and Vietnam.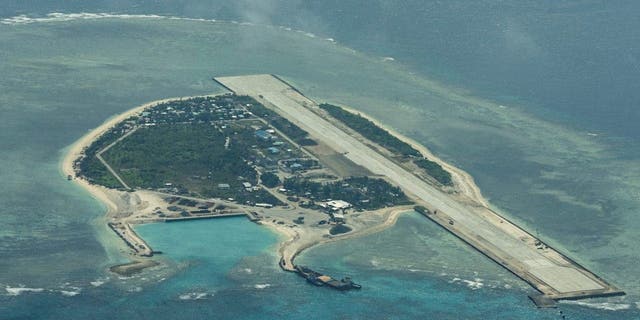 An aerial view shows the Philippine-occupied Thitu Island, locally known as Pag-asa, in the contested Spratly Islands in the South China Sea March 9, 2023. (REUTERS/Eloisa Lopez)
CHINA THREATENS 'SERIOUS CONSEQUENCES' AFTER US WARSHIP AGAIN SAILS BY CONTESTED PARACEL ISLANDS
Vietnam on Thursday issued a rare public statement demanding that the Chinese vessels leave the area after they crossed block 129, which is also operated by Vietgazprom.
Chinese spokesperson Mao Ning responded to questions by reporters Friday following the statement and said Beijing had sovereignty over the Spratly Islands and jurisdiction over adjacent waters.
"Relevant ships of China carry out normal activities under China's jurisdiction. It is legitimate and lawful," she claimed. "There is no issue of entering other countries' exclusive economic zones."
International ships are allowed to cross other nations' exclusive economic zones as they are not direct territory of any specific sovereign, though nations do have jurisdictional rights over those areas under international law that grant them special rights regarding exploration, use of marine resources and energy production.
A China Coast Guard vessel patrols at the disputed Scarborough Shoal April 5, 2017.  ( REUTERS/Erik De Castro/File Photo)
CLICK HERE TO GET THE FOX NEWS APP
Ray Powell, who leads Stanford University's Project Myoushu on the South China Sea, described the blatant disregard for Vietnam's exclusive economic zone as the most significant incursion in the region since 2019 and a "worrying escalation."
Reuters contributed to this report.
Caitlin McFall is a Reporter at Fox News Digital covering Politics, U.S. and World news.