close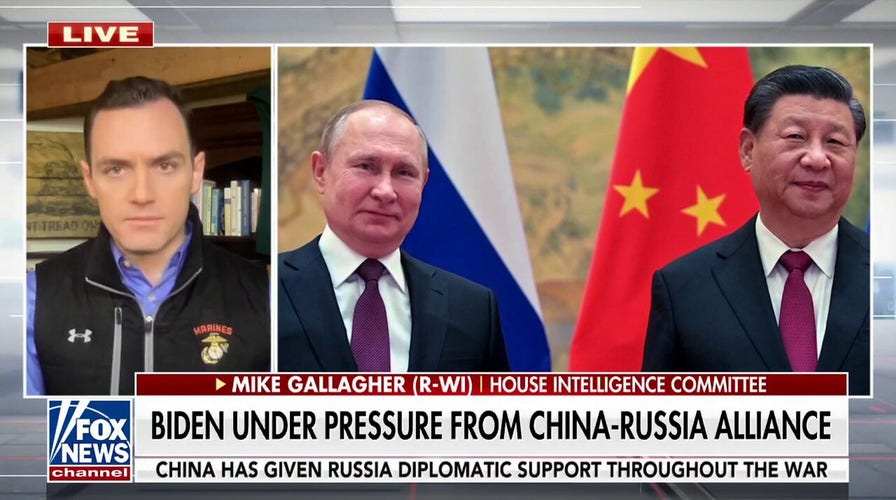 Video
Rep. Mike Gallagher: Ukraine should be a 'massive wakeup call'
Rep. Mike Gallagher, R-Wis., says Xi Jinping is turning Vladimir Putin into his 'junior partner.'
Russia is in talks with China to purchase 100 combat drones, according to a new report published just days after Secretary of State Antony Blinken said the U.S. had evidence Beijing was weighing lethal aid to Moscow in its war against Ukraine.
Der Spiegel reports that Moscow is looking to commission a Chinese manufacturer to mass produce the drones – with a delivery date as early as April.
Russian President Vladimir Putin greets Chinese Communist Party's foreign policy chief Wang Yi during their meeting at the Kremlin in Moscow, Russia, Wednesday, Feb. 22, 2023. (Anton Novoderezhkin, Sputnik, Kremlin Pool Photo via AP)
Per the report, Xian Bingo Intelligent Aviation Technology, a Chinese drone manufacturer, has said it was prepared to make 100 prototypes of its ZT-180 drone, which carry a 35-50kg warhead.
The drones are similar to Iran's Shaheed-136, which Russia has used to kill hundreds of Ukrainians and damage infrastructure.
The report, citing sources familiar with the matter, says Bingo had plans to establish a productive site for the drones in Russia.
FOX NEWS POLL: HALF SAY US SHOULD SUPPORT UKRAINE AS LONG AS IT TAKES
Fox News Digital has contacted the State Department for comment on the report but did not hear back before publication.
The Der Spiegel report comes days after Blinken, who met with China's top diplomat Wang Yi in Munich over the weekend, said the U.S. has evidence that China is considering providing lethal support to Russia.
U.S. State Department spokesperson Ned Price warned Wednesday there would be "consequences" if China were to provide lethal aid to Russia in its war against Ukraine.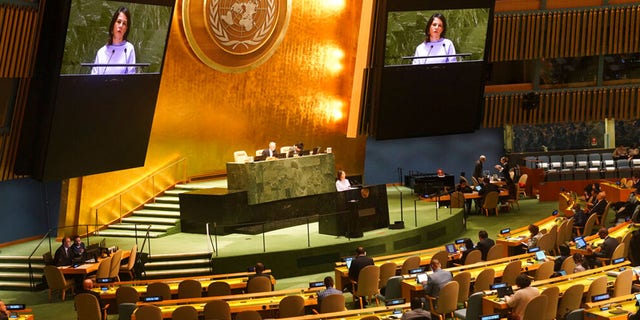 Germany's foreign minister Annalena Baerbock address the United Nations General Assembly before a vote for a U.N. resolution upholding Ukraine's territorial integrity and calling for a cessation of hostilities after Russia's invasion, Thursday Feb. 23, 2023, at U.N. headquarters.  (AP Photo/Bebeto Matthews)
Also on Thursday, the U.N. General Assembly approved a nonbinding resolution that calls for Russia to end hostilities in Ukraine and withdraw its forces. The resolution, drafted by Ukraine in consultation with its allies, passed 141-7, with 32 abstentions.
CLICK HERE TO GET THE FOX NEWS APP
Friday will mark one year since Russian forces invaded Ukraine. The war has killed tens of thousands on both sides, has reduced entire Ukrainian cities to ruins, and its impact has been felt worldwide in higher food and fuel costs and rising inflation.
The Associated Press contributed to this report.
Bradford Betz is a Fox News Digital breaking reporter covering crime, political issues, and much more.