close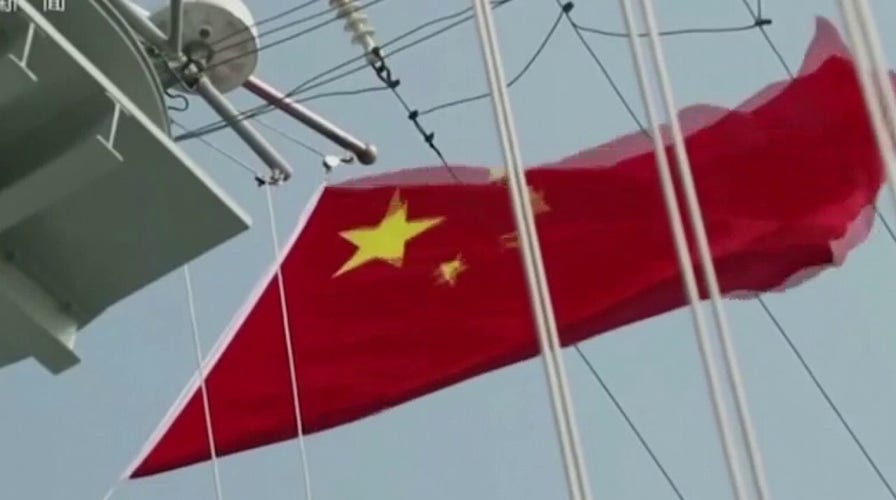 Video
Bipartisan Taiwan support sends big message to China: Jamil Jaffer
National Security Institute founder Jamil Jaffer sounds off on 'Fox News Live' after China criticizes Taiwanese president's U.S. visit
The Chinese military deployed 71 aircraft and nine naval vessels around Taiwan on Sunday, the second day in a row that the People's Liberation Army has conducted massive drills near the island.
It comes after Taiwan President Tsai Ing-wen returned this week from a trip to the United States, where she met with House Speaker Kevin McCarthy, R-Calif., and other lawmakers.
Taiwan's Ministry of Defense tasked its air force, navy, and land-based missile systems to monitor the Chines aircraft, 45 of which crossed the median line of the Taiwan Strait, an unofficial buffer zone between the island and mainland China.

next
Image 1 of 3

A pilot is photographed operating an aircraft of the Air Force under the Eastern Theatre Command of China's People's Liberation Army (PLA) during a combat readiness patrol and "Joint Sword" exercises around Taiwan, at an undisclosed location in this handout image released on April 8, 2023. (Eastern Theater Command/Handout via REUTERS)


prev

next
Image 2 of 3

A ship of Navy Force under the Eastern Theater Command of China's People's Liberation Army (PLA) takes part in a combat readiness patrol exercises around Taiwan. (Eastern Theater Command/Handout via REUTERS)


prev
Image 3 of 3

In this image taken from video footage run Saturday, April 8, 2023, by China's CCTV, a Chinese fighter jet performs a midair refueling maneuver at an unspecified location.  (CCTV via AP)
Chinese state television said that the units carried out "simulated joint precision strikes on key targets on Taiwan island and the surrounding sea areas," according to Reuters.
TAIWAN RESIDENTS AGREE US WILL NOT COME TO THEIR AID IF CHINA INVADES, ARE DIVIDED ON THREAT LEVEL
China regularly dispatches aircraft and ships around Taiwan, though this weekend's drills were much larger than in recent months.
Beijing was outraged at the meeting between McCarthy and Taiwan's president, responding by slapping sanctions on the Ronald Reagan Presidential Library, where the two leaders met, as well as the Hudson Institute for "providing a platform and convenience to Taiwan separatist activities."
House Speaker Kevin McCarthy, R-Calif., shakes hands with Taiwanese President Tsai Ing-wen after delivering statements to the press at the Ronald Reagan Presidential Library in Simi Valley, California, Wednesday, April 5, 2023.  (AP Photo/Ringo H.W. Chiu)
Sen. Lindsey Graham, R-S.C., and other hawkish lawmakers have stepped up calls for the U.S. to commit to defending Taiwan in the event of an invasion by China.
"The question for the Congress – should we have a defense agreement with the island of Taiwan? We don't, should we have one?" Graham told Fox News Sunday. "Yes, I'd be very much open to using U.S. forces to defend Taiwan, because it's in our national security interest to do so."
CONFLICT WITH CHINA 'LAST RESORT' BUT CONGRESS WILL AUTHORIZE TROOPS IF AMERICANS SUPPORT IT: MCCAUL
Rep. Mike Gallagher, R-Wisc., the Chairman of the House Select Committee on China, noted that Chinese President Xi Jinping "would like to reunify Taiwan with the mainland by force if necessary."
"The fact that the Chinese were throwing a temper tantrum about the Speaker of the House meeting with the democratically elected leader of Taiwan on American soil just shows you how sensitive they are," Gallagher told Fox News' Sunday Morning Futures. "We need to be moving heaven and earth to surge power out to the Indo-Pacific before it's too late, before we have another war on our hands."

next
Image 1 of 2

Soldiers of Taiwanese Army take part in a military exercise at an undisclosed location in Taiwan in this handout picture provided by Taiwan Defence Ministry and released on April 9, 2023.  (Taiwan Defense Ministry/Handout via REUTERS)


prev
Image 2 of 2

The Taiwanese Army conducts military exercises at an undisclosed location. (Taiwan Defense Ministry/Handout via REUTERS)
CLICK HERE TO GET THE FOX NEWS APP
House Foreign Affairs Chairman Michael McCaul, R-Texas, also led a delegation of lawmakers to Taiwan this week after visiting Japan and South Korea.
Paul Best is a breaking news reporter for Fox News Digital and Fox Business. Story tips and ideas can be sent to [email protected] and on Twitter: @KincaidBest.