close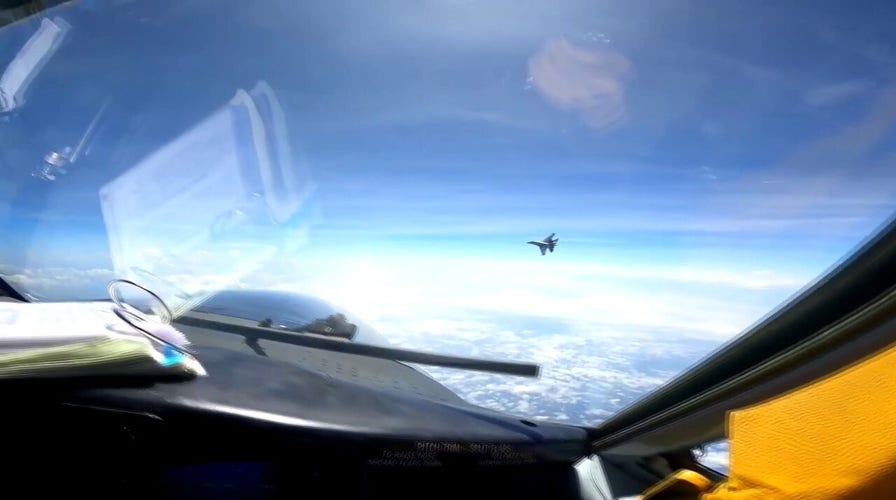 Video
'Aggressive' Chinese fighter jet shakes US Air Force plane
A U.S. Air Force aircraft shakes after a Chinese fighter pilot performs an 'unnecessarily aggressive maneuver' over the South China Sea, according to U.S. Indo-Pacific Command. Credit: U.S. Indo-Pacific Command/LOCAL NEWS X /TMX
The People's Republic of China is accusing the U.S. military of interfering with naval exercises leading to an aerial encounter that the Americans called "unsafe."
The controversy surrounds a confrontation in the skies above the South China Sea when a Chinese pilot flew past the front end of an Air Force reconnaissance aircraft.
U.S. Indo-Pacific Command claims a Chinese pilot operating a J-16 fighter jet was responsible for the incident when he "performed an unnecessarily aggressive maneuver" intercepting a U.S. Air Force RC-135 aircraft.
CHINA'S XI JINPING TELLS NATIONAL SECURITY TEAM TO PREPARE FOR 'WORST-CASE SCENARIO' AS LEADERS WARN OF AI RISKS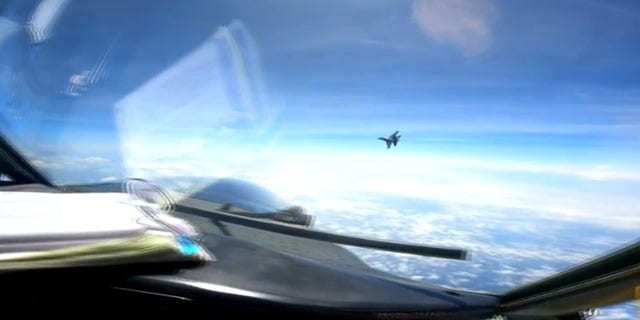 A Chinese fighter jet flew roughly 400 feet in front of a U.S. spy plane on Thursday.  (U.S. Indo-Pacific Command)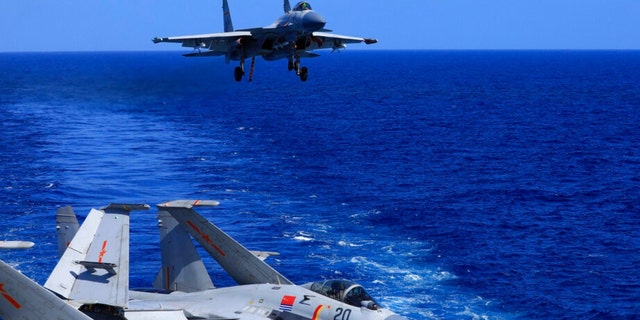 In this undated photo released by Xinhua News Agency, a carrier-based J-15 fighter jet prepares to land on the Chinese navy's Liaoning aircraft-carrier during open-sea combat training. (Hu Shanmin/Xinhua via AP)
The Chinese Defense Ministry disputed the U.S. version of events and asserted that ahead of the aerial incident, the U.S. military was spying on and interfering with People's Liberation Army naval drills.
The ministry stated Wednesday that their military "organized air forces to track and monitor the whole process, dealt with it according to laws and regulations, and operated professionally."
Southern Theater Command spokesperson Senior Col. Zhang Nandong sharply criticized the U.S. Navy and Air Force, referencing unspecified international laws.
CHINESE 'DEBT-TRAP' CRIPPLING POOR ECONOMIES, ENDANGERING US NATIONAL SECURITY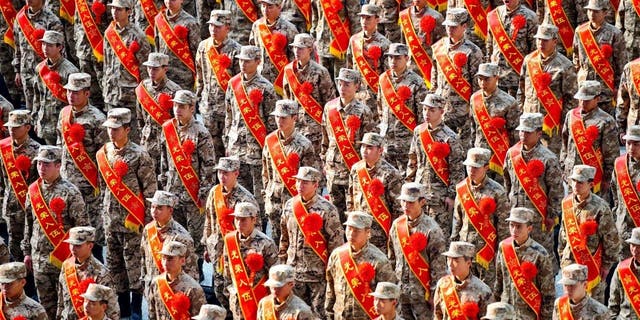 New recruits of Chinese People's Liberation Army (PLA) attend a send-off ceremony at a railway station in Ganzhou, Jiangxi province, China. (China Daily via REUTERS )
"We solemnly urge the U.S. to conscientiously restrain the actions of front-line naval and air forces, strictly abide by relevant international laws and relevant agreements, and prevent accidents at sea and in the air," said Zhang.
"If not, the U.S. will bear all consequences," he added.
BIDEN DROVE 'HISTORICALLY' CLOSE MIDDLE EAST ALLIES INTO ARMS OF AMERICA'S GREATEST ENEMIES, EXPERTS SAY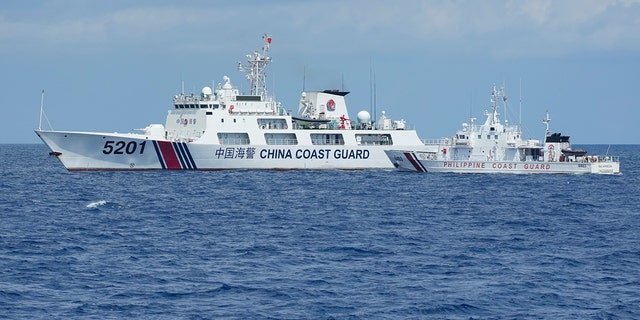 A Chinese Coast Guard ship with bow number 5201 blocks Philippine Coast Guard ship BRP Malapascua as it maneuvers to enter the mouth of the Second Thomas Shoal locally known as Ayungin Shoal in the South China Sea. (AP Photo/Aaron Favila)
"The RC-135 was conducting safe and routine operations over the South China Sea in international airspace, in accordance with international law," the U.S. side said.
The statement continues, "We expect all countries in the Indo-Pacific region to use international airspace safely and in accordance with international law."
CLICK HERE TO GET THE FOX NEWS APP
China lays claim to the majority of territory in the South China Sea, though this territorial possession is disputed by the U.S. and neighboring Taiwan.
Timothy Nerozzi is a writer for Fox News Digital. You can follow him on Twitter @timothynerozzi and can email him at [email protected]