close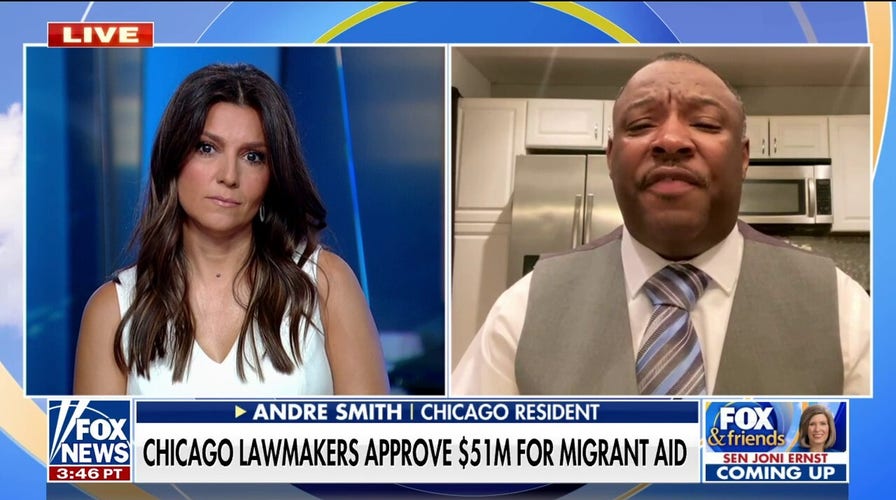 Video
Chicago residents furious over migrant aid package: 'Just a mess here'
Chicago resident Andre Smith shares the outrage of his community over the city's $51 million migrant aid package.
Chicago took in a busload of 40-50 migrants from Texas almost every day in July, and has taken in 12,000 migrants over the last year, according to city officials.
"It's been about one bus a day since July," Beatriz Ponce de León, the city's deputy mayor for migrant, immigrant and refugee rights, told WTTW in Chicago on Friday.
"On any given bus, we have 40 to 50 individuals. Some are singles, many are families, and as soon as they arrive, we move them into our police stations and then as quickly as we can, we move them into our shelters," she said.
She said Chicago has received 77 busloads of migrants from Texas this year and 69 of those have entered since May, when left-wing Mayor Brandon Johnson took office. Texas Gov. Greg Abbott said in early May that a new wave of migrants prompted him to restart the policy of sending them along to Chicago, New York and other cities.
CHICAGO RESIDENTS SOUND OFF ON ILLEGAL IMMIGRANTS IN NEIGHBORHOOD: 'THEY DISRESPECT US, ROB US, HARASS US'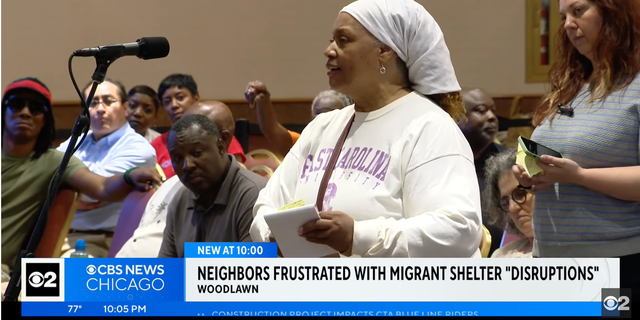 A Chicago neighborhood sounded off about migrants making them feel unsafe. (CBS2 Chicago/YouTube/Screenshot)
"We have no control over the buses," she said. "Folks are arriving at Chicago's doorstep, and we're a welcoming city, so we're doing our best to welcome our new neighbors, to treat people with dignity, to help put them on a path where they can resettle here in the city."
De León said officials have looked at more than 200 locations for possible shelters and are examining whether motels, nursing homes or other buildings can take in the migrants.
The thousands of migrants now living in Chicago came from Mexico, Venezuela, Africa and regions in Central America. The city voted in May to allocate $51 million in financial aid to incoming migrants.
However, not all Chicago residents are on board with the migrant takeover in their neighborhoods. South Shore Chicago resident J. Darnell Jones filed a lawsuit this year to prevent migrants from being housed at a local high school, citing safety concerns and the potential displacement of Black residents in their own communities.
BLACK CHICAGO RESIDENTS INFURIATED OVER MIGRANT SURGE: 'ENOUGH!'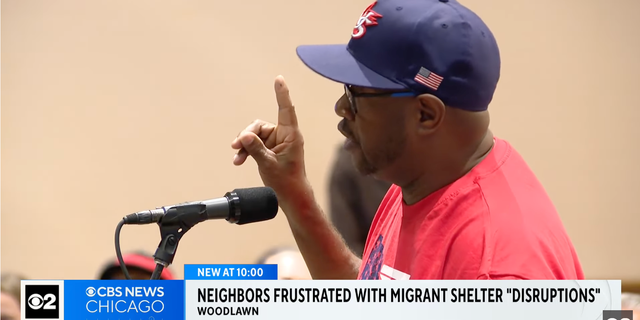 A Woodlawn resident complains about the disruptive behavior of migrants at a nearby shelter to Chicago officials. (CBS2 Chicago/Screenshot/YouTube)
"They made those decisions without our input," Jones said on "Fox & Friends" in May. "They did not ask us for whether we were we felt safe or they didn't have any plans in place to ensure that we were safe."
During a monthly immigration committee hearing in July, Chicago residents in Woodlawn complained about migrants partying and drug dealing in their neighborhood.
Chicago's leadership is also split on the issue. Alderman Ray Lopez from Chicago's 15th Ward, along with other aldermen, wrote a public letter July 26 urging Mayor Johnson to tackle the persistent challenges tied to the migrant crisis.
Lopez emphasized that his constituents and law enforcement have observed migrants engaging in "drug sales and usage, male and female prostitution and associated human trafficking as well as gang recruitment."
Migrants in community shelters have been disrespectful to residents by "joyfully ignoring curfew and alcohol consumption rules in shelters," according to the letter
Last week, nearly 50 neighbors in Edgewater gathered to protest against a Chicago Park District facility being used as a shelter for migrants.
Illinois, California, New York, New Jersey and Washington are among the top states welcoming migrants into their cities. Many city leaders are creating makeshift shelters out of city-owned properties.
BLACK RESIDENTS TORCH CHICAGO LAWMAKERS OVER $51 MILLION FUNDING TO HOUSE MIGRANTS: 'ENOUGH IS ENOUGH'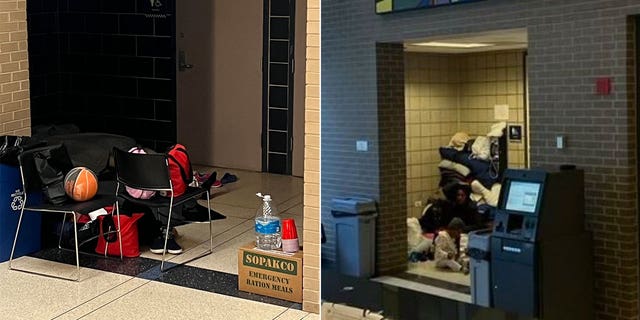 Photos taken by Chicago Alderman Raymond Lopez last month show migrants taking shelter on the floors of restrooms in public buildings. (Courtesy of Chicago Alderman Raymond Lopez)
In a New York Post op-ed published on Sunday, Douglas Schoen, a former adviser to political campaigns of both Hillary Clinton and former President Clinton, and Andrew Stein, a former president of the New York City Council — both Democrats — called for President Biden to taken action to remedy the migrant crisis.
CLICK HERE TO GET THE FOX NEWS APP
"Our city, which has worked tirelessly to recover from the lowest lows we endured during the COVID-19 pandemic, has become the epicenter of the country's migrant crisis and a symbol of the Biden administration's failures at the southern border," the pair wrote.
"New Yorkers are begging the federal government to step in."
Fox News' Kristine Parks and Bailee Hill contributed to this report
Jamie Joseph is a writer who covers politics. She leads Fox News Digital coverage of the Senate.