Richard "Bigo" Barnett, the man who propped his feet on then-House Speaker Nancy Pelosi's desk during the January 6th Capitol riot, admitted in court that he regrets his actions that he now considers "crass."
Barnett, a former firefighter haling from Arkansas, took the stand on Thursday to testify in his own defense on criminal, riot-related charges.
Barnett faces eight crimes for breaching the U.S. Capitol building along with thousands of other protestors participating in the "Stop the Steal" rally on January 6, 2021. U.S. lawmakers in the building at the time were meeting to certify the 2020 presidential election results electing President Biden.
TRIAL FOR CAPITOL RIOTER PHOTOGRAPHED WITH FEET ON PELOSI' DESK BEGINS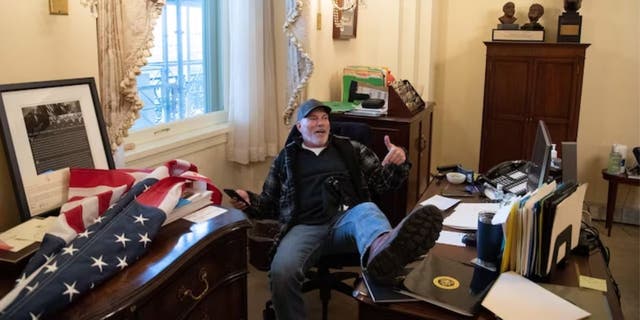 Richard "Bigo" Barnett sits at then-House Speaker Nancy Pelosi's desk in the U.S. Capitol building on January 6, 2021.
(Saul Loeb/AFP)
Nearly 500 of the 900 rioters facing federal charges for their actions in the Capitol riots have pled guilty.
"Two years of lost life. Misery for my family," Barnett testified to the court on Thursday.
During his testimony, Barnett shared that he had no intention of breaching the Capitol and believed the "Stop the Steal" rally to be taking place outside the building, though prosecutors have argued otherwise.
Defense attorneys for Barnett have argued that the former firefighter didn't break barriers or assault police as he was swept along into the building with the rest of the crowd. He wandered into Pelosi's office suite looking for a bathroom, his lawyers said.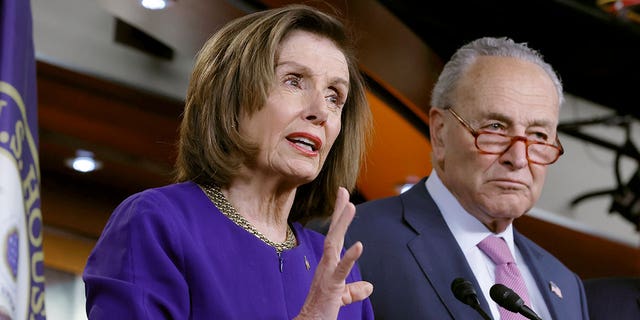 Nancy Pelosi and Senate Majority Leader Chuck Schumer.
(Chip Somodevilla/Getty Images)
Upon entering the then-Speaker's office, Barnett was photographed taking a seat at Pelosi's desk and propping his feet atop the table – perhaps one of the most recognizable images from January 6th.
JUSTICE DEPARTMENT SEES FIRST ACQUITTAL OF JAN. 6 RIOTER NOT GUILTY ON OBSTRUCTION CHARGE
In a video interview moments after exiting the Capitol, Barnett told a New York Times reporter that he had left a note on Pelosi's desk that read, "Nancy, Bigo was here, you b—-."
He also reportedly said he regrets calling Pelosi the name, a move he now calls "crass."
In court, Barnett expressed his regrets for his harsh words directed towards the former House Speaker and wishes to apologize to Pelosi, if given the chance. Cross-examination of Barnett is set to resume Friday.
CLICK HERE TO GET THE FOX NEWS APP
The Associated Press contributed to this report.