A Texas sheriff is requesting material assistance securing the border in his county from sheriffs in Texas, Oklahoma, Arkansas and elsewhere affected by illegal immigration.
Kinney County Sheriff Brad Coe issued the letter Friday, in which he urges sheriffs across the country to pool resources and aid each other in combating illegal border crossings.
TEXAS SMUGGLING SUSPECT JUMPS FROM MOVING U-HAUL CARRYING ILLEGAL IMMIGRANTS DURING POLICE CHASE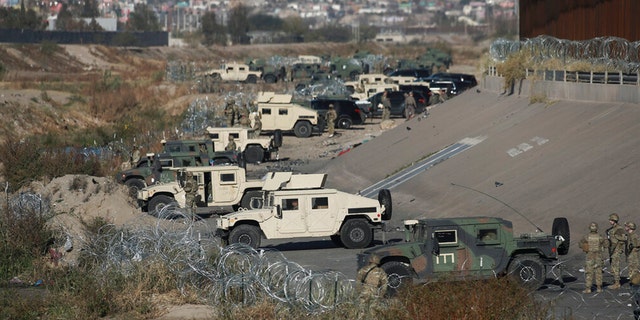 FILE: U.S. military guard El Paso's border with Mexico, seen from Ciudad Juarez, Mexico, Tuesday, Dec. 20, 2022.
(AP Photo/Christian Chavez, File)
"I write this letter to inform Texans of the current crisis we are facing on our border and ask that we come together in forming a solution," Coe wrote, in a letter shared by reporter Ali Bradley. "The border crisis that Texans faced last year rages on and has now impacted many of your homes and has rendered every Texas county a border county."
Coe thanked sheriffs in Texas who have already lent support — but warned it would not be enough, writing, "Both Galveston County and Goliad County have graciously aided our efforts in the field, however, resources and manpower are stretched to the breaking point to successfully maintain operations."
TEXAS DPS DISRUPTS HUMAN SMUGGLING ATTEMPT NEAR BORDER
In July 2022, Kinney County and officials from nearby municipalities declared an "invasion" related to the record numbers of migrants coming into their communities.
"We want America to know that this is real," Kinney County Judge Tully Shahan told reporters in Bracketville at the time. "The Biden administration won't do a thing about it. They could stop this thing this hour. They could stop it now. They don't have the guts."
CLICK HERE TO GET THE FOX NEWS APP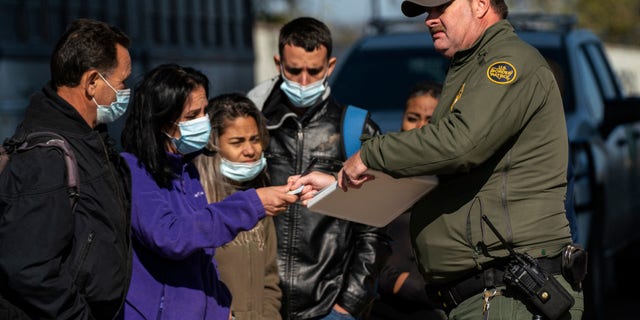 Migrants wait for their turn to have a Border Patrol agent write down their information in Eagle Pass, Texas on Dec. 20, 2022. 
(VERONICA G. CARDENAS/AFP via Getty Images)
"By sending this letter," Coe wrote Friday, "I am requesting any aide that your county may be able to provide in this border crisis, whether it be manpower, equipment, or operators. This crisis has made all counties a border county. It is imperative that we stand ready here at the border in order to protect and serve the people of our great state."
Fox News' Louis Casiano and Greg Wehner contributed to this report.