close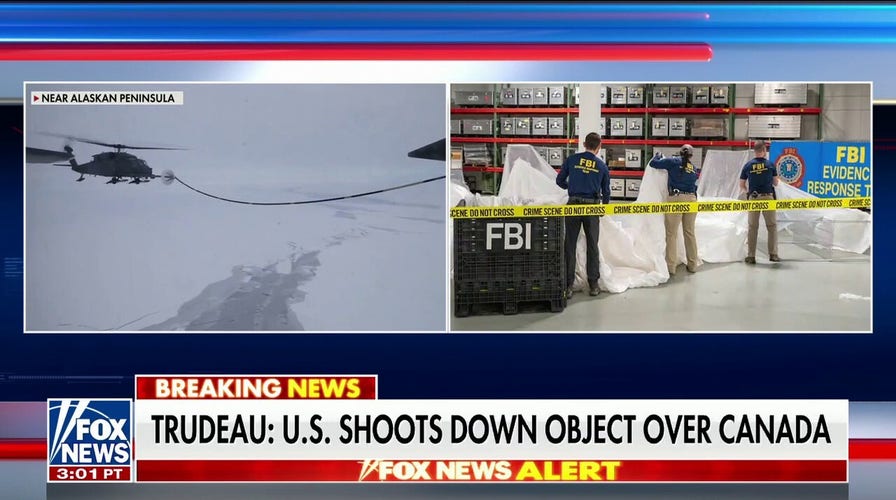 Video
Trudeau spoke with Biden about object shot down over Canada
Fox News correspondent Lucas Tomlinson has the latest developments after a U.S. F-22 shot down an object over Canada on 'Fox Report Weekend.'
Canadian Member of Parliament Jenny Kwan, who was born in Hong Kong, told reporters Monday that the Canadian Security Intelligence Service (CSIS) informed her during a classified briefing Friday that she is and will forever remain an "evergreen" target of the Chinese government in Beijing.
"While I'm not able to disclose the details of how that foreign interference applied to me specifically for national security reasons, CSIS has confirmed with me that I am being targeted for foreign interference and will continue to be a target," Kwan said at a press conference on Parliament Hill.
"They used the term evergreen, meaning that I will forever be targeted," she said. "The reason why I'm being targeted is because of my activism in support and to fight for basic human rights – not just for Canadians, but for those who are abroad as well."
The subject of the classified briefing was her targeting by the Chinese government, Kwan said, noting though, that she has also been sanctioned by the Russian government.
CHINA REJECTS BIDEN ADMINISTRATION REQUEST FOR MEETING BETWEEN MILITARY LEADERS: REPORT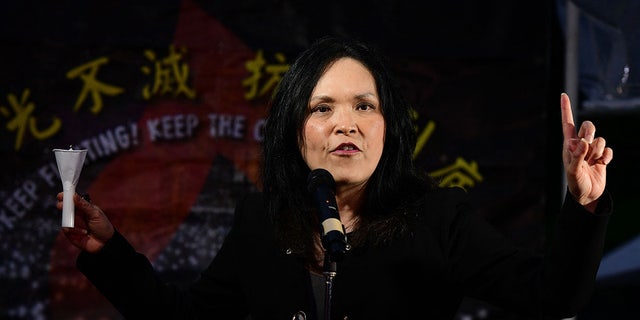 Hong Kong-born member of Canadian Parliament, Jenny Kwan, said she was informed by the Canadian Security Intelligence Service that she is on Beijing's "evergreen" target list. (DON MACKINNON/AFP via Getty Images)
As an immigration critic for Canada's New Democratic Party (NDP), Kwan said she is also outspoken on the issues in support of the Uyghur people. Regarding Hong Kong, she again condemned the Chinese government's sweeping national security law enacted in 2020 that made it easier to prosecute pro-democracy protesters and send them to mainland China.
"Coming out of this briefing, it is more clear to me than ever that I will not be intimidated," Kwan told reporters in Ottawa. "That I will not be silenced in any way. Whoever is trying to put pressure on me in whatever way that they are trying to do it, they will not succeed."
Kwan was joined at the press conference by NDP Leader Jagmeet Singh, who told reporters that an opposition motion calling on David Johnston to step down as the Canadian federal government's special rapporteur on foreign interference will be debated by the House of Commons Tuesday.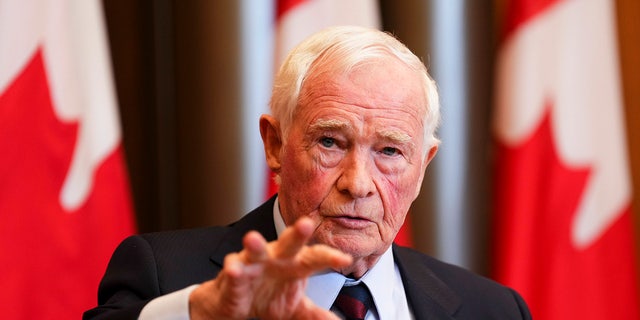 Canada's Special Rapporteur on Foreign Interference David Johnston rejected holding a public inquiry into leaked intelligence that alleged China interfered in Canada's federal elections, drawing allegations of a cover-up. (Sean Kilpatrick/The Canadian Press via AP)
Canadian opposition lawmakers demanded a full public inquiry on alleged Chinese election interference since reports about it earlier this year by The Globe and Mail newspaper.
The newspaper cited unidentified intelligence sources that China preferred to see Prime Minister Justin Trudeau's Liberals re-elected in the 2021 election and worked to defeat Conservative politicians unfriendly to Beijing. Last week, Johnston, whom Trudeau appointed, announced recommendations saying that a public inquiry into the leaked materials could not take place because of the sensitivity of the intelligence. He did recommend public hearings more broadly on foreign influence in Canada's political system.
CANADA'S PRIME MINISTER MEETS WITH SOUTH KOREA'S PRESIDENT, WILL DISCUSS CHALLENGES POSED BY NORTH KOREA
Johnston wrote that he found no example of Trudeau, his ministers or their offices "knowingly ignoring intelligence, advice or recommendations on foreign interference or being driven by partisan considerations in dealing with these issues." Trudeau, in turn, said he would abide by Johnston's recommendation to not hold a public inquiry.
"We need a national public inquiry – it is not just for the protection of people like me, who is a Member of Parliament, but it is also for everyday people who face those dangers every day," Kwan told reporters Monday. "And they need to be protected. They need the government to be on their side.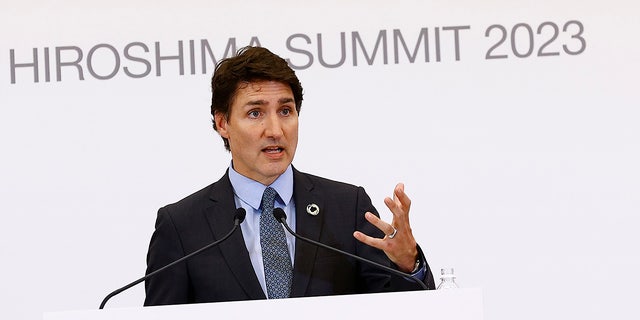 Canadian Prime Minister Justin Trudeau, seen speaking at the G7 summit in Japan on May 21, 2023, said he would not hold a public inquiry into alleged Chinese interference in Canada's federal elections. (Rodrigo Reyes Marin/Pool Photo via AP)
"And I'm very aware of people who have family members who are in Hong Kong or China who is subject to potential threats. And that fear is real. I will not forget them, and that's why I stay firm and recommit myself to this fight. And no amount of interference by foreign actors will deter me from that," she said.
CLICK HERE TO GET THE FOX NEWS APP
"I think all members of Parliament who've been a target should be informed right from the beginning. I think the Canadian government should have taken action right from the beginning," Kwan added. "It was dismaying for me to learn that the information that is coming out is coming out in drips and drabs by way of leaks. It's dismaying for me in reading the report from the Special Rapporteur that a national inquiry would not be called. That was absolutely dismaying to me, and that should be done."
The Associated Press contributed to this report.
Danielle Wallace is a reporter for Fox News Digital covering politics, crime, police and more. Story tips can be sent to [email protected] and on Twitter: @danimwallace.