close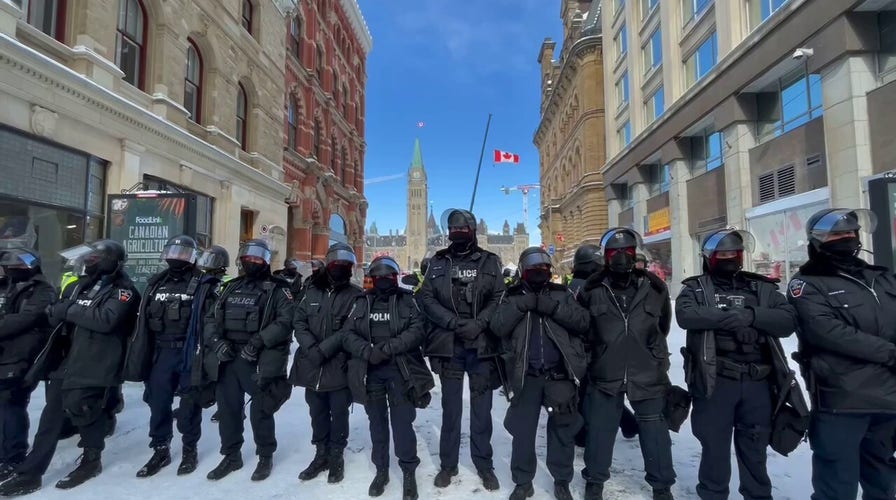 Video
Police watch 'Freedom Convoy' protests in Ottawa in 2022
Police watch "Freedom Convoy" protesters gather in Ottawa in February, 2022
The trial for organizers of Canada's infamous Freedom Convoy began Tuesday, with prosecutors insisting the trial is not about political beliefs, but for the method of protest that occurred which they claim was "anything but peaceful."
"This case is not about their political views," Tim Radcliffe, one of lead prosecutors, told the court in his opening remarks. "What's at issue … is the means they employed, not the ends."
Police arrested Tamara Lich and Chris Barber along with other organizers in February 2022 after almost a month of protests in Ottawa, Canada's capital.
The protesters demanded an end to federal mask and vaccine mandates during the COVID-19 pandemic. Critics also argue that the protests took aim at the wider Liberal Canadian government.
MEXICAN PARENTS BLAZE TEXTBOOKS INFECTED WITH 'VIRUS OF COMMUNISM' IN FIERY PROTEST AGAINST GENDER IDEOLOGY
The truckers remained parked outside Canada's Parliament building, honking their horns and revving their engines throughout the protest. The city deemed the protest an "occupation."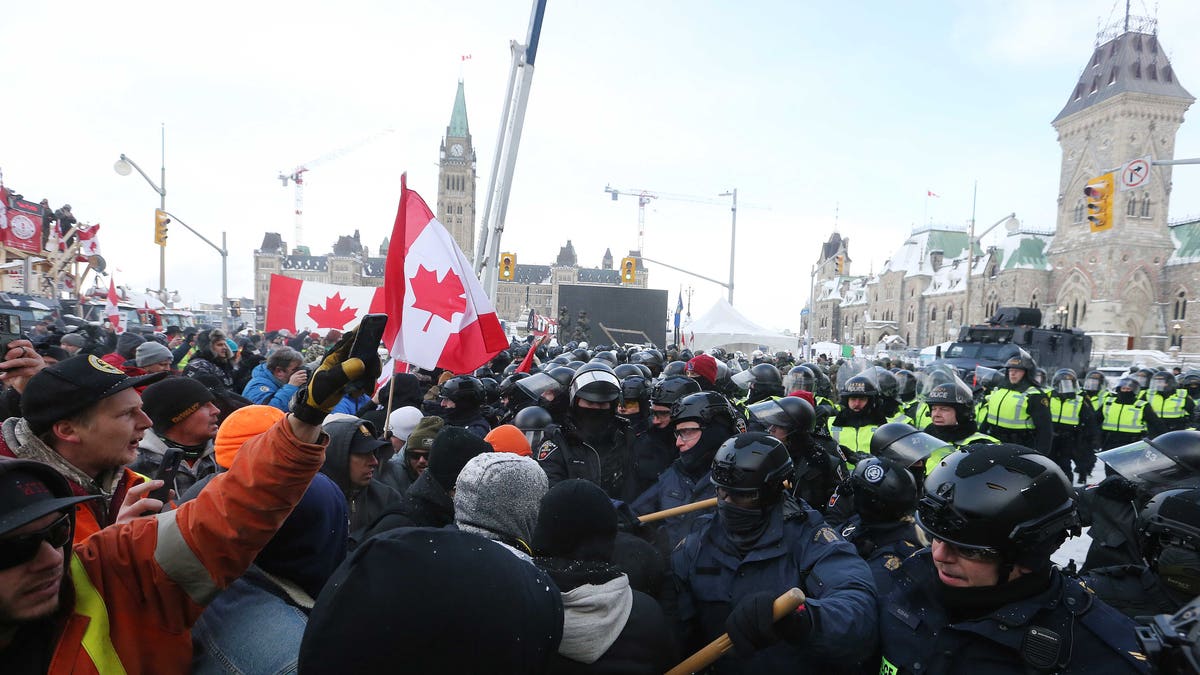 Police line up opposite protesters on Wellington Street in front of Parliament Hill Feb. 18, 2022. The "Freedom Convoy" in Ottawa were moved from in front of Parliament Hill by police after blockading the downtown core of Canada's capitol for over three weeks in Ottawa. (Steve Russell/Toronto Star via Getty Images)
The Crown Prosecution will now make its case over the course of the 13-day trial (with another six days in October) that the gridlock tactics protesters used amounted to dangerous action. Police charged Lich and Barber, along with other organizers, with mischief, counseling others to commit mischief, intimidation and obstructing police.
Radcliffe accused the pair of not only urging people to go to Ottawa, but to remain there with their "infamous 'Hold the Line' rallying call," Canada's National Post reported. He argued that the pair's actions "crossed the line, and in doing so they committed multiple crimes."
DRIVER DRAGS RADICAL CLIMATE PROTESTERS THROUGH HIGHWAY AFTER THEY REFUSE TO GET OUT OF WAY
One of the charges relates to breaking a noise ordinance in the city's downtown area due to the persistent horn honking. Ottawa's residents also complained of harassment during the protests and daily disruptions, the BBC reported.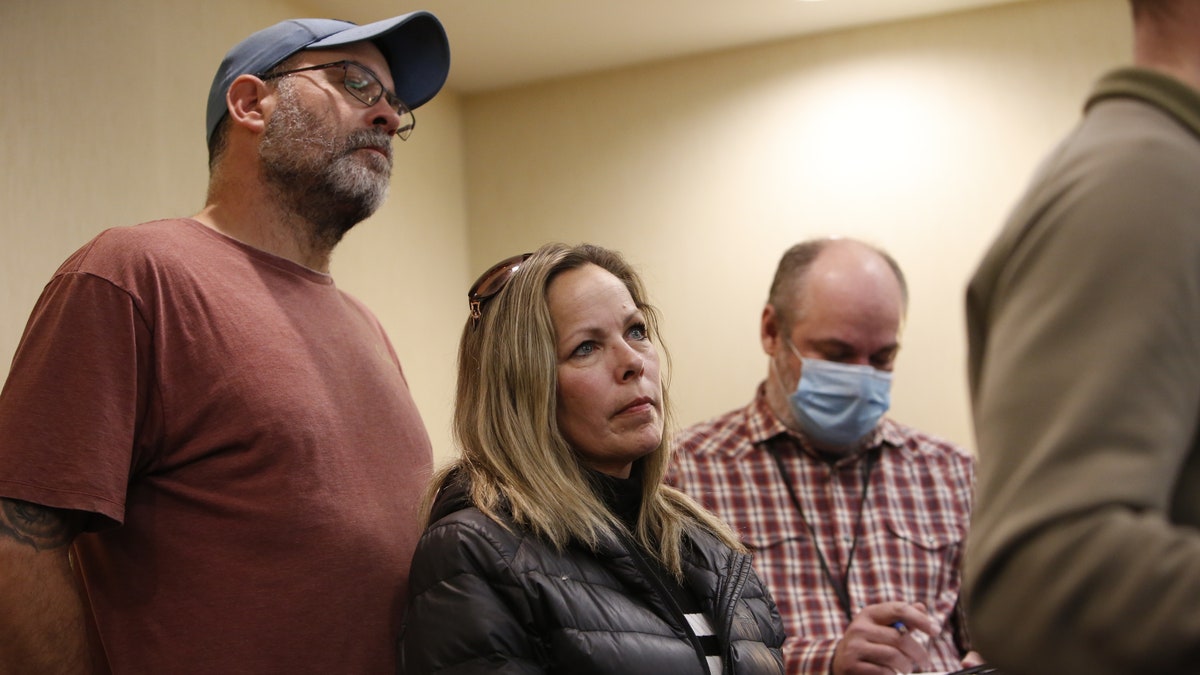 Tamara Lich, a listed organizer of the "Freedom Convoy" GoFundMe campaign, during a news conference in Ottawa, Ontario, Canada, on Thursday, Feb. 3, 2022. (David Kawai/Bloomberg via Getty Images)
Prosecutors have said that the organizers could face up to 10 years in prison if found guilty.
Lich's lawyer, Lawrence Greenspon, stressed in a statement to the BBC that the "central issue will be whether the actions of two of the organizers of a peaceful protest should warrant criminal sanction" and that he did not expect a "trial of the Freedom Convoy" as a whole.
COLOMBIANS TURN OUT IN DROVES TO PROTEST 50% GASOLINE PRICE HIKE
Pat King, another protest organizer, faces a separate trial in November, and the organizers will face a civil suit form Ottawa residents.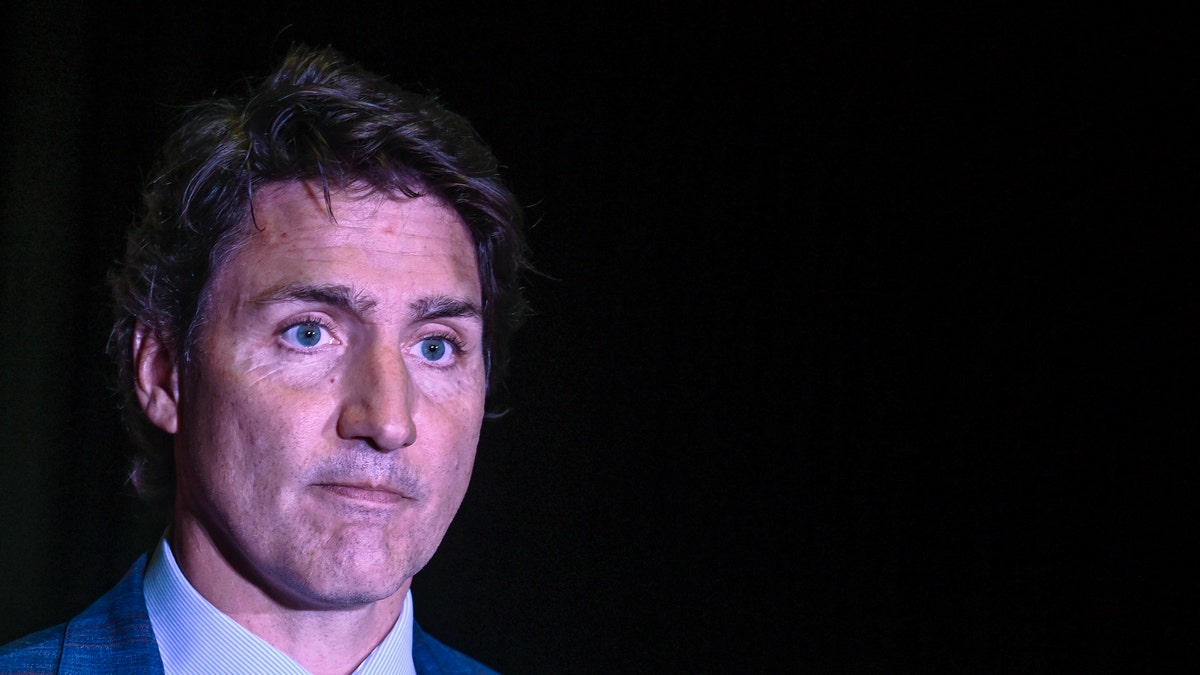 Canadian PM Justin Trudeau addresses local Liberal Party supporters at a private fundraiser organized in the Edmonton Convention Center, on Aug. 26, 2023, in Edmonton, Canada. (Artur Widak/NurPhoto via Getty Images)
Numerous users on social media platform X have called for a protest in support of Lich and Barber, claiming that a guilty verdict would lead to "substantive consequences" for the country, Newsweek reported. Some even called for an "uprising" if the trial ended in a guilty conviction.
Canadian Prime Minister Justin Trudeau invoked the Emergencies Act days before the arrests in order to empower the government to clear the protests by towing vehicles and take direct action against the organizers, such as freezing their personal bank accounts.
Trudeau's use of the Emergencies Act – the first use of the law – remains controversial, with the prime minister in November last year defending its use due to the threat of violence and lack of a credible plan by police.
CLICK HERE TO GET THE FOX NEWS APP
"It wasn't that they just wanted to be heard. They wanted to be obeyed," Trudeau told the independent public commission looking into the government's use of the powers. "I am absolutely, absolutely serene and confident that I made the right choice in agreeing with the invocation."
Reuters contributed to this report.
Peter Aitken is a Fox News Digital reporter with a focus on national and global news.