close
Video
Residents in British Columbia observe growing wildfires
British Columbia has declared a state of emergency as a massive wildfires tears through the western Canadian providence. (@610Mike / LOCAL NEWS X /TMX)
British Columbia has declared a state of emergency as massive wildfires tore through the western Canadian province, forcing residents to flee their homes and seek shelter.
The province was declared to be under a state of emergency due to hundreds of wildfires Saturday, with the emergency management minister saying 15,000 people had been told to leave their homes.
The fires have mostly threatened large swaths of land in the cities of Yellowknife and Kelowna, a city of more than 132,000 people. The entire city of Yellowknife was told to evacuate, according to Fox Weather.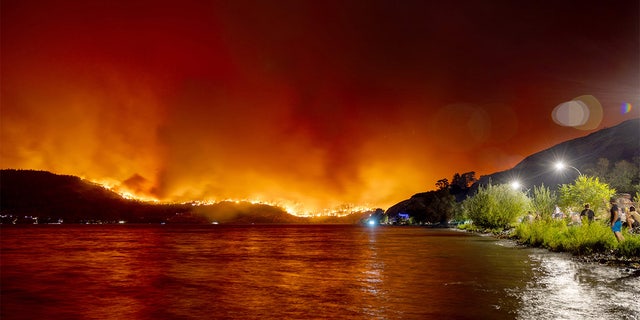 Residents watch the McDougall Creek wildfire in West Kelowna, British Columbia, Canada, Aug. 17, 2023, from Kelowna. (DARREN HULL/AFP via Getty Images)
Since April 1, according to the province's Wildfire Service, 1,818 wildfires have burned about 1.61 million hectares (nearly 4 million acres) of land in the province. There are currently 366 active fires burning across the province.
The TransCanada highway, the main east to west interstate, is closed near Chase, around 400 km (250 miles) northeast of Vancouver, and between Hope, 150 km (93 miles) east of Vancouver, and the village of Lytton. British Columbia's Drive B.C. said detours were available for motorists.
RILEY GAINES SLAMS JUSTIN TRUDEAU AFTER TRANS POWERLIFTER SETS UNOFFICIAL WOMEN'S WORLD RECORD
On Friday evening, British Columbia's Premier David Eby said at a news conference that this wildfire season has been the "worst" in the province's history.
"In just the last 24 hours, the situation has evolved and deteriorated quite rapidly," Eby said. "If you get an evacuation order, please leave. The situation is unpredictable right now, and there are certainly difficult days ahead."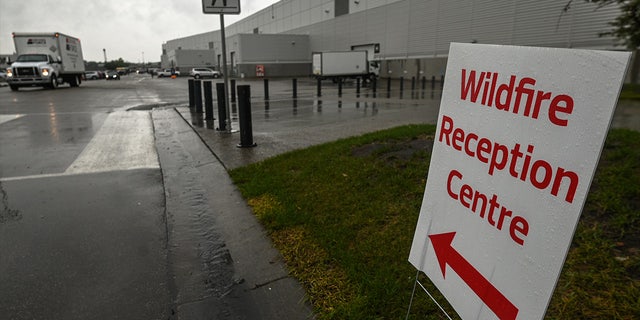 A sign 'Wildfire Reception Center' seen outside Edmonton's Expo Center transformed into Emergency Response Center as thousands evacuate Yellowknife and other areas in Northwest Territories, Canada, due to wildfires, on Aug. 18, 2023, in Edmonton's Expo Center, Edmonton, Canada. (Artur Widak/NurPhoto via Getty Images)
Despite overnight efforts to battle the blaze in neighborhoods and other areas, those recovery efforts were "poor," the Wildfire Service said Saturday morning. The fire has burned nearly 26,000 acres (just over 40 square miles) as of Saturday.
CANADIAN MILITARY RESPONDS TO WILDFIRES THREATENING THE NORTHWEST TERRITORIES, AIRLIFTING RESIDENTS TO SAFETY
"It was a devastating night last night, probably one of the toughest of my career, the toughest of all of our firefighter's careers," said West Kelowna Fire Chief Jason Brolund during a Friday press conference.
"We fought hard last night to protect our communities," the chief continued. "It was like fighting 100 years worth of firefighting at once in one night."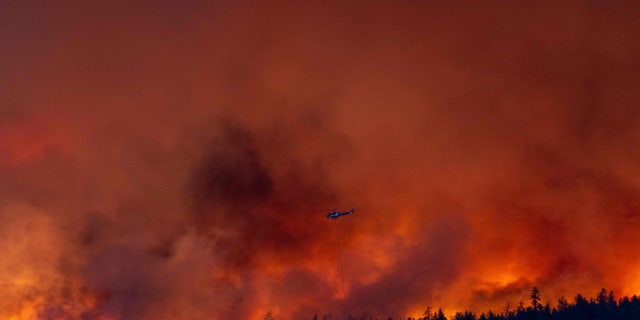 Evacuation orders were put in place for areas near Kelowna, as the fire threatened the city of around 132,000. Canada is experiencing a record-setting wildfire season, with official estimates of over 13.7 million hectares (33.9 million acres) already scorched within the country.  ( DARREN HULL/AFP via Getty Images)
META TO PULL NEWS CONTENT FROM FACEBOOK, INSTAGRAM FOR CANADIAN USERS AFTER PARLIAMENT PASSES ONLINE NEWS ACT
Heritage Minister Pascale St-Onge back peddled on Canada's earlier demands for news to be taken down from social media sites by insisting that Meta allow news to return to Facebook and Instagram in the wake of the fires.
"Meta's reckless choice to block news … is hurting access to vital information on Facebook and Instagram," St-Onge said in a social media post. "We are calling on them to reinstate news sharing today for the safety of Canadians facing this emergency. We need more news right now, not less."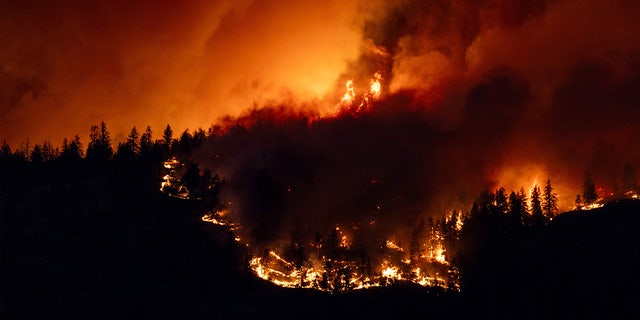 The McDougall Creek wildfire burns in the hills West Kelowna, British Columbia, Canada, on Aug. 17, 2023, as seen from Kelowna.  (DARREN HULL/AFP via Getty Images)
Transport Minister Pablo Rodriguez earlier echoed St-Onge, saying that the ban meant people did not have access to crucial information.
Their cries for news to be reinstated on social media sites come after Canada passed The Online News Act, which requires Meta, the parent company of Facebook and Instagram, to remove news content for its Canadian viewers.
CLICK HERE TO GET THE FOX NEWS APP
"We have repeatedly shared that in order to comply with Bill C-18, which was passed today in Parliament, content from news outlets, including news publishers and broadcasters, will no longer be available to people accessing our platforms in Canada," said Lisa Laventure, head of communications for Meta in Canada.
Reuters contributed to this report.
Sarah Rumpf-Whitten is a writer on the breaking news team for Fox News Digital. You can reach her on Twitter at @s_rumpfwhitten.