close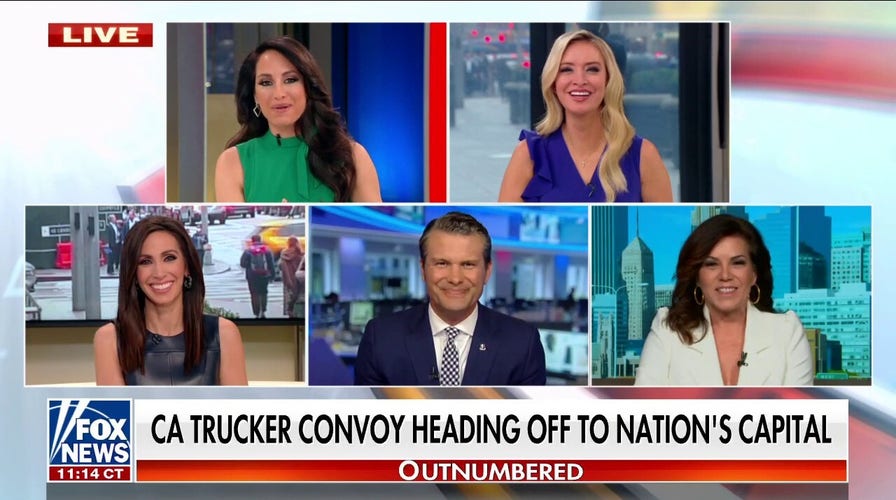 Video
'Outnumbered' on Canada's Freedom Convoy inspiring California truckers heading to DC
The panel reacted to the new trucker convoy and addressed the lack of popularity surrounding the mandates.
The trial for two of the main organizers of the Canada Freedom Convoy in early 2022 has lasted for longer than the truckers' protest against COVID-19 vaccine requirements and other mandates itself.
The judge, Justice Heather Perkins-McVey, ruled Friday that some redacted Ottawa police documents should be made admissible, including emails and information about a software update for officers' cellphones after the end of the early 2022 demonstrations, which may have deleted messages between organizers and police liaison officers, the Ottawa Citizen reported. Prosecutors had been pushing for most redaction to remain under solicitor-client privilege.
Tamara Lich and Chris Barber, two of the most prominent organizers of the Freedom Convoy, are accused of leading efforts to have thousands of truckers block the streets of Ottawa's Capitol district for nearly four weeks in January and February 2022 in protest of COVID vaccine requirements for truckers and other pandemic-era mandates.
They both face charges of committing mischief, obstructing police, counseling others to commit mischief and intimidation, according to CBC, which noted the trial originally expected to last 10 days has extended beyond 26. Perkins-McVey adjourned the matter of the police documents Friday and set the next trial date for Nov. 8.
CANADA'S FREEDOM CONVOY ORGANIZERS STAND TRIAL THIS WEEK, PROSECUTORS CLAIM CASE IS 'NOT POLITICAL'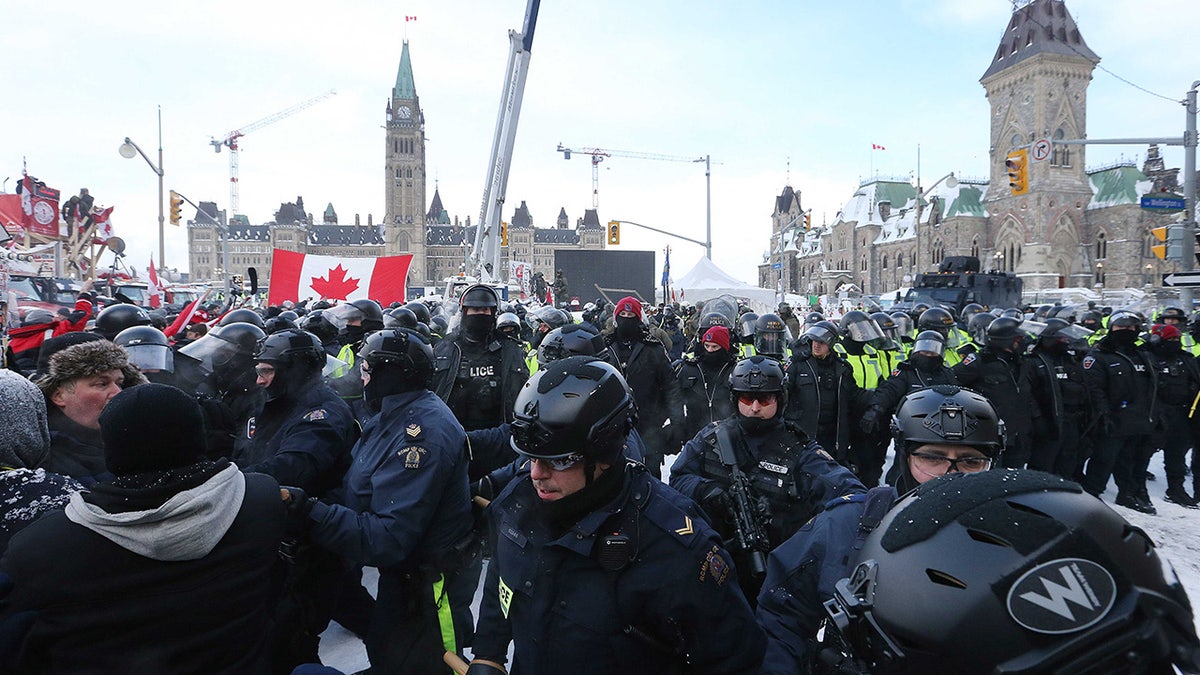 Police removed "Freedom Convoy" protesters from in front of Parliament Hill on Feb. 18, 2022, after weeks of demonstrations against COVID-19 mandates. (Steve Russell/Toronto Star via Getty Images)
Meanwhile, Freedom Convoy was trending on X, formerly Twitter, on Sunday, as online users contrasted how Ottawa police treated truckers protesting mandates with anti-Israel demonstrators amid the Jewish state's war with Hamas.
Sharing footage of police tanks and officers removing Freedom Convoy goers last year, the user Concerned Canadian wrote to more than 77,300 followers, "This was the form of police brutality using paramilitary tactics inflicted upon Freedom Convoy demonstrators who had a Charter Right to protest -then Trudeau implemented the EA —yet he did nothing with Hamas demonstrators ! Double Standard !!"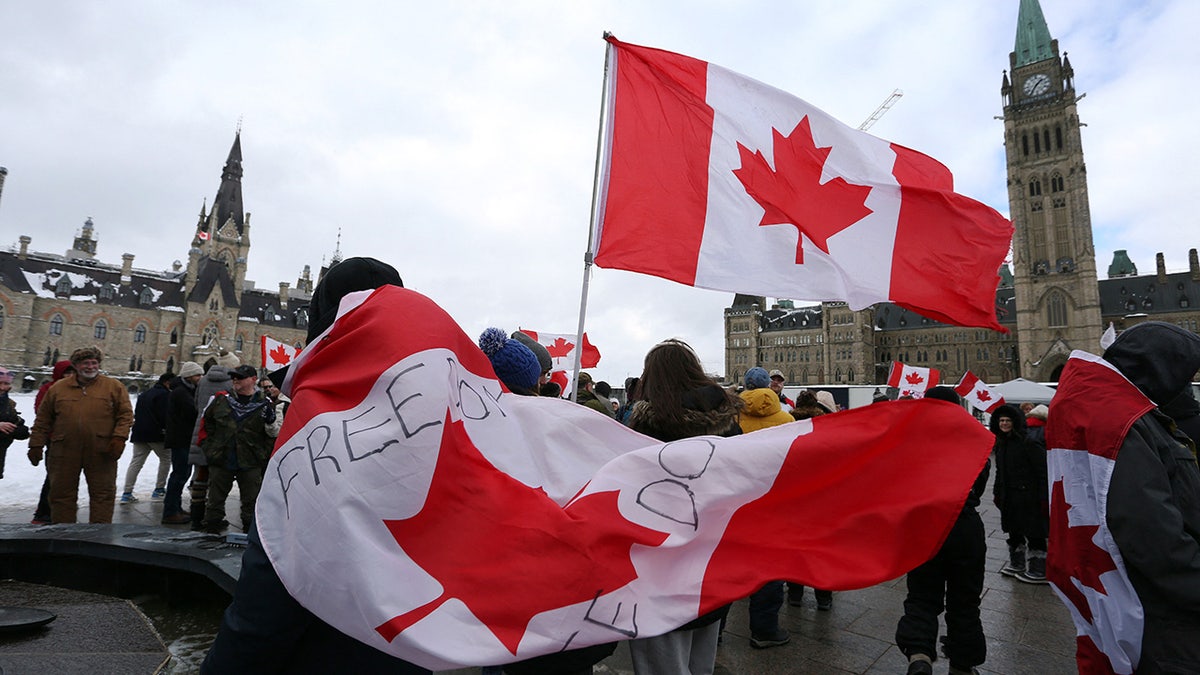 Freedom Convoy protesters gather on Parliament Hill for the first anniversary of the Covid-19 truck convoy protest, in Ottawa, Ontario, Canada, on Jan. 28, 2023.  (DAVE CHAN/AFP via Getty Images)
FREEDOM CONVOY PROTESTERS DESCRIBE INTERACTIONS WITH POLICE: 'IT GOT REALLY BAD'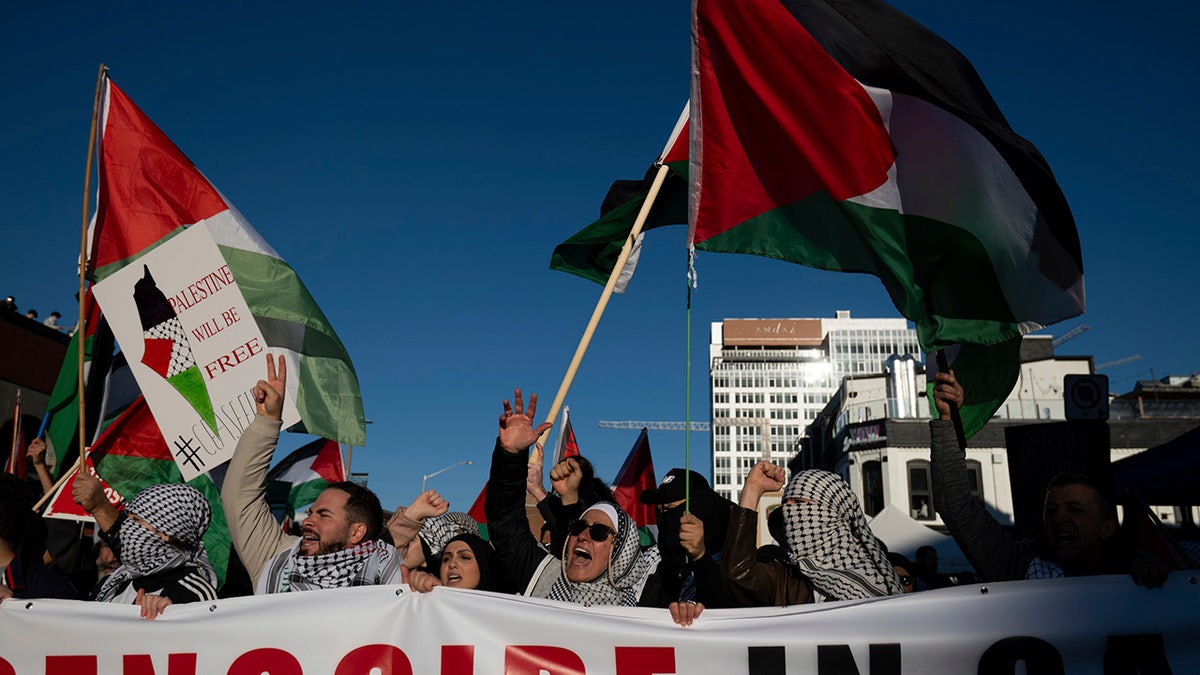 Pro-Palestinian protestors march during a rally on Parliament Hill in Ottawa on Saturday, Nov. 4, 2023. (Spencer Colby/The Canadian Press via AP)
"Remember when the left had a nuclear MELTDOWN over the Terry Fox statue being 'desecrated' during the Freedom Convoy," The Pleb Reporter wrote to 52,500 followers on X. "Terry Fox has since been wrapped in a Palestine scarf by pro Palestine protestors and the left is SILENT. Not a SINGLE WORD The left are absolute HYPOCRITES."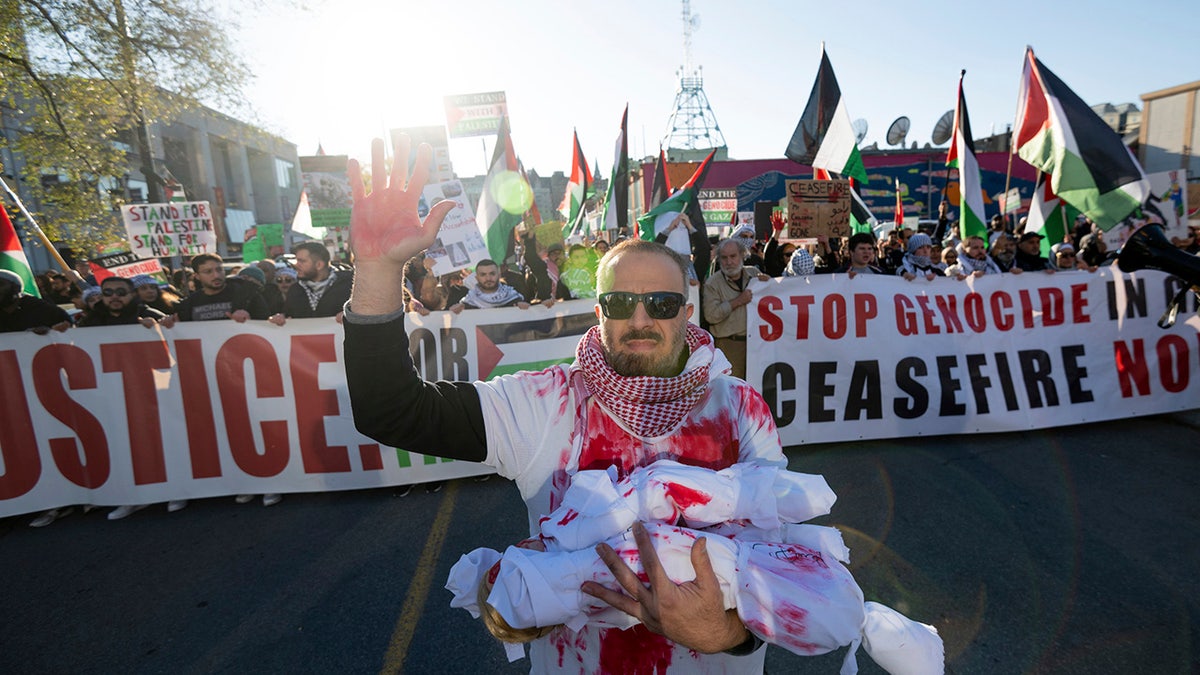 A protestor in support of Palestinians holds cloth sheets made to resemble deceased children during a march  on Parliament Hill in Ottawa on Saturday, Nov. 4, 2023.   (Spencer Colby/The Canadian Press via AP)
The user, Ryan Gerritsen, shared a clip of Canadian Prime Minister Justin Trudeau's speech to Parliament last year calling the Freedom Convoy protest an "illegal blockade. "An important video to watch which highlights how vindictive Trudeau truly was when enacting the Emergencies act," Gerritsen wrote to more than 57,000 followers.
CLICK HERE TO GET THE FOX NEWS APP
"He speaks of bringing the lives & livelihood back to people in Ottawa during the freedom convoy. People that voluntarily chose to close businesses out of spite. He could care less about the millions his mandates affected. Note at the end he says he continues to defend freedom of expression as long at its peaceful. IT WAS PEACEFUL!"
Danielle Wallace is a reporter for Fox News Digital covering politics, crime, police and more. Story tips can be sent to [email protected] and on Twitter: @danimwallace.