Transportation Secretary Pete Buttigieg and Rep. Nancy Pelosi, D-Calif., were on hand for a ceremony on Monday for the announcement of a $400 million federal grant to provide improvements to the Golden Gate Bridge.
The grant is for a seismic retrofit project to protect the bridge from a large-scale earthquake. The money is coming from the federal government's Bridge Improvement Program that is part of the 2021 Infrastructure Investment and Jobs Act, commonly known as the Bipartisan Infrastructure Bill.
"From the very moment that it opened, this bridge has stood as one of the most essential and recognizable in our country," Buttigieg said. Its location, its proportions, its design make it not just the defining emblem of the Bay Area, but one of the great physical emblems of the United States itself."
10 DEMOCRATS WHO HAVE VOWED SUPPORT FOR BIDEN IN 2024 AS VOTERS AWAIT HIS OFFICIAL RE-ELECTION DECISION
The ceremony took place just after the 90th anniversary of when construction of the bridge first began. Buttigieg noted that in addition to its imagery, the bridge is "a working piece of infrastructure" that serves as a "key link for supply chains." He said that without improvements, its structure would become increasingly vulnerable.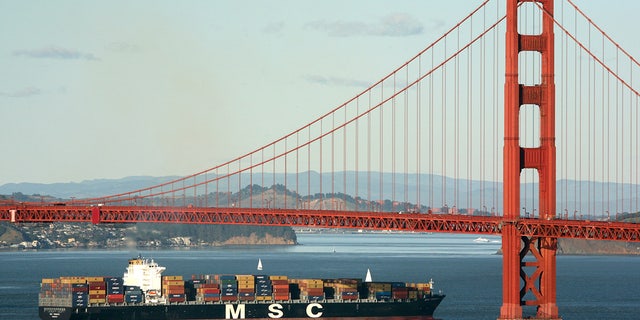 A container ship sails beneath the Golden Gate Bridge as it makes its way into port in San Francisco, California.
(Reuters)
Before turning the microphone over to Pelosi, Buttigieg praised the Speaker Emirita as "one of the most consequential Americans of our young century."
"Thank you very much, Mr. Secretary, for your kind words and your $400 million," Pelosi joked.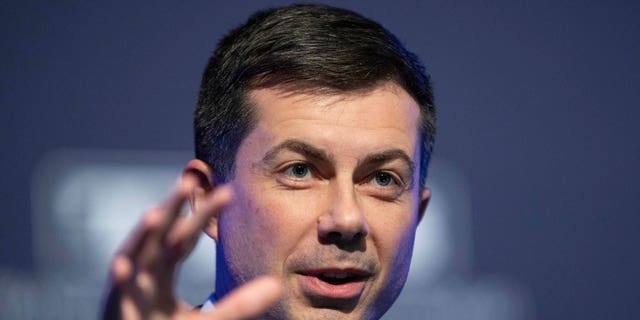 Transportation Secretary Pete Buttigieg is once again in the national spotlight over an incident that grounded about 1,300 aircraft.
(AP Photo/Manuel Balce Ceneta, File)
The former House Speaker went on to speak of the bridge as "the manifestation of America," recalling how troops coming home from war would see it as they came home.
Pelosi praised President Biden for getting the infrastructure bill passed, stating how important it is both for creating jobs and increasing safety, as is the case with the Golden Gate Bridge project.
EMBATTLED TRANSPORTATION SEC. BUTTIGIEG IN NATIONAL SPOTLIGHT AGAIN OVER PLANE GROUNDINGS, DEPARTMENT ISSUES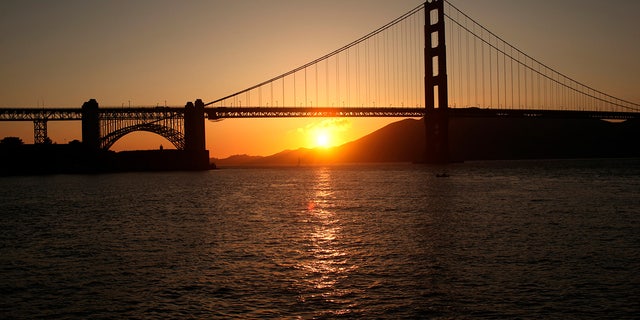 The sun sets near the Golden Gate Bridge before a fireworks show during the 75th anniversary celebration of the iconic span in San Francisco, California May 27, 2012. REUTERS/Robert Galbraith (UNITED STATES – Tags: SOCIETY ANNIVERSARY)
(Reuters)
The money was requested by Democratic California Senators Dianne Feinstein and Alex Padilla in April. In December, the announced that the money had been awarded.
"The Golden Gate Bridge is a critical transportation link in the Bay Area with more than 40 million vehicle crossings each year and an iconic landmark that represents San Francisco," Senator Feinstein said at the time. "Modernizing our state's transportation infrastructure – incentivizing electric vehicles, improving transit hubs, deploying zero-emission buses and safeguarding our roads and bridges – is a critical part of keeping our economy growing, and I'm proud to have worked with Senator Padilla to secure this vital grant."
CLICK HERE TO GET THE FOX NEWS APP