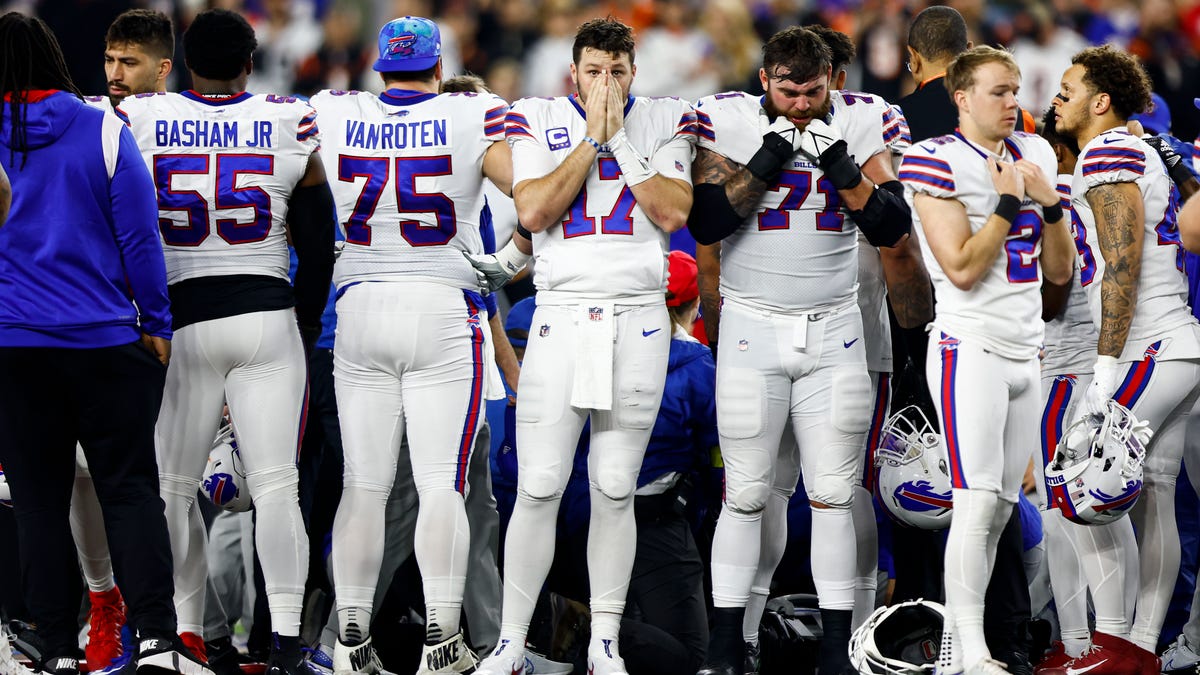 Buffalo Bills players gather around Damar Hamlin on the field. 
Kevin Sabitus/Getty
The Monday Night Football game between the Buffalo Bills and the Cincinnati Bengals was called off after a horrifying injury to Bills safety Damar Hamlin.
Hamlin, 24, made a tackle on Bengals player Tee Higgins at 5:55 p.m. PT. After the play, he stood up briefly, before falling backwards onto the turf. Hamlin was given immediate medical attention on the field, including CPR. He was taken taken to the University of Cincinnati Medical Center by ambulance at 6:25 p.m. PT. He is listed as critical.
The NFL announced the game would be postponed for the evening. 
pic.twitter.com/sFkhRsXYBp

— Brian McCarthy (@NFLprguy) January 3, 2023
Hamlin's tackle on Higgins occurred with six minutes to play in the first quarter. The tackle seemed to land right in Hamlin's chest and neck area but he was able to stand briefly after the play was over. He was barely able to take a step before he then collapsed onto the ground. Medical staff were immediately at his side. Buck noted during the ESPN broadcast that medical personnel were "really pounding on his chest" as they administered CPR.
Players from both teams were clearly distraught in the wake of the injury and formed a wall around Hamlin, the local paramedics and medical staff. Teams were originally told there would be a five minute break in play but returned to the locker rooms. The NFL called the game off shortly after 7 p.m. PT.
A further update was provided by Jordon Rooney, who noted Hamlin's vitals were back to normal in a tweet posted at 7:32 p.m. PT.
The Buffalo Bills confirmed Hamlin suffered a cardiac arrest following the first quarter hit, noting his heartbeat was restored on the field.  
Damar Hamlin suffered a cardiac arrest following a hit in our game versus the Bengals. His heartbeat was restored on the field and he was transferred to the UC Medical Center for further testing and treatment. He is currently sedated and listed in critical condition.

— Buffalo Bills (@BuffaloBills) January 3, 2023
In the wake of the injury, fans have been contributing to a GoFundMe established by Hamlin and the Chasing M Foundation for a toy drive, leaving messages of support. The fundraiser has accumulated more than $2 million since Hamlin left the field of play on Monday.