close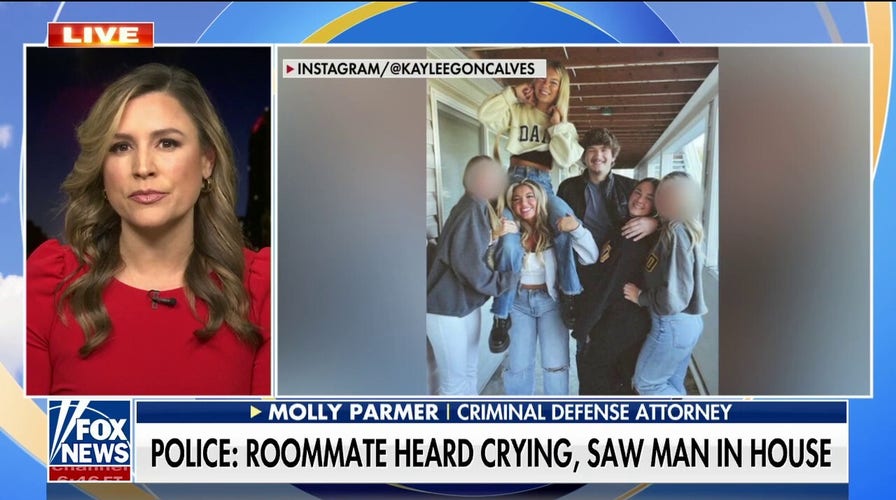 Video
More evidence released linking suspect to Idaho murder crime scene
Criminal defense attorney Molly Parmer on new details in the Idaho murder case, including the suspect stalking the victims' home 12 times
The Idaho murder victims' surviving female roommate likely didn't call for help after coming face-to-face with accused killer Bryan Kohberger because she may have been paralyzed by fear and confusion, experts told Fox News Digital.
The roommate — one of two who survived the attack — faced swift backslash after it was revealed in an affidavit Thursday that she awoke Nov. 13 and looked directly at the alleged murderer as he fled, then locked herself in her bedroom.
"When a person goes through trauma, they are going to experience fight, flight or freeze," said Dr. Katherine Kuhlman, a police and public safety psychologist based in Arizona. "Most people in their entire lives won't have to deal with this type of trauma and won't mentally prepare for it."
The roommate, whose name Fox News Digital is withholding, encountered Kohberger shortly before 4:20 a.m. after he allegedly slaughtered Kaylee Goncalves, 21, Madison Mogen, 21, Ethan Chapin, 20, and Xana Kernodle, 20.
UNIVERSITY OF IDAHO MURDERS TIMELINE: WHAT WE KNOW ABOUT THE SLAUGHTER OF FOUR STUDENTS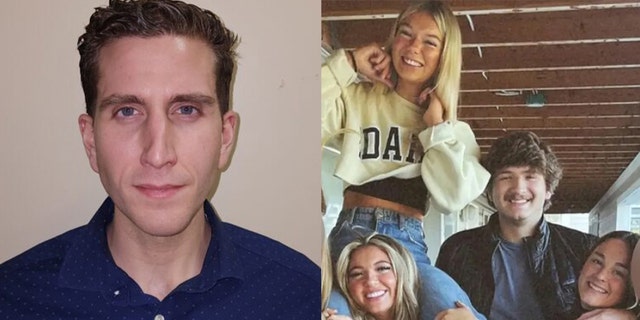 Bryan Christopher Kohberger is charged with the murders of four University of Idaho students.
(Washington State University/Instagram)
After hearing crying coming from Kernodle's room, the roommate opened her bedroom door, which is on the same floor.
"[The roommate] saw a figure clad in black clothing and a mask that covered the person's mouth and nose walking towards her," the affidavit says. "The male walked past [the roommate] as she stood in a 'frozen shock phase.'"
IDAHO MURDER VICTIMS' ROOMMATE HEARD CRYING, SAW MAN IN MASK MORNING OF KILLINGS
The man she described as having "bushy eyebrows" walked by her and exited the second floor sliding glass doors, she told police.
The roommate first awoke at 4 a.m. by what she thought was Goncalves playing with her dog, Murphy, then heard her say, "there's someone here," according to the affidavit.
READ THE AFFIDAVIT BELOW. APP USERS: CLICK HERE
After the intruder took off, nearly eight hours passed before a call was placed to 911 on one of the surviving roommates' cellphones reporting an unconscious person. Police have not disclosed who placed that call.
Kuhlman, who primarily works with special responders who've been through mass casualty incidents, says a young woman likely wouldn't pick up on the glaring cues that indicate a crisis situation.
IDAHO MURDER SUSPECT KOHBERGER'S PENNSYLVANIA CLASSMATES SAY HE WAS 'BRIGHT,' AWKWARD, BULLIED IN SCHOOL
"Trauma becomes more difficult to process when it's something that is so far outside of our consciousness, it doesn't seem to make sense to us," she said. "In this case, no one ever thinks they're going to have this man come into their home and brutally stab their roommates."
The other surviving female roommate slept through the attack.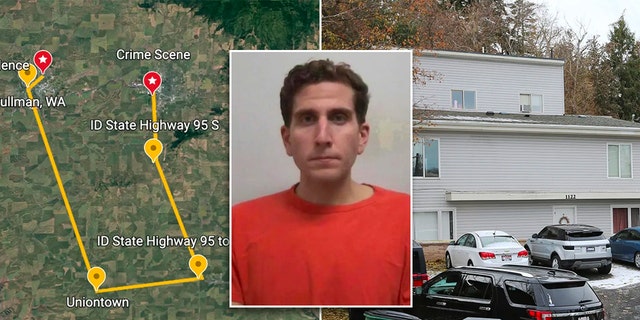 Map on left showing Idaho murder suspect Bryan Kohberger's movement on the morning of Nov. 13 after four University of Idaho students were stabbed in their home. Right is the crime scene at 1122 King Road. Inset is Kohberger's booking photo.
(Latah County Sheriff's Office/Derek Shook for Fox News Digital)
Alanna Zabel, 50, who owns a yoga studio in Santa Monica, California, knows this phenomenon all too well. In 1992, she lived in a three-story home with five Chi Omega sorority sisters at the University of Buffalo.
Zabel found her college roommate near death at 9 a.m. Sept. 5 after the young woman had been brutally beaten and raped by an intruder.
UNIVERSITY OF IDAHO SLAYINGS REKINDLE GRISLY MEMORIES OF SIMILAR 1992 ATTACK IN BUFFALO
"I didn't see any blood," Zabel said. "I thought she had choked on her vomit and I called 911 and said my housemate choked on her vomit." Only when paramedics arrived, did she register for the first time that the entire room was covered in blood, she said.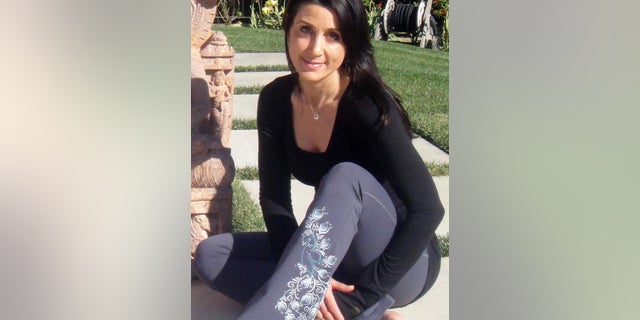 Alanna Zabel found her roommate brutally beaten and raped in 1992 in a rented home near the University of Buffalo campus. 
(Courtesy of Alanna Zabel)
Six hours earlier Zabel had arrived back to the house, passed by her roommate's door and called her name.
"I heard heavy breathing and thought she might be in there with her boyfriend," she said. After crawling into her own bed, she heard someone enter her room then the front door close.
"I walked through the crime scene as it was happening without knowing, and the rapist walked through my room while I was in there, before leaving our house," Zabel told Fox News Digital. "I've lived with the guilt of not calling 911 sooner my entire life."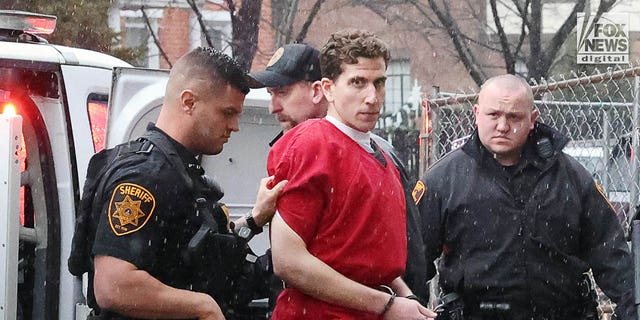 Bryan Kohberger arrives at the Monroe County Courthouse in advance of his extradition hearing on Jan. 3, 2023. He's charged with four counts of first-degree murder for the slayings of four University of Idaho students.
(The Image Direct for Fox News Digital)
Zabel said the surviving roommate may have thought it was someone engaging in a fraternity prank and went into shock. "It's a true defense mechanism for survival," she added.
IDAHO MURDER SUSPECT BRYAN KOHBERGER WANTED TO BE ARMY RANGER, YEARBOOK REVEALS
Retired FBI behavioral profiler Mary O'Toole said every person reacts differently to trauma based on their background and experiences.
"She was probably scared beyond belief," O'Toole said. "She chose to hide in her room, and it probably saved her life."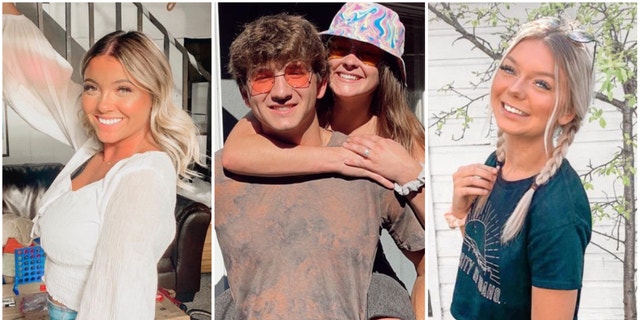 The victims of the Nov. 13 University of Idaho massacre. 
(Instagram @xanakernodle / @maddiemogen / @kayleegoncalves)
Had she confronted the assailant or rushed upstairs to see what all the commotion was, she may have been the fifth victim, O'Toole noted.
Kuhlman said the roommate may have survived but will have a long road to recovery.
CLICK HERE TO GET THE FOX NEWS APP
"It's a triple whammy for her," Kuhlman noted. "She has the grief of losing her friends and her roommates, the trauma of witnessing and experiencing the aftermath and the survivors guilt of being someone who is spared."
Ashley Papa contributed to this report.
Rebecca Rosenberg is a veteran journalist and book author with a focus on crime and criminal justice. Email tips to [email protected] and @ReRosenberg.