Billy Bush is opening up about having spoken to Elvis' only daughter, Lisa Marie Presley, 48 hours before her death.
The television host said he was one of the last people to interview the late musician, Tuesday night at the Golden Globe awards ceremony.
Bush mentioned that he had called the late musician up to the platform for an interview, which he said was two steps up, and attempted to help her.
LISA MARIE PRESLEY, ELVIS AND PRISCILLA'S ONLY CHILD, DEAD AT 54
Instead, he met her on the red carpet, since she apparently struggled to climb onto the platform.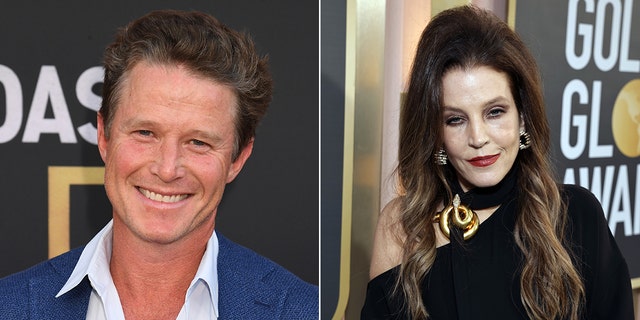 Billy Bush is opening up about speaking to Elvis' only daughter, Lisa Marie Presley, 48 hours before her death.
(Getty Images)
He added she was accompanied by Jerry Schilling, a longtime family friend that managed her and her late father in their careers.
"You could see her hanging on to Jerry's arm there, she was very uneven in her balance, her speech was very slow," Bush told Fox LA.
Lisa Marie died suddenly on January 12, after being rushed to the hospital.
The 51-year-old noted that she seemed "definitely off" during the interview.
Bush pointed out that her legendary father died of cardiac arrest, before her death.
LISA MARIE PRESLEY TO BE BURIED AT GRACELAND NEXT TO HER BELOVED SON, BENJAMIN KEOUGH
In 1988, Lisa Marie married Chicago-based musician, Danny Keough, and they shared two children together, Riley and Benjamin. The couple divorced in May 1994.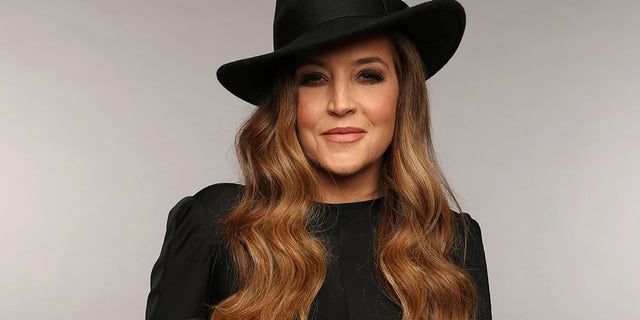 Lisa Marie died on Jan. 12, after being rushed to the hospital. 
(Christopher Polk)
Benjamin died in 2020, and his death was ultimately ruled a suicide by gunshot, leaving his family to mourn the sudden and unexpected loss.
Meanwhile, Bush continued to say the events that unfolded before Lisa Marie's death were "very, very sad."
"She was cognizant, she was certainly with it, just a second slow . . . she was definitely there, just a tad off in some way."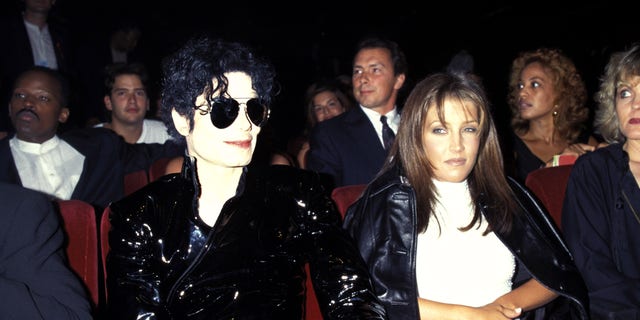 Michael Jackson and Lisa Marie Presley during the 12th Annual MTV Video Music Awards at the Radio City Music Hall in New York, New York, in 1995.
(Kevin Mazur/WireImage)
He continued to reflect on her sudden death and his previous encounters with her, as he remembered her time with Michael Jackson.
WATCH: LISA MARIE PRESLEY SHARED REMARKS AT ELVIS PRESLEY'S 88TH BIRTHDAY AT GRACELAND DAYS BEFORE HER DEATH
Lisa Marie married Michael Jackson in 1994, just 20 days after finalizing her divorce from her first husband, Danny Keough.
The Fox 11 host chimed in and said that Lisa Marie and Michael Jackson's relationship was "unusual," but added that the two knew a "level of fame" that very few people experience.
CLICK HERE TO SIGN UP FOR THE ENTERTAINMENT NEWSLETTER
He said how complicated it must've been for Lisa Marie to have been immediately born into the spotlight as Elvis's daughter.
CLICK HERE TO GET THE FOX NEWS APP
"That's too overwhelming," Bush responded.
"A lot of her life was a struggle, she's been through a lot of pain and a lot of loss. . . . It breaks my heart when I think of all the joy she had as a very little girl and then just the sadness in her life . . . it's crushing."
This story discusses suicide. If you or someone you know is having thoughts of suicide, please contact the Suicide & Crisis Lifeline at 988 or 1-800-273-TALK (8255).