Video Ad Feedback
Video: Buffalo Bills player Damar Hamlin collapses during game

00:53

– Source:
CNN

Latest Videos
16 videos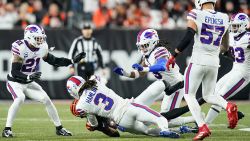 Video Ad Feedback
Video: Buffalo Bills player Damar Hamlin collapses during game
00:53

Now playing
– Source:
CNN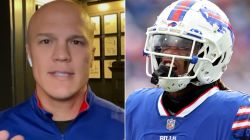 Video Ad Feedback
Former Bills player shares emotional reaction to Damar Hamlin injury
01:49

Now playing
– Source:
CNN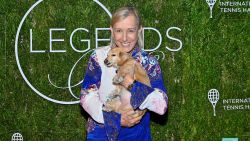 Video Ad Feedback
Martina Navratilova issues statement on cancer diagnoses: 'It's going to stink for a while, but I'll fight'
03:16

Now playing
– Source:
CNN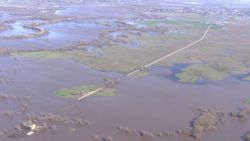 Video Ad Feedback
Stunning aerial footage shows California highway underwater
01:38

Now playing
– Source:
CNN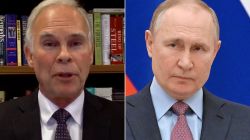 Video Ad Feedback
Retired colonel makes prediction about Putin's strategy in 2023
01:51

Now playing
– Source:
CNN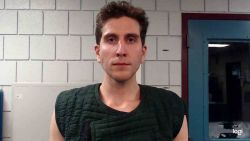 Video Ad Feedback
New details emerge about suspect arrested for Idaho killings
03:00

Now playing
– Source:
CNN

Video Ad Feedback
New details emerge about NYPD machete attack suspect
02:55

Now playing
– Source:
CNN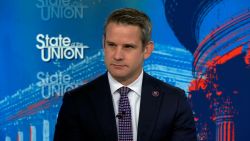 Video Ad Feedback
Bash asks Kinzinger if Trump will be charged for Jan. 6. Hear his response
01:31

Now playing
– Source:
CNN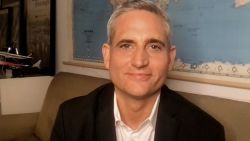 Video Ad Feedback
Travel expert explains why you should book your dream vacation now
02:04

Now playing
– Source:
CNN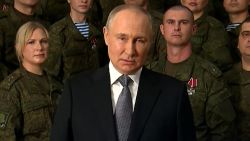 Video Ad Feedback
See why Putin's New Year's address is different than others
01:58

Now playing
– Source:
CNN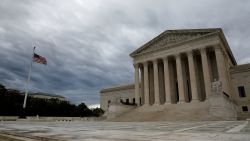 Video Ad Feedback
CNN analyst says the Supreme Court will consider a fringe theory that could reshape US elections
02:11

Now playing
– Source:
CNN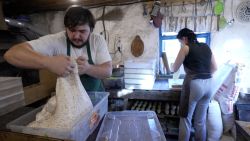 Video Ad Feedback
This Ukrainian bakery prepares special bread for frontline soldiers
02:16

Now playing
– Source:
CNN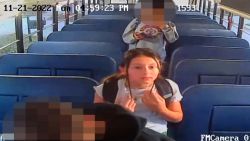 Video Ad Feedback
Video shows missing 11-year-old girl days before disappearance
01:57

Now playing
– Source:
CNN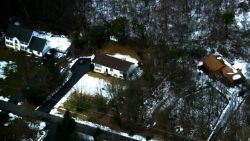 Video Ad Feedback
CNN law enforcement analysts on what investigators could be looking for
02:21

Now playing
– Source:
CNN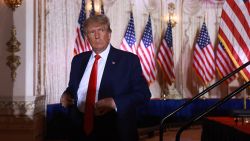 Video Ad Feedback
Hear how Trump responded to release of his taxes
02:42

Now playing
– Source:
CNN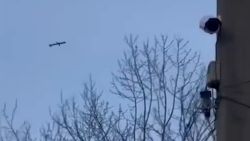 Video Ad Feedback
Video shows Russian cruise missile flying toward Kyiv
02:43

Now playing
– Source:
CNN

See More Videos

CNN
—
Buffalo Bills safety Damar Hamlin is in critical condition after suffering a cardiac arrest and collapsing on the field during the first quarter of Monday night's game between the Bills and Cincinnati Bengals, the player's team said.
Hamlin fell on his back just moments after getting up from an open field tackle of Bengals wide receiver Tee Higgins.
"His heartbeat was restored on the field and he was transferred to the (University of Cincinnati) Medical Center for further testing and treatment. He is currently sedated and listed in critical condition," the Bills said in a tweet early Tuesday.
Within ten seconds of the collapse, Bills team trainers were treating the player. An ambulance was brought onto the field in less than five minutes, footage shows, and he was administered CPR, according to an ESPN broadcast.
FOLLOW LIVE UPDATES
"Hamlin received immediate medical attention on the field by team and independent medical staff and local paramedics. He was then transported to a local hospital where he is in critical condition," the NFL said in a statement.
The game was suspended at 5:58 of the first quarter and was later officially postponed.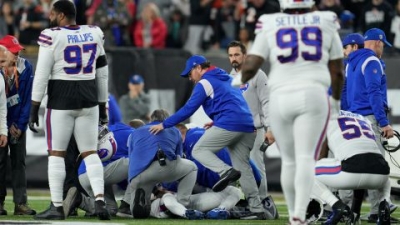 Hamlin is examined after collapsing on the field in the first quarter of Monday night's game between the Buffalo Bills and Cincinnati Bengals.
Jeff Dean/AP
The NFL and the NFL Players Association agreed to postpone the game, the NFL statement said. NFL executive vice president of operations Troy Vincent, who played in the league for over a decade, said in the press call that neither of the teams' coaches or players asked to continue playing.
"I've never seen anything like it since I've been playing," Vincent said. "So immediately, my player hat went on. How do you resume play after you've seen such a traumatic event occur in front of you in real time?"
Players on the field were visibly distraught after witnessing their teammate suffer a medical emergency mid-game. Some could be seen crying, praying, kneeling and embracing one another before they returned to the locker room.
CNN has reached out to the Bills for comment.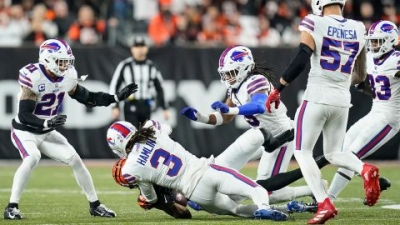 Hamlin collides with Cincinnati Bengals wide receiver Tee Higgins just moments before his collapse.
Joshua A. Bickel/AP
Some of Hamlin's teammates decided to stay in Cincinnati while the rest of the team travels back to Buffalo Tuesday morning, Vincent said.
Bills wide receiver Stefon Diggs arrived at the hospital where Hamlin was being treated late Monday night, ESPN's broadcast showed.
Hamlin has played every game this season. The 24-year-old Pennsylvania native joined the Bills in 2021 as a sixth-round draft pick after playing for the University of Pittsburgh in the 2016-20 seasons.
According to his Pittsburgh Panthers player bio, he was redshirted – meaning he sat out on games while remaining on the team – in 2016 due to injury. The NFL site added that he also missed time due to injuries in 2017 and 2019.
Swell of support for Hamlin

Overwhelming support for Hamlin flooded in Monday night from fans and players across the sports world.
The NFL Players Association tweeted Monday night that the organization and "everyone in our community is praying for Damar Hamlin."
"We have been in touch with Bills and Bengals players, and with the NFL. The only thing that matters at this moment is Damar's health and well being," the players association said.
The thoughts and prayers of all of Bills Mafia are supporting you, Damar. 🙏 pic.twitter.com/lDWNAOEPX4

— Buffalo Bills (@BuffaloBills) January 3, 2023
Los Angeles Lakers basketball player Lebron James applauded the decision to postpone the game after the medical emergency.
"It's definitely the right call," he said after the Lakers game against the Charlotte Hornets Monday night, adding, "The safety of players in all sports is always the most important. It was a terrible thing to see."
"My thoughts and super prayers go up to the skies above for that kid's family, for him, for that brotherhood of the NFL, and everybody who's a part of the NFL family," James said.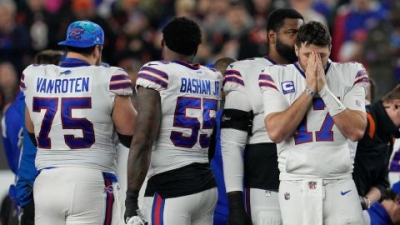 Buffalo Bills quarterback Josh Allen (17) stands on the field as Hamlin is being treated.
Jeff Dean/AP
Well wishes and prayers were sent by several star athletes, including Denver Broncos quarterback Russell Wilson, Chicago Bears quarterback Justin Fields, Baltimore Ravens quarterback Lamar Jackson, and free agent Odell Beckham Jr.
JJ Watt, an Arizona Cardinals defensive end, tweeted, "The game is not important. Damar Hamlin's life is important. Please be ok. Please."
Hamlin's charity fundraiser rockets to $3 million

In the hours after Hamlin's collapse, a Christmas toy drive fundraiser he started in 2020 had raised more than $3 million as it was flooded with donations from supporters rooting for his recovery.
The player created the drive to raise money to buy toys for children in a Philadelphia community, writing at the time, "As I embark on my journey to the NFL, I will never forget where I come from and I am committed to using my platform to positively impact the community that raised me."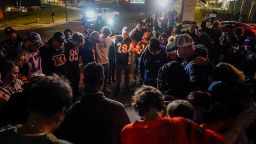 Fans gather outside University of Cincinnati Medical Center on January 2, 2023, in Cincinnati, where Buffalo Bills' Damar Hamlin was taken after collapsing on the field during an NFL football game against the Cincinnati Bengals.
Jeff Dean/AP
Damar Hamlin's toy drive fundraiser tops $3 million in donations in hours after his on-field collapse
In the hour after Hamlin's cardiac arrest, the fundraiser had raised about $70,000 and less than 4,000 donations. But in just five hours, the GoFundMe skyrocketed to more than $3 million raised from almost 120,000 donations, some as high as $5,000 each.
Hamlin continued his annual toy drive tradition this year in Buffalo, signing autographs and jerseys for children who stopped by.
"(It's) something I've always been into, just giving back," he told CNN affiliate WKBW in December, adding, "For three years I've been doing the toy drive so just being able to extend it to Buffalo now is just something I love doing."
CNN's Wayne Sterling, Kevin Dotson, Chris Boyette and Steve Almasy contributed to this report.