close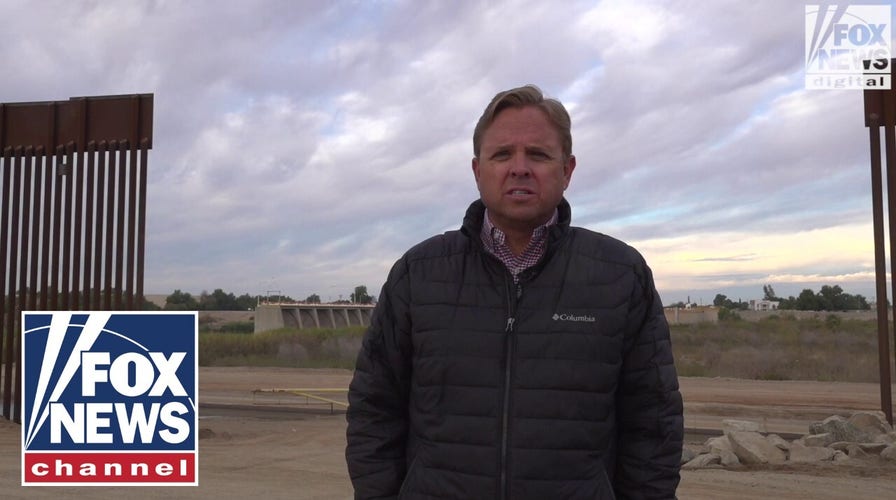 Video
How Biden's border policies are sending one town to the brink
Border town residents in Yuma share how the ongoing migrant surge has pushed their community to the brink of collapse under President Biden's leadership.
A major border town official said it's "ridiculous" the Biden administration is selling off materials purchased for President Trump's border wall, both wasting money and letting drugs flow into the country.
"I don't think [President Biden] could stomach installing any more of Trump's wall," Yuma County Supervisor Jonathan Lines told Fox News. "That's what he vowed not to do."
HOW BIDEN'S IMMIGRATION POLICIES OVERWHELMED THIS BORDER CITY. WATCH: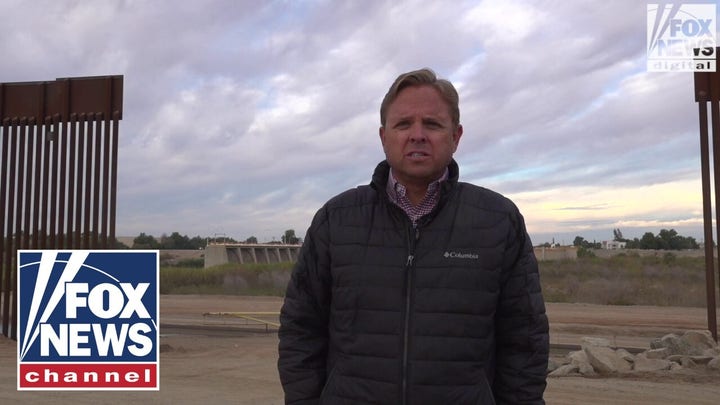 Video
WATCH MORE FOX NEWS DIGITAL ORIGINALS HERE
GovPlanet, an online auction marketplace specializing in military surplus, has sold 81 lots of steel "square structural tubes" since April, according to the New York Post. It's reaped about $2 million in sales, and its auction schedule picked up in May after a GOP-led bill demanded border wall construction either restart or the supplies be provided to state governments.
"It's ridiculous," Lines said. "We have completed sections sitting on the ground ready to be installed."
'IT'S A LITTLE LATE': BORDER RESIDENTS RESPOND TO BIDEN'S FIRST-EVER BORDER TRIP, PLEDGE TO STIFFEN POLICIES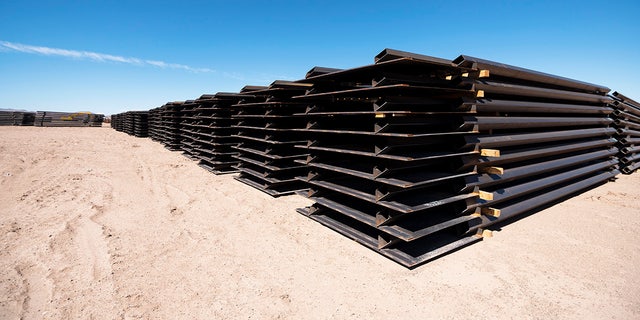 The steel barriers of Trump's unfinished border wall have sat unused along the southern border. But the Biden administration has reportedly started selling the materials through GovPlanet, an online auction house for military supplies.  (Bill Clark/CQ-Roll Call, Inc via Getty Images)
The Trump administration directed $16 billion for border wall construction during the 45th president's time in office, according to the Congressional Research Service. But Biden halted construction just after his inauguration in January 2021, leaving the wall unfinished.
Arizona Gov. Doug Ducey agreed in December 2022 to remove shipping containers his administration used to plug gaps in the border wall after Homeland Security Secretary Alejandro Mayorkas said he'd have new barriers erected. But Lines said there's been little progress, even though the Biden official said nearly two years ago he'd fill some of the heavily trafficked holes.
WATCH A YUMA OFFICIAL EXPLAIN HOW ARIZONA'S SHIPPING CONTAINERS LIMITED MIGRANT TRAFFIC: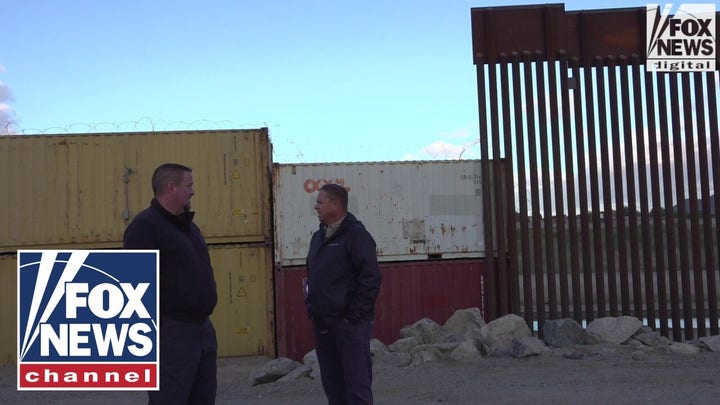 Video
"Mayorkas promised us 20 months ago that he would fill nine of 11 gaps," Lines told Fox News. "Since then, it's estimated that more than 350,000 people have crossed through Yuma and an estimated 5,000 children have come through unaccompanied. We feel the impacts of fentanyl and other narcotics being trafficked by the same cartels."
BORDER RANCHER FEARS FOR HER LIFE AS MIGRANTS CROSS UNCHECKED, 'PICKED THE WRONG PLACE TO RAISE A FAMILY'
Since October 2022, over 23,000 pounds of fentanyl have been seized along the southern border, according to Customs and Border Protection. That already exceeds the 14,400 pounds taken for the entire previous fiscal year.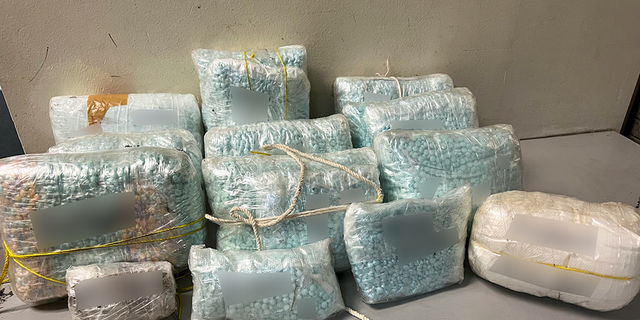 Fentanyl seizures along the southern border this year have already surpassed the over 14,000 pounds that was taken at the border in all of fiscal 2022.  (Arizona Department of Public Safety)
The Biden administration built a fence to fill some border wall gaps, but Lines said the administration has nonetheless failed to secure the border.
"This administration chose to spend more money with a new design that is inferior," he said. "They've done less in nine months then it took the guys under Trump to accomplish in three weeks."
CARTELS BANK BILLIONS OFF BIDEN'S BORDER CRISIS, LEAD MIGRANTS THROUGH 'A BIG GRAVEYARD' TO THE US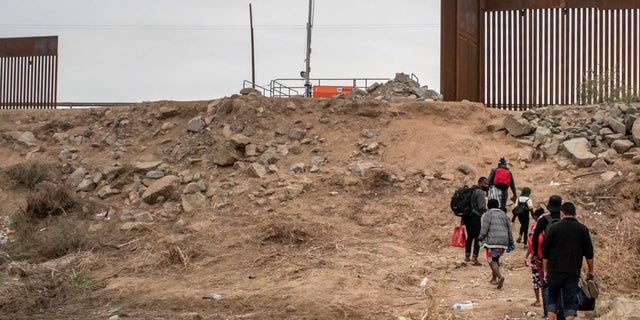 Migrants walk toward one of the border wall gaps in Yuma, Arizona. In the past 20 months, the Yuma sector had over 400,000 migrant encounters, including over 9,000 unaccompanied children, according to Customs and Border Protection.  (Getty Images)
CLICK HERE TO GET THE FOX NEWS APP
Some families living along the border wall gaps hired armed security guards after migrants repeatedly came into their homes, Lines previously told Fox News. Additionally, two Yuma farmers said migrants crossing through the gaps would pass through their fields, contaminating their crops and threatening the nation's food security as a result.
"It will only get worse with Biden's policies," Lines previously said. "He needs to reassess."
Megan Myers is an associate producer/writer with Fox News Digital Originals.